Tidal power showcased in Strangford
Guests, including Strangford MP Jim Shannon, joined the team from the Centre for Advanced Sustainable Energy (CASE) on Wednesday 25 July, for a demonstration of the tidal turbines at the heart of some of their world-leading research.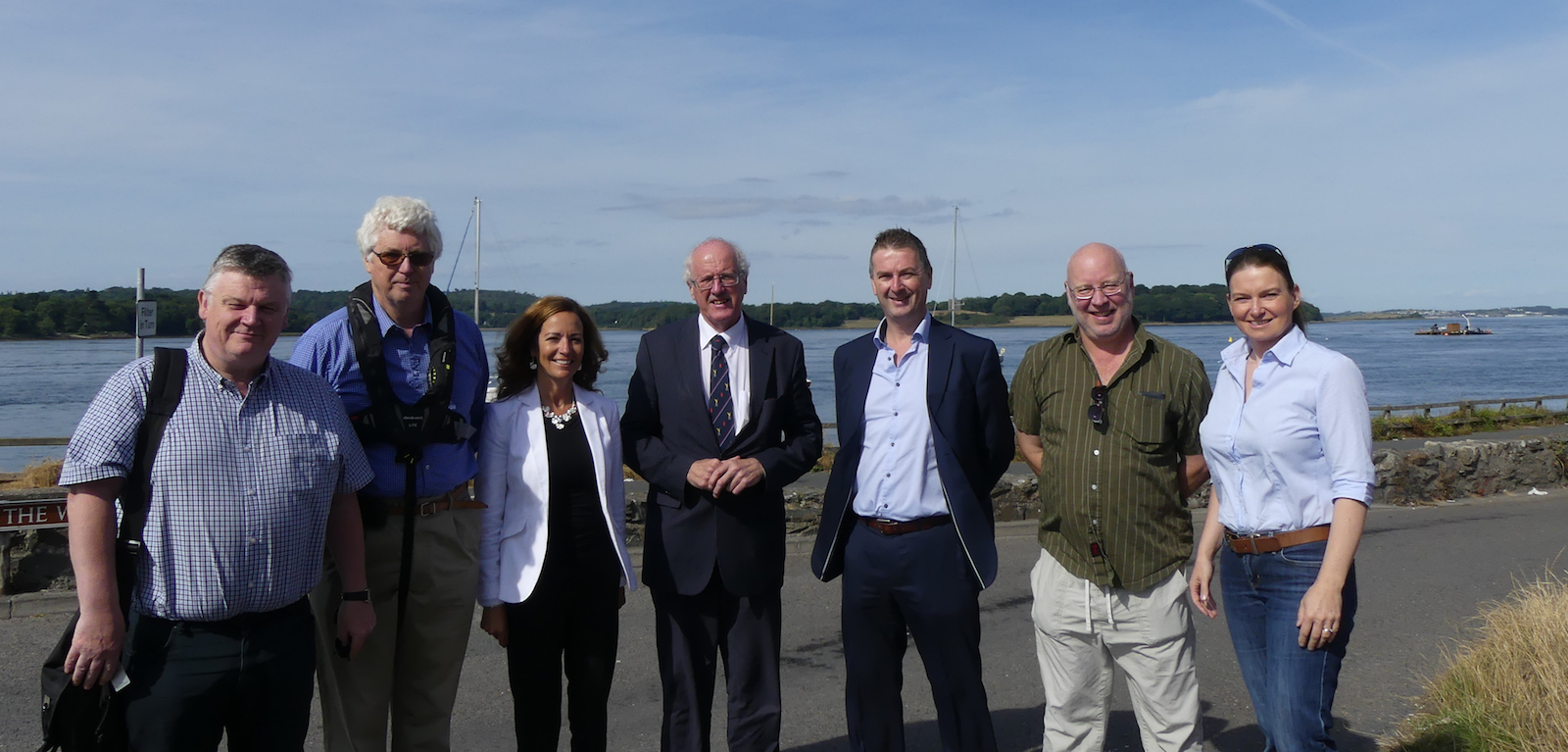 The CASE team took their guests out to the barge where the next generation of turbines is being tested in the strong tidal currents that give Strangford its name.
Professor Trevor Whittaker, a globally recognised expert in wave and tidal power, set out the significance of the project, and addressed its current and potential future benefits both for future clean energy generation and for the local and wider economy.
The unique characteristics of the Lough, with its strong tidal currents and rich biodiversity, give researchers an unparalleled opportunity to test, in a real marine setting, both the efficiency of an array of turbines, and the impact of the technology on local wildlife.
On the latter, Professor Trevor Whittaker said: "There is a local colony of seals, but seals are not stupid; they tend to come up and play around the turbines at first, and then go off to do something more interesting - like catching fish!"
The Tidal Turbine Testing team, led by Dr Carwyn Frost and supported by Mr Ian Benson, have already been able to collate unique data sets from their experiments, and will be able to create mathematical models to inform future tidal power generation as this relatively new technology develops.
The turbine research is part of a £1m investment in tidal energy research, led by Queen's and with funding from Invest NI.
"One of the advantages of tidal power", said CASE's Dr Simon Murray, "is its predictability. We can tell you now how much power you will get on this day in ten years' time".
The group's marine energy research operation in Portaferry, run by Dr Louise Kregting, along with tidal testing, also covers field measurement, environmental assessment and the coastal wave basin.
CASE is an industry-led research centre, and a Social Charter Signature Project, under the theme of Sustainability.
Pictured, left to right, are: Professor Gerry Hamill, Head of Civil Engineering at Queen's; Professor Trevor Whittaker, Head of the Marine Energy Research Group; Mrs Sam McCloskey, CASE Director; Mr Jim Shannon, MP; Professor Mark Price, Pro-Vice-Chancellor, Faculty of Engineering and Physical Sciences; Professor Jaimie Dick, Director of Queen's Marine Laboratory; and Ms Claire McAlinden, Director of Operations, Engineering and Physical Sciences. The barge can be seen to the right in the background.
For more on the work of CASE visit their website here.
For the BBC News story see here.