Minister Vara meets Cancer Researchers at CCRCB
Mr Shailesh Vara, MP, Parliamentary Under Secretary of State for Northern Ireland, was introduced to the cutting edge research undertaken by Queen's University's Dr Niamh Buckley and Dr Paul Mullan, who receive funding from Breast Cancer Now.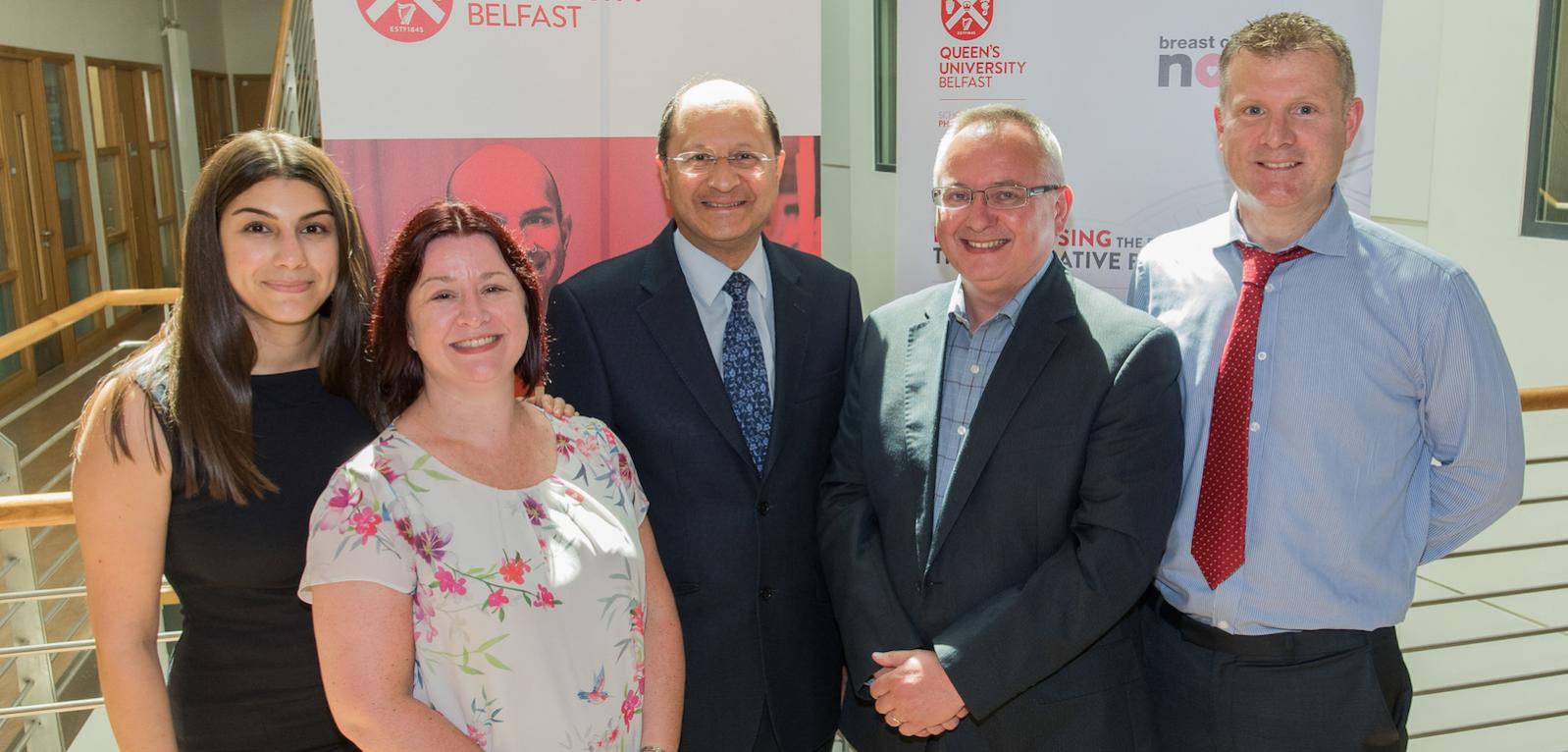 Breast Cancer Now is the UK's largest breast cancer research charity, funding 90 research grants and supporting around 450 researchers across the UK and Ireland, including Dr Buckley and Dr Mullan in the Centre for Cancer Research and Cell Biology (CCRCB).
Dr Mullan and Dr Buckley outlined the team's research involving patient tissue samples from the Breast Cancer Now Tissue Bank – the UK's largest unique collection of high-quality breast tissue, breast cells and blood samples from breast cancer patients.
Among other things the team are developing new biomarkers and treatment targets for 'triple negative' breast cancer, a form of the disease for which there are currently limited treatments.
Following a tour of the labs, Mr Vara, who has long been passionate about improving outcomes for women diagnosed with breast cancer, said: "It was fantastic to find out first-hand about the pioneering research that Breast Cancer Now is funding at Queen's University Belfast, and to hear from the scientists about how their research is tackling the disease head-on".
Dr Buckley will be spreading the word about the team's research to another audience of decision-makers on Wednesday 4 July, when she takes part in a major exhibition in Westminster.
Pictured, (L-R): Ailar Hashemzadeh, Public Affairs Officer, Breast Cancer Now; Dr Niamh Buckley; Minister Shailesh Vara; Professor David Waugh, Director of CCRCB; and Dr Paul Mullan.
For more on the ground-breaking research on cancer at Queen's visit the The Patrick G Johnston Centre for Cancer Research.