Double Book Launch at Riddel Hall
An event marking the launch of two books reflecting on the pain of the past and on future hopes in Northern Ireland was held in Riddel Hall on Wednesday, 14 September 2022.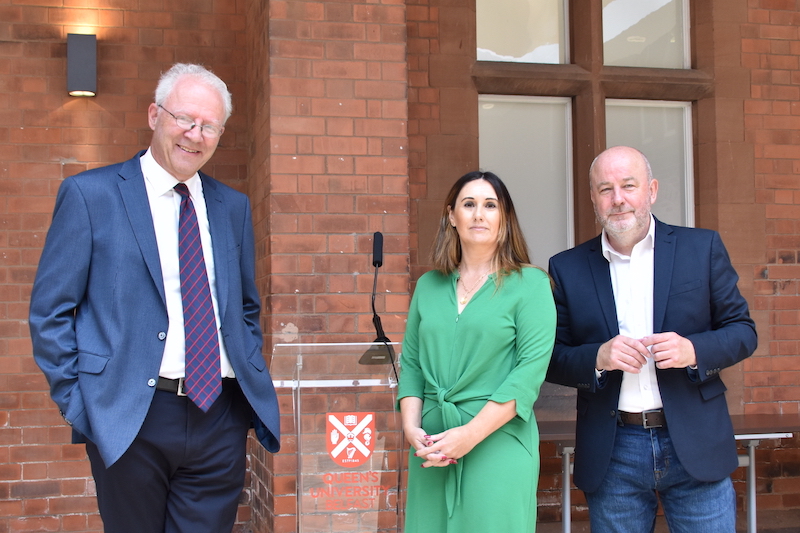 Former Ambassador David Donoghue, who was a member of the team representing the Republic of Ireland during the negotiations leading to the Belfast or Good Friday Agreement, and Brian Rowan, former BBC security editor and award winning journalist, have both published books this month, reflecting on Northern Ireland's recent past.
In One Good Day, David Donoghue offers an insight into the complexities and precariousness of the negotiations leading to the Agreement.
In Living With Ghosts, Brian Rowan delves into his dealings with those involved in the conflict, and those tasked with bringing it to an end, revealing the heavy toll it took on those affected by the violence across the community.
David Donoghue told an appreciative audience that, as a participant in the negotiations, his "project essentially is to try to do a comprehensive step by step account of how the agreement came together", detailing the ups and downs of the discussions between representatives of the two governments and the various negotiating parties.
Where Donoghue was able to shed light on these official negotiations, Brian Rowan was engaged in conversations outside Stormont, including with some of those involved in 'back channel' discussions and debates internal to the paramilitary organisations on both Republican and Loyalist sides, as well as with victims and relatives of the victims of the violence.
For Rowan, the issue of the legacy of the conflict requires urgent attention: "if we don't get international help on this question of legacy soon, there will be people sitting in rooms like this in 20 or 30 years, talking about the past and we will still be stuck".
He added: "The 1998 political agreement was not meant to be for us. It was meant to be for the generations that came after us, freeing them to shape the future".
Following an insightful discussion Dr Joanne Murphy, in one of her last engagements at Queen's before taking up take up a Chair in Inclusive Leadership in the University of Birmingham, thanked the speakers and brought the event to a close.
Find out more about the books (available at No Alibis bookshop, Botanic Avenue) here:
Brian Rowan, Living With Ghosts.