PROUD school pupils invited to defeat Plastic Waste Menace
A new competition inviting Key Stage 2 (P5 to P7) and Key Stage 3 (Year 8 to Year 10) school pupils to investigate the use and disposal of single-use plastics in their school has been launched.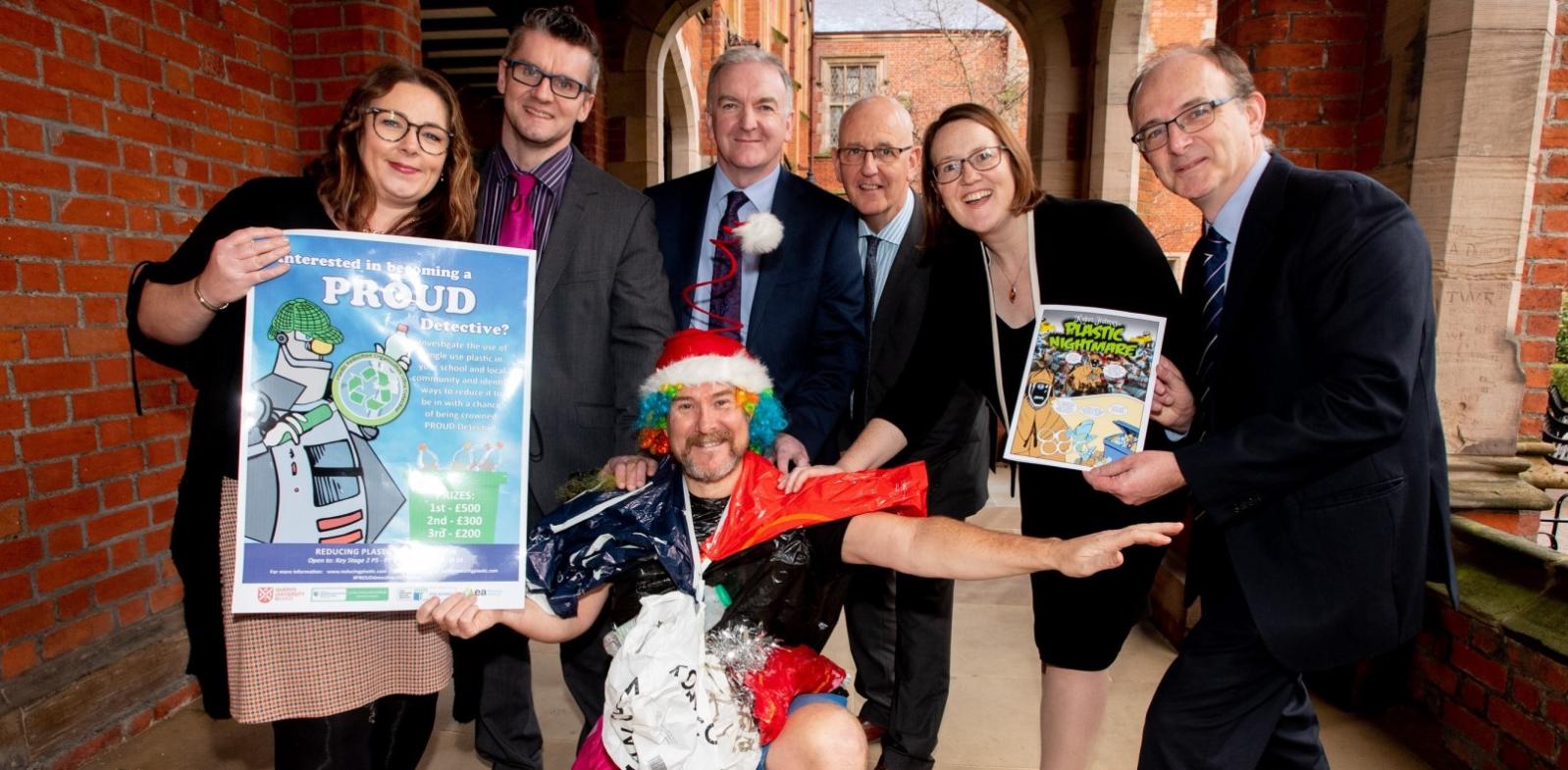 Participating pupils will act as Plastic Reduction Organisation Ultra Detectives (PROUD) within their school, setting out to combat the 'Plastic Waste Menace'. They will be asked to undertake an investigation into how waste is produced, its costs and wider impact on the environment. Pupils will have to collate the evidence and report back on how they plan to prevent future environmental 'crimes' in their school.
Joanne Clague, Registrar and Chief Operating Officer of Queen's University Belfast, said:
"At Queen's, our academics are pioneering solutions to some of our world's greatest challenges – from transforming waste plastic into a variety of useful products, to helping communities go carbon neutral to delivering interdisciplinary academic training and research that will prepare the next generation of scientists to collaborate with industry and policy-makers to drive positive environmental change.
"We are also committed to educating our students, staff and wider society in all aspects of climate change, and what we all can do to deliver the necessary environmental changes. We are, therefore, delighted to contribute to the Reducing Plastic Waste in Schools Competition, which, through inspiring young minds, will help raise awareness of the problems associated with disposable plastic and the need to work together to build a sustainable future".
The competition was announced on Friday 6 December at Queen's in an event featuring 'Professor Plastic Not Fantastic' (pictured, kneeling, also known as Professor John Barry of HAPP). The competition is organised by The Education Authority (EA) in partnership with the Department of Agriculture, Environment and Rural Affairs (DAERA), Department of Education (DE) and Eco Schools (KNIB) and Queen's University Belfast.
John Coney, Energy and Environment Officer at the Education Authority said:
"We are delighted to be working in partnership with the DE, DAERA, Queen's University Belfast and Eco Schools (KNIB) to launch this year's competition.
"The purpose of the competition is to raise awareness and lead to changing behaviours amongst the school community with regard to plastic waste reduction. I am sure children will enjoy acting as PROUD detectives to investigate and report on plastic waste within their school.
"EA maintains an ongoing focus on its environmental responsibilities and the competition allows children and young people to engage in playing their part."
For further details, and to join in as a PROUD detective, visit this site.
For more on the work of Queen's under the theme of Sustainability, visit this page.