Expert Panel Addresses Impact of US Election on Northern Ireland, Ireland, UK and EU
Over 160 people joined an online event on Wednesday, 2 December to hear a panel of experts discuss the challenges facing the incoming Biden Administration.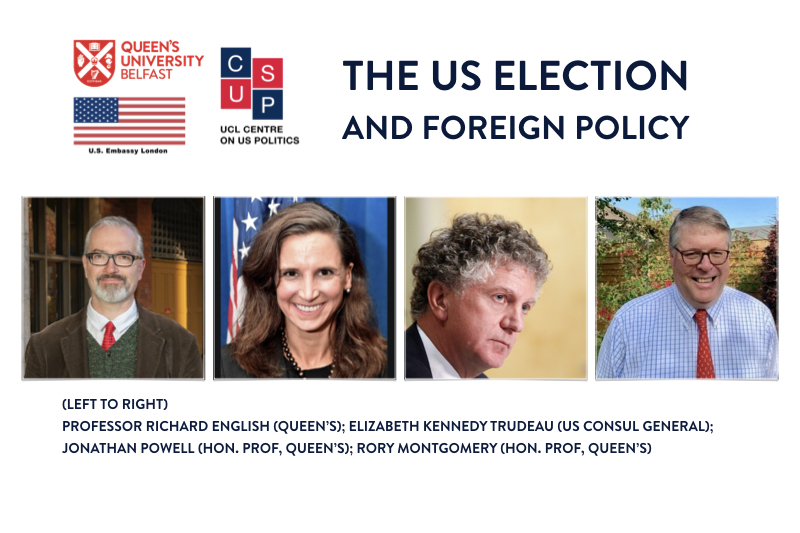 'The US Election and Foreign Policy: Implications for Northern Ireland, the UK, Ireland, and the EU', featured Elizabeth Kennedy Trudeau (US Consul General in Belfast), Rory Montgomery and Jonathan Powell (both Honorary Professors at Queen's).
Facilitated by Professor Richard English, the panel addressed a range of key issues, from trade, through international relations, to the long history of bipartisan support for Northern Ireland from successive US Administrations.
The incoming Administration will have challenges at home, said Ms Kennedy Trudeau, including issues of racial injustice, climate change and the pandemic; but she assured listeners that the "United States cares about Northern Ireland. That won't change".
Professor Rory Montgomery, who was until recently Second Secretary General in the Irish Department of Foreign Affairs and Trade, with responsibility for EU issues, including Brexit, focussed on US-Europe relations.
Though the new Administration will be broadly welcomed across Europe, he noted, there may be areas on which the US and Europe will have different interests. The overall trade and economic relationship may have moments of tension; approaches to digital issues and taxation may be different; there may be differences in emphasis in relations with China and Iran; European ambitions for strategic autonomy from the US may be an area of divergence; and, in relation to Ireland, the future of the trade relationship with the US will loom large after Brexit.
Professor Powell, best known in Northern Ireland as Tony Blair's Chief British Negotiator during the establishment of the institutions at Stormont, also welcomed the incoming Biden Administration, but noted that this may cause problems for the current UK Government, diverging as they do on Brexit and in other areas.
Brexit could be seen as diminishing the US's interest in the UK, said Powell. "Our foreign policy, since the Second World War…has been based on two pillars: on Europe; and on the trans-Atlantic relationship. And the problem is, we have just left Europe, so we've taken away one pillar of our foreign policy; and unfortunately that impacts on our second pillar".
The panellists, all current or former diplomats, finished by taking questions submitted on line, advising students interested in pursuing a career in foreign affairs to look into joining an NGO, learning languages, taking on relevant internships, or applying for posts in the European institutions.
The event, opened by Dr Julie Norman, formerly of the Senator George J Mitchell Institute for Global Peace, Security and Justice, was part of a series entitled 'Decision 2020: Interpreting the US Elections', organised by the UCL Centre on US Politics with support from the US Department of State.
For the full video of the event, follow this link.