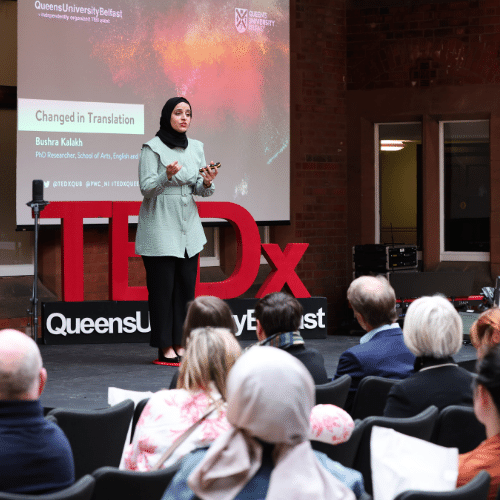 Bushra Kalakh
PhD Researcher, School of Arts, English and Languages
Official TEDx Talk - 'Changed in translation'
Talk Overview
Being bilingual is a privilege that many people enjoy but probably never ponder. While this does not automatically make them translators, it is a skill that puts them on the first steps to becoming interlingual communicators.
Nevertheless, it is a fact that we are all translators because translation is not simply transferring meaning from one language to another. The key word here is meaning and if one could convey it lingually, visually, musically or in any other form, then getting the message across is what matters, because even if this implies some loss, then it just resembles the loss that happens across languages which is what researchers in translation studies have been analysing for years.
If I tell you a story in my language assisted by English subtitles, or using images, or singing, or a play, or a movie, and you leave knowing the story and able to retell it as you understood it, then you are a translator. This implies that there are challenges that are much more than the knowledge of the linguistic coding system, but they are challenges that build a chance to employ all the cues that you might know to create meaning and tell a story.
About the Speaker
With more than 11 years of teaching experience, Bushra finds an opportunity to learn and teach in every life encounter. After building professional experience, she pursued her dream to continue higher studies in the field she is passionate about, translation, by earning the master's degree in Translation Studies in 2018 and currently working on her Ph.D. at Queen's University Belfast in the same field.
Being a translator and conducting research in this area has opened doors for her to meet more people, engage with local communities and learn about people's experiences. Her research interests revolve around translation as a form of activism and covers the work done by activists to tell narratives of suffering related to human rights. She aspires to be a good storyteller who can translate understandable views that bring people closer together.
Read more
Read less
---