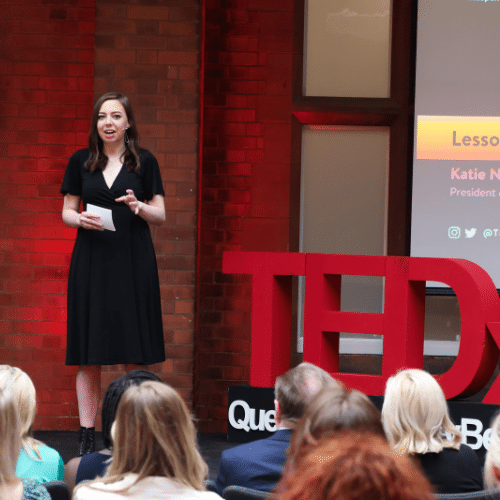 Katie Ní Chléire
Student Union President
Official TEDx Talk - Lessons from the New Normal
Talk Overview
The COVID-19 pandemic has shone a clear light on the growing mental health crisis, not only in Northern Ireland, but across the world.
This talk explores the impact of the pandemic, isolation and lockdowns on our mental health, but also the lessons we've learned, and what we can each do to tackle the issues impacting on our wellbeing.
About the Speaker
Katie Ní Chléire is the President of Queen's Students' Union, and was previously the Vice President Welfare. She graduated with a Bachelor of Social Work from QUB in 2020, and has previously worked with young people in care for two years as a Residential Support Worker.
Katie also works for Student Minds, the UK Student Mental Health Charity, as a University Mental Health Charter Assessor, which involves assessing UK universities on their mental health policy and service provision. She is deeply passionate about mental health, wellbeing, and suicide prevention, and her work in Queen's Students' Union involves campaigning and lobbying for increased support for student mental health.
Katie is also an activist, campaigning on social justice issues including reproductive justice, climate action, and Irish language rights.
Read more
Read less
---