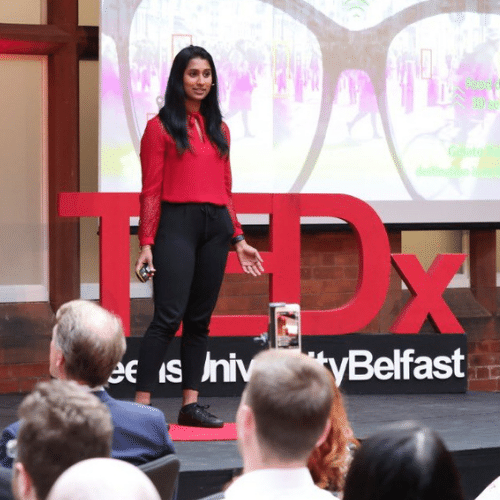 Nidhi Simmons
Royal Academy of Engineering Research Fellow
Official TEDx Talk - 'The Economy of Things'
Talk Overview
Our economy is becoming increasingly peer-to-peer. We can see this with the rise of centralised technologies such as AirBnB and Uber; and decentralised technologies such as Bitcoin and Ethereum. These technologies open up new economic opportunities to suppliers and consumers, such as competitive pricing and democratisation. They also bring disruption to traditional business models. To understand future peer-to-peer economies, consider the Internet of things (IoT), which consists of billions of networked smart devices exchanging data over the Internet. Often overlooked, but arguably more impactful, is the ability for these devices to exchange more than just data: to exchange monetary value, enabling the Economy of things (EoT). The scope for EoT is unparalleled. In this talk, we imagine a world in which partially and fully autonomous devices offer services to one another - and to humans - in exchange for payment. A truly peer-to-peer economy, spanning people and machines alike.
About the Speaker
Nidhi Simmons is a Royal Academy of Engineering Research Fellow at Queen's University Belfast (QUB). She received the B.E. degree in Telecommunications Engineering from India in 2011, the M.Sc. degree in Wireless Communications and Signal Processing from the University of Bristol in 2012, and the PhD degree in Electrical Engineering from Queen's University Belfast in 2018. From January 2019 until August 2020, she worked as a Research Fellow at the Centre for Wireless innovation at QUB. During this time, she also devised a new framework for realising ultra-reliable low-latency communications in future wireless networks such as 6G. To fund this research, she attracted a five-year fellowship from the Royal Academy of Engineering worth £500k in September 2020. She has authored 9 IEEE journals and letters, and 9 IEEE conference papers. She is also a reviewer for several IEEE transactions and letters, and a member of the IEEE and Women in Engineering.
Aside from her academic accomplishments, Nidhi is deeply involved with promoting Women in Engineering and STEM. She regularly takes part in open days, PhD indication events, delivers talks to school children and participates in science festivals. She was also a speaker at the Women in Tech conference 2022.
Read more
Read less
---