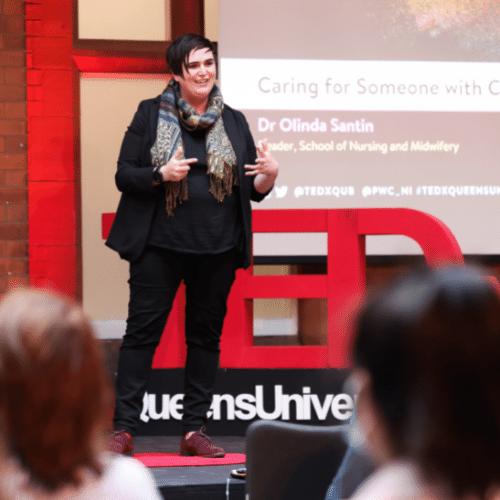 Dr Olinda Santin
Reader, School of Nursing and Midwifery
Official TEDx Talk - 'Caring for someone with cancer: Love Hurts'
Talk Overview
Considering the rising numbers of people affected by cancer, this talk will highlight the experiences of those who provide informal care for their mums, dads, partners, brother, sisters, aunts and uncles and friends. We will discuss the international experiences of informal cancer carers across the world including, Northern Ireland, Australia and Vietnam and the common theme that love 'really hurts'. I will discuss evidence that providing care and support for a loved one can impact on your own health, yet the most natural act in the world is to care. The act of informal care is often the best medicine!
This talk will highlight that despite their pertinent importance in the management of cancer, the needs of carers remain largely unmet. As cancer rises and the burden on carers grows, we need to think differently about how we support families affected by cancer.
About the Speaker
My academic background is in the area of psychology and public health. My research aims to understand the impact that cancer can have both on patients and their families. I'm interested in listening to the experiences of patients, carers and health care professionals and working together to develop solutions and improve cancer services both at home and internationally.
I studied BSc Psychology at QUB and graduated in 2006. I then undertook a PhD in Epidemiology and Public Health at QUB. My PhD was about understanding the long- term impact that cancer can have on individuals who have had colorectal cancer. I later went on to complete a MSc in Health Psychology in Ulster University.
Since 2010, I've worked in various research and academic positions in QUB. My focus has always been to improve supportive services for those affected by cancer. I now lead a programme of international research focused on supporting informal carers and I am the research lead for the Chronic Illness and Palliative Care research group in the School of Nursing and Midwifery.
Read more
Read less
---