Athena SWAN Celebration Event 2020
A virtual celebration of Athena SWAN success across the University in 2020
(Above: A recording of the event held on 9 December 2020 via Microsoft Teams)
On Wednesday 9 December 2020, QGI and the Athena SWAN Team hosted a virtual event via Microsoft Teams in celebration of the following School 2020 SWAN achievements:
Arts, English and Languages: Bronze
Biological Sciences: Gold
Electronics, Electrical Engineering and Computer Science: Silver
Maths and Physics: Silver
Mechanical and Aeronautical Engineering: Silver
Medicine, Dentistry and Biomedical Sciences: Gold
Nursing and Midwifery: Silver
Queen's Management School: Bronze
Borrowing from a music analogy, SWAN is not a solo act, but it is the work of a choir, with members representing diversity of voice coming together in harmony. As we celebrate this afternoon, may I offer our warmest congratulations to schools who have received awards in 2020. I'd also like to acknowledge the hundreds of people who have contributed to the ongoing work of gender equality and inclusion and diversity more broadly.
Professor Karen McCloskey, Director, Queen's Gender Initiative
Our President and Vice Chancellor, Professor Ian Greer provided a special address at the event, congratulating all involved in the process for these prestigious Athena SWAN awards:
It's a real testament to you all that we are once again being recognised as a UK leader for gender equality practices in Higher Education. Your achievements in the latest round of SWAN awards is very impressive - not just one award, but a raft of accolades.
Professor Ian Greer, President and Vice Chancellor, Queen's University Belfast
We are absolutely delighted that fourteen of our Schools now hold departmental awards, comprising three gold, six silver and five bronze. These awards recognise the hard work and dedication of Schools and their SWAN Champions in particular, supported by many colleagues across Queen's who are committed to progressing gender equality and an inclusive culture in Queen's.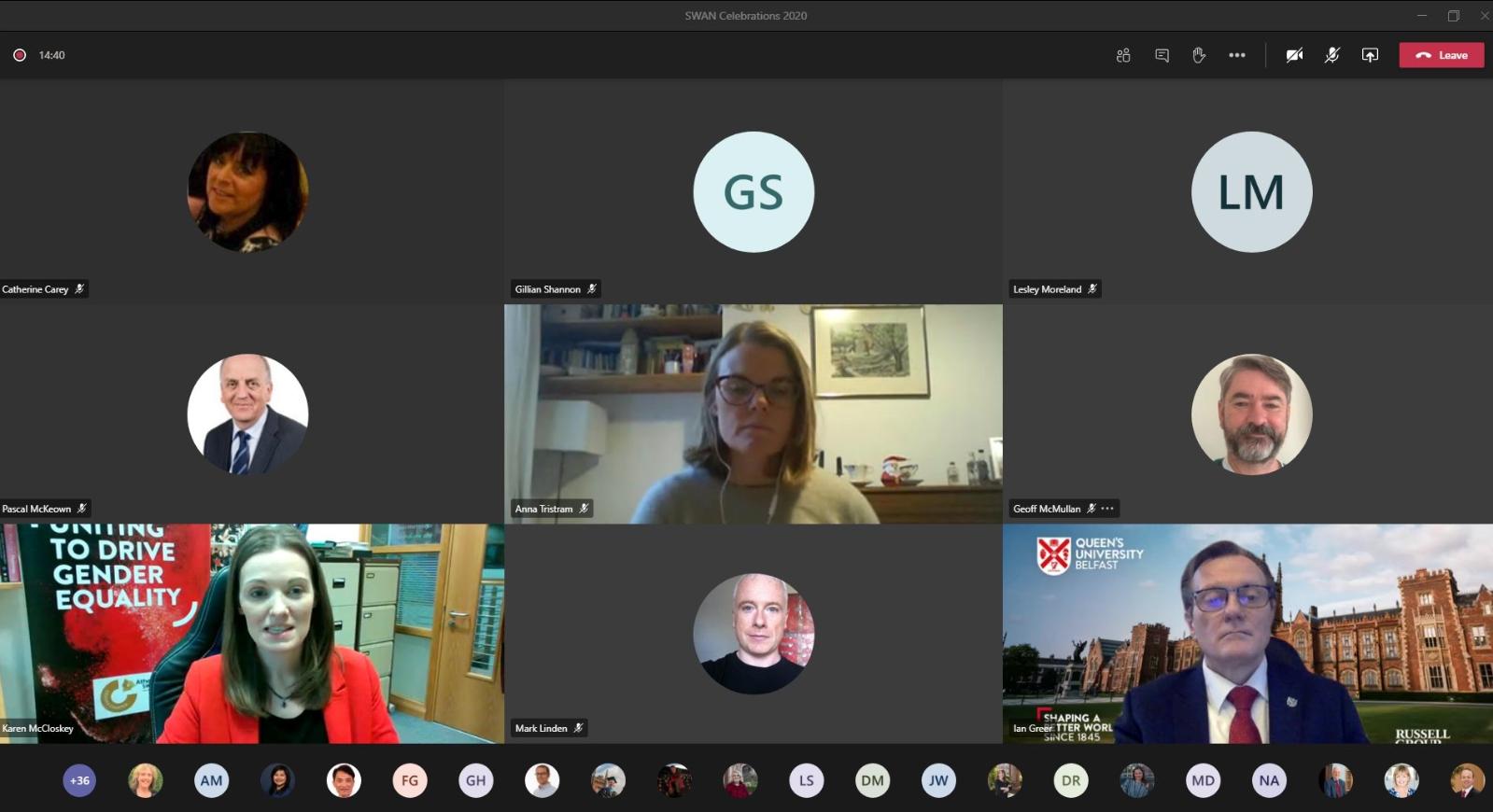 (Above: Image from the event on 9 December 2020 via Microsoft Teams)
Our colleagues in the School of Medicine, Dentistry and Biomedical Sciences, Professor Pascal McKeown, Dean and Head of School and Professor Michelle McKinley, SWAN Champion and Director, Gender Equality provided a special presentation on behalf of the School who have now achieved Gold award status.
The event was a huge success and a wonderful tribute to our outstanding Champions and the Athena SWAN Team across the University who are so dedicated to achieveing Gender Equality and levelling the playing field for all.
Thank you and congratulations to all involved in the Athena SWAN process and thank you to everyone who attended our celebratory event.
If you missed the event, please enjoy the full event recording above!
Media
Queen's Gender Initiative
Email: qgi@qub.ac.uk