Chinese New Year Celebrations at Queen's
Queen's celebrated the Year of the Pig with a series of cultural events and talks hosted by the Language Centre between 1 – 15 February, with Chinese New Year's Day commencing on Tuesday 5 February 2019.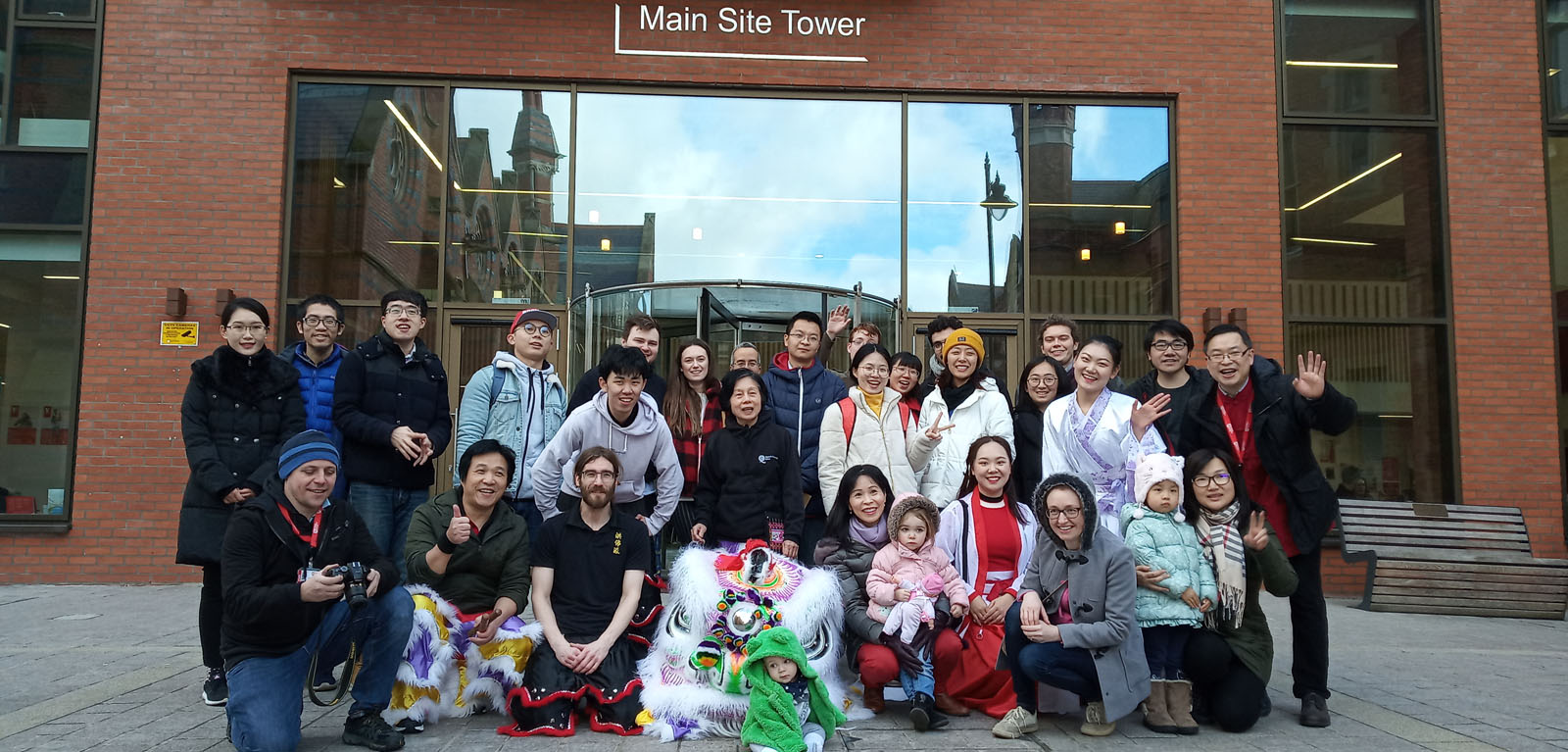 The vibrant Lion Dance and procession from the McClay Library, via the Lanyon Building, to the Main Site Tower became the highlight on Monday 4 February, with a little puppy providing an appropriate farewell to the outgoing year of the dog. The Lion Dance parade was followed by a range of Interactive Cultural Displays, including traditional Chinese music and dance, calligraphy, Chinese zodiac signs, and culture quiz in red envelopes in the ground floor foyer of the Main Site Tower. The highly interactive Lion Dance and Cultural Displays engaged not only Queen's students and staff members, but also attracted members of the public. In particular, many attendees on the day were blessed with the Chinese character 福 (Fu), symbolising good fortunes, thanks to our guest calligrapher, Master Huang Xiaodong, who spent the spectacular New Year with his visiting academic wife at Queen's.
Prior to the Lion Dance and Cultural Display celebration, the Language Centre, together with the Chinese Welfare Association, jointly hosted a Chinese calligraphy and painting workshop on Saturday 2 February to help promote intercultural discussions between traditional Chinese art, represented by Master Huang's calligraphy, and a group of local women artists from ArtEast Club who are committed to incorporating Chinese artistic presentations with western techniques. The workshop was bilingual, attributable to some Queen's students on the MA Interpreting programme. This successful collaboration between the Language Centre, students and Belfast communities enables Queen's to facilitate intercultural interaction and social engagement in our increasingly diverse society.
In addition, a programme of Chinese Cultural Talks was offered throughout the celebratory period, with contributions from both Queen's staff and guest speakers. Ms Yan Wen, a visiting academic from Shenzhen University at the School of Social Sciences, Education and Social Work, delivered an informative and inspiring talk on her understanding of primary school life of Chinese children, her son included, in Belfast, from a comparative cross-cultural perspective. Dr Dan Corbett, who previously worked with China Queen's College, and is now a lecturer in the School of Chemistry and Chemical Engineering, shared his experiences in China, both from cultural and educational perspectives, and discussed how he had made the transition from a Queen's University Belfast-based environment to a Queen's campus over 5,000 miles away, which introduced a range of teaching and operational challenges. Dr Yuanyuan Chen, lecturer in animation history and theory at Ulster University, delivered a guest talk on her research in animation in the context of Chinese art history, political movements and economic policies, and exemplified how China's animation has developed its own characteristics while absorbing western elements, demonstrated in a number of animations. Her talk generated interesting discussions among attendees.
With a positive increase in the number of international students – especially Chinese students, who account for nearly one third of the international student body – enrolling at Queen's and a growing range of new academic relationships and research collaborations between Queen's and Chinese partner institutions, these Chinese New Year events provide the perfect opportunity to celebrate our increasingly multicultural University.
The Language Centre at Queen's would like to thank all staff and students for their participation in our Chinese New Year celebrations and wish everyone at Queen's a very rewarding Year of the Pig.
See the Language Centre's Facebook page for more photos of the event.