Queen's University announces achievement of Carbon Management Plan target at annual Green Awards
Queen's University celebrated its ninth annual Green Awards on Tuesday 4 June with a reception in Riddel Hall.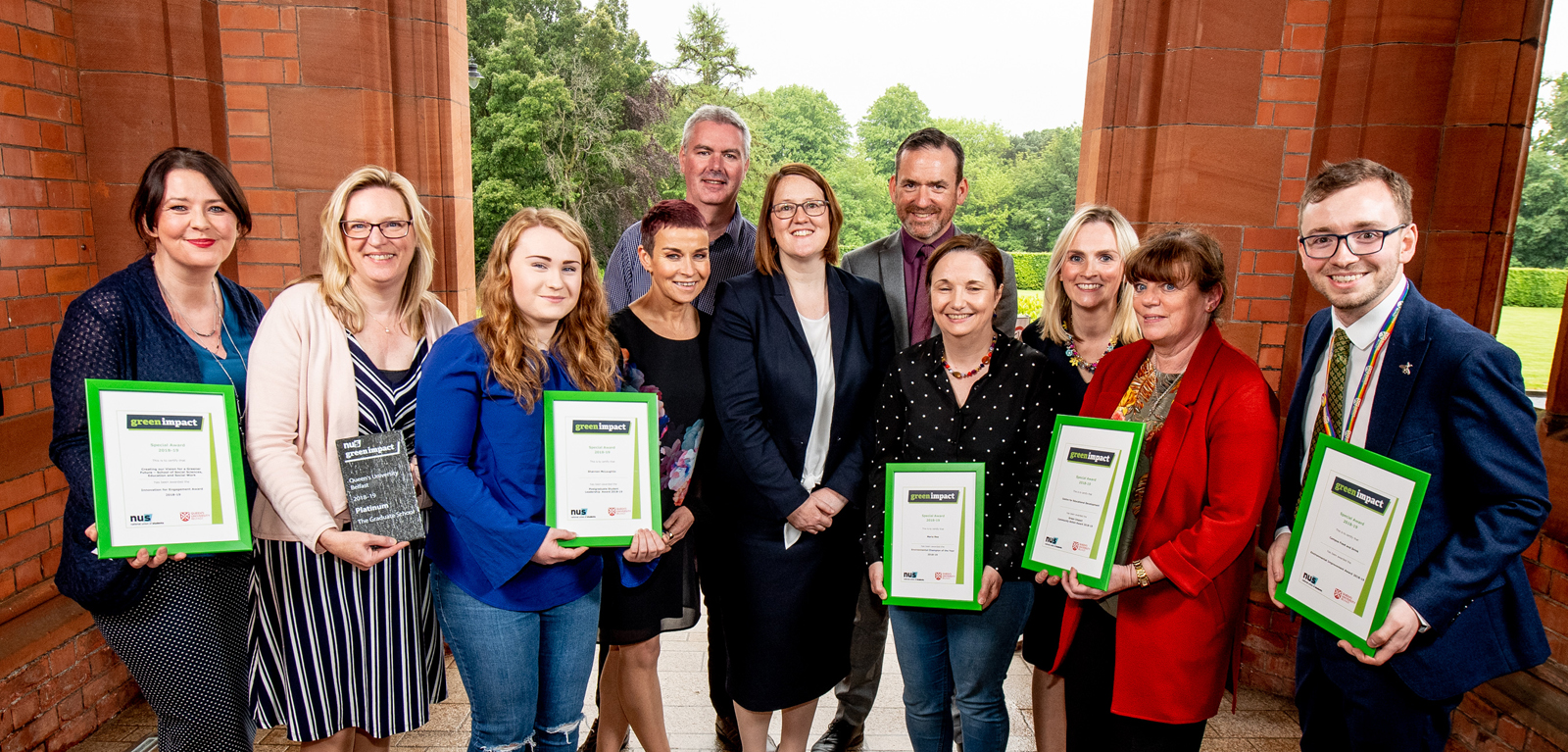 Hosted by BBC Northern Ireland presenter and TV personality Cecilia Daly, the event celebrated the efforts and achievements of staff and students who have participated in the University's Green Impact Environmental Leadership programmes.
Addressing staff and students at the reception, Registrar and Chief Operating Officer Joanne Clague announced that Queen's has now exceeded the carbon emissions reduction target for 2020-21 set out in the University's Carbon Management Plan – an important achievement as part of the University's journey to become a low carbon organisation.
Joanne Clague said: "At Queen's we are committed to becoming a low carbon organisation by reducing our carbon emissions and providing a high quality and sustainable working and learning environment for students and staff. The annual Queen's Green Awards reception provides an important opportunity for the University community to celebrate individual and collective environmental impact and it was wonderful to see so many staff and students recognised for their contribution to delivering environmental change within Queen's and beyond.

"The awards ceremony also provides an important opportunity to take stock of progress and I was delighted to announce that Queen's University has now exceeded the carbon reduction target of 21 per cent by 2021 set out in our Carbon Management Plan – well ahead of schedule. This is an important milestone on our journey to become a low carbon organisation and reflects the University's proactive approach as an environmental leader."
In 2017-2018 Queen's University achieved a 22.71 percent reduction of the University's carbon emissions at an institutional level – outperforming the Carbon Management Plan target by 1.71 per cent.
Damien Toner, Director of Estates, said: "Queen's is committed to reducing its environmental impact and we have made significant investment in a range of technical projects supported by behavioural change projects in pursuit of our 2020-21 carbon reduction target. The early achievement – and, indeed, outperformance of – this target is testament to the success and impact these projects have made. As we reflect on progress that has led us to this milestone, I am deeply proud of the work of the Estates team and of the commitment of staff and students across the wider University to reducing environmental impact."
To date over 80 energy efficiency projects have been implemented and more than half of the electricity consumed by the University is generated on site using low carbon technology.
This year, 82 teams participated in the Green Impact behaviour change programme – the third highest number of teams participating in the world – and 92 slates and certificates were presented by Registrar and Chief Operating Officer Joanne Clague.
Maria Rea from the Centre for Cancer Research and Cell Biology was crowned Environmental Champion of the Year. This award recognises her as a true advocate for the environment and as an inspiration to others. Maria organised a wide range of events to engage staff and students across the Centre, which is a base not only for University staff and postgraduate students, but also for industrial partners and Health Services staff. She also collaborated with other areas to support the development and ongoing maintenance of the University's medicinal garden.
Read the full list: 2019 Green Award winners.