'Think Difference, Act Differently' - Queen's launches new Diversity e-Learning resource for staff
Queen's has launched a new Diversity e-Learning resource for staff, called 'Think Difference, Act Differently'.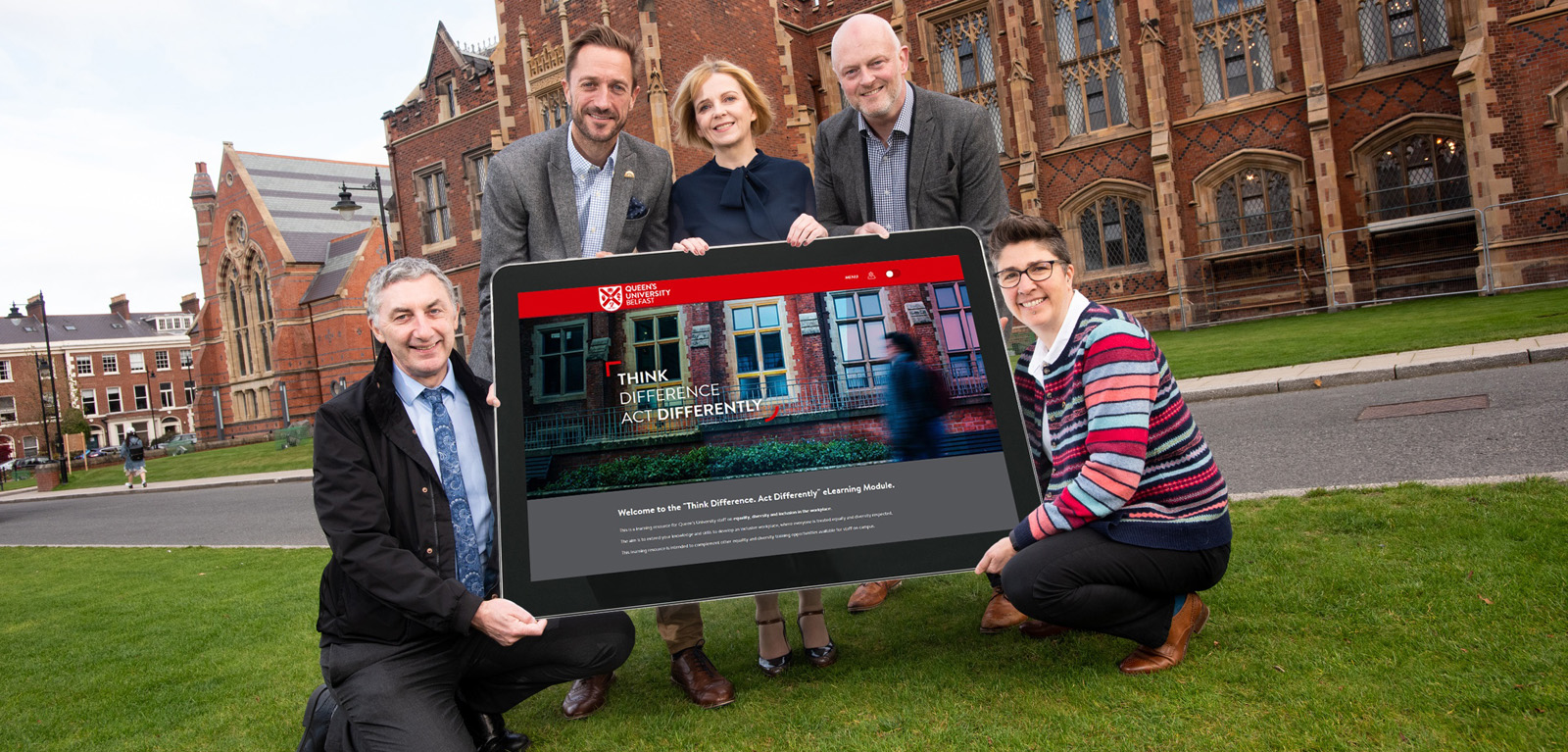 The new, interactive, multi-platform e-learning programme has been co-designed by University staff, representatives from PRISM
and the team at
Aurion Learning
to help Queen's staff further develop their understanding of equality, diversity and inclusion in the workplace. The programme has benefitted from independent expertise from both the
Equality Commission for Northern Ireland
and
Stonewall.
'Think Difference, Act Differently' is a mandatory learning resource for all Queen's staff. It can be accessed now via Queen's Online and is compatible with personal computers, laptops, mobile devices and across all operating systems. It will take approximately 45 minutes to complete and users will be required to undertake the e-learning programme every two years.
The new learning resource is part of a blended training initiative, intended to complement other equality and diversity training opportunities available for staff developed by the Diversity and Inclusion Unit.
Speaking at the launch of the new e-Learning resource, Conor Curran, Head of Diversity and Inclusion at Queen's, said:
"The ongoing professional development of all Queen's staff is paramount, so this new, bespoke, modern e-learning diversity programme reflects that organisational commitment.

"This short, interactive e-learning resource is fully accessible across platforms and operating systems, but it is only one element of a blended approach to enhancing staffs' knowledge of workplace equality, diversity and inclusion.

"Staff will continue to have access to face to face learning opportunities, through workshops delivered both by my Unit and external subject matter experts such as Stonewall to help them gain a deeper understanding of workplace rights and responsibilities."
The programme features three specific learning scenarios which cover:
Inappropriate behaviours in the workplace

Age, disability and sexual orientation harassment/discrimination

Race discrimination, recruitment and conscious/unconscious bias; and

Sexual harassment; misuse of social media
'Think Difference, Act Differently' covers all areas of equality legislation, University policy and best practice and includes three interactive challenges to help recognise some appropriate and inappropriate behaviours in the workplace and the opportunity for self-reflection and evaluation.
The resource also provides staff with access to:
Equality Commission guidance and Codes of Practice

Relevant case law

Workplace policies and procedures; and

Further support and advice
Dr Maureen Murphy, Managing Director at Aurion Learning, said:
"With an industry-leading approach to training a diverse staff body from many different backgrounds, Queen's University Belfast is breaking new ground to develop a unique resource that gets right to the heart of equality, where everyone is treated equally, and diversity respected."

She added: "It was important from the outset of this project to create a unique learning resource that reflected modern practice. Our educational team worked closely a range of the university's diversity and equality experts to create content that is lifelike, visually engaging and focuses on storytelling to bring equality, diversity and inclusion issues to life."
Donal Collins, Employment Development Officer from the Equality Commission for Northern Ireland commented:
"The Equality Commission welcomes Queen's University's new e-Learning resource as it will help to promote equality of opportunity by highlighting that their employees have a right to work in a good and harmonious work environment that is free from all forms of harassment and to complain about such behaviour should it occur.

"This training will help ensure that staff understand the Universities policies and procedures and their position in law while promoting a work environment in which employees are treated with dignity and respect."
Pictured above, L–R: Donal Collins, Equality Commission for Northern Ireland; Conor Curran, Head of Diversity and Inclusion, Queen's; Dr Maureen Murphy, Aurion Learning; Brian Parkes, Director of Human Resources, Queen's; Sally Bridge, Co-Chair of PRISM, Queen's.