Queen's Professor awarded France's prestigious Palmes Académiques
Professor Janice Carruthers has been made a Chevalier dans l'Ordre des Palmes Académiques by the French Ambassador to the UK, Her Excellency Mme Catherine Colonna, at a special ceremony at Queen's University Belfast.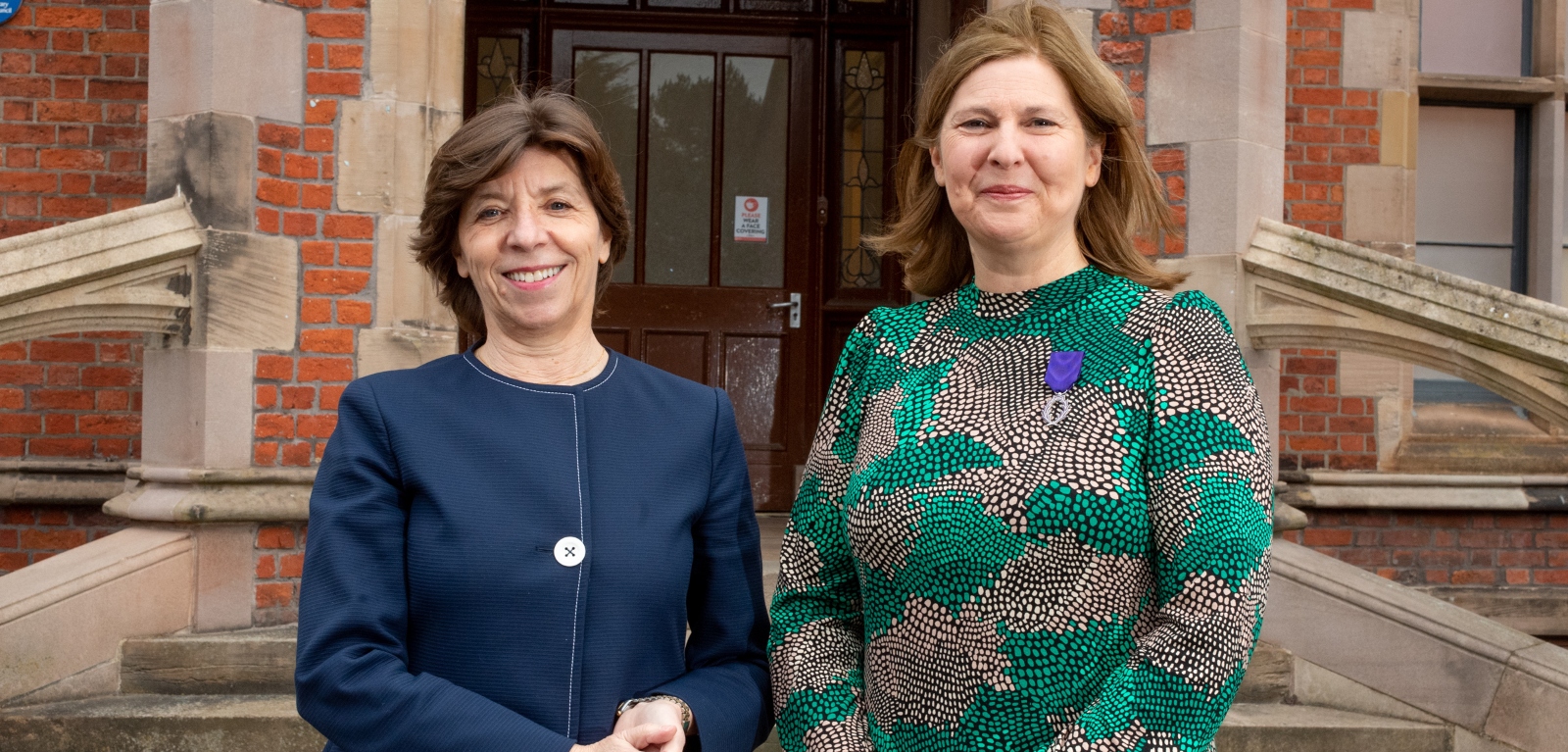 The Ordre des Palmes Académiques was established by Napoleon in 1808 and is one of the oldest civil honours bestowed by the French Republic. Professor Carruthers was awarded the honour for services to French Culture.
Janice Carruthers is Professor of French Linguistics and Dean of Research within the Faculty of Arts, Humanities and Social Sciences at Queen's. Her research focuses on the structure and evolution of the French language and on language and identity in France, including questions relating to language policy.
She was Priority Area Leadership Fellow for Modern Languages with the Arts and Humanities Research Council from 2017 to 2021 and a member of the authorship team of 'Towards a National Languages Strategy for the UK: Education and Skills'.
Speaking on her recognition, Professor Carruthers said: "I am deeply honoured to receive the Palmes Académiques. It means a great deal to me to be recognised by the French government, since the French language has been at the centre of my research and teaching for over 30 years."
During her visit to Queen's, the Ambassador and her delegation from the French Embassy in London, including the Head of Higher Education, Research and Innovation, Madame Minh-Hà Pham, met with the President and Vice-Chancellor of Queen's University, Professor Ian Greer, and the Pro-Vice-Chancellor for Internationalisation, Professor Margaret Topping, as well as several other Queen's academics.
Speaking on the award, Professor Ian Greer said: "I would like to offer my sincere congratulations to Professor Carruthers on this significant achievement.

"This international honour is fitting recognition of her dedication to developing French culture, and French language education over many years. Her exceptional and innovative vision and leadership have not only made Queen's a leader in the field, but have also paved the way for new and exciting research collaborations."
The French Ambassador's visit to Queen's is part of a wider visit to Northern Ireland to meet with academics, politicians and business.