New Queen's University Bike Hub partnership gets into gear with focus on sustainability
Queen's University Belfast has launched a Bike Hub in partnership with social enterprise Big Loop Bikes, to increase access to cycling for staff, students and the wider south Belfast community.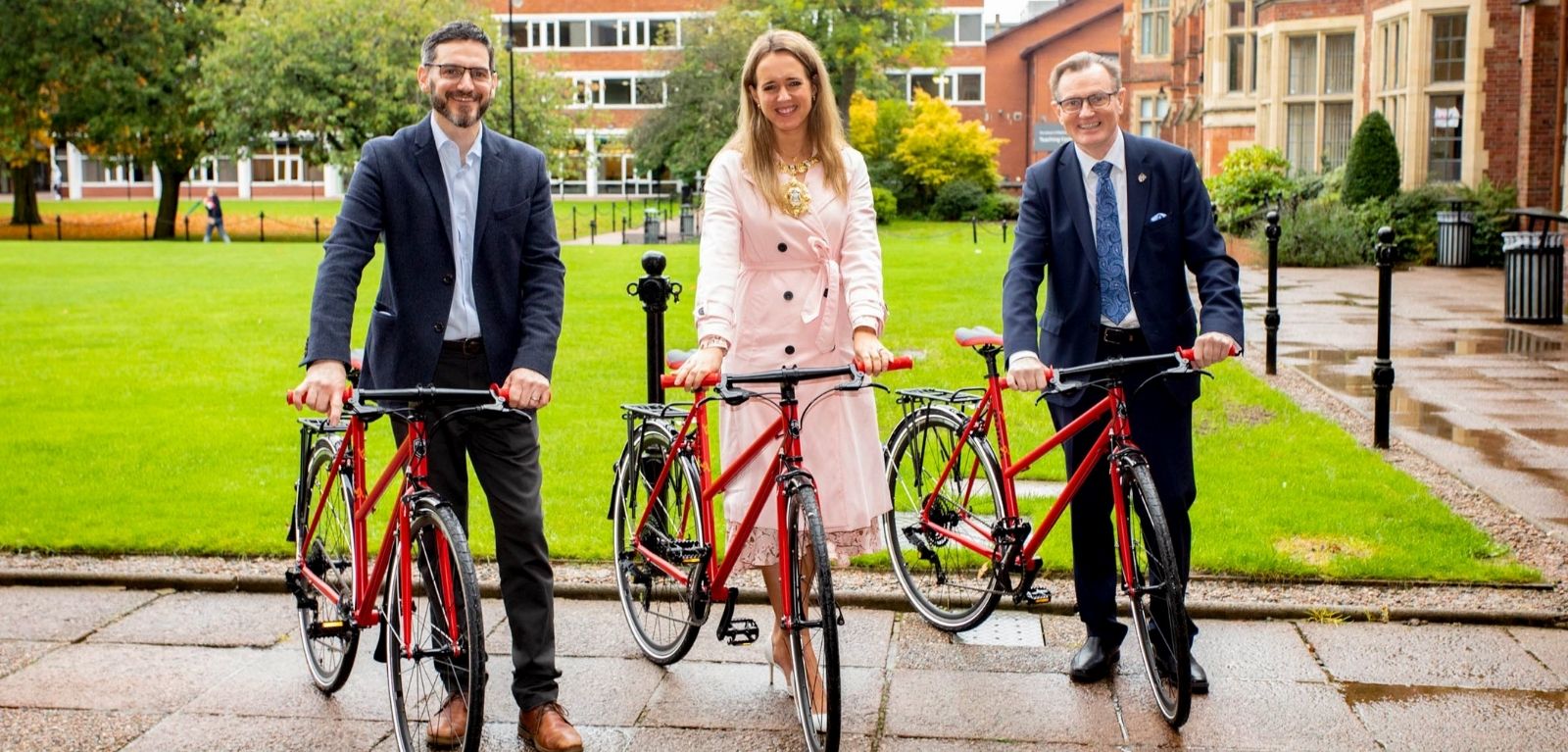 The University's recently published Strategy 2030 sets out its commitment to develop a plan to reach net-zero carbon emissions as soon as possible and the Bike Hub is just one way in which the University is working to help achieve a better and more sustainable future for all.
The hub has been part-funded by Belfast City Council and the Department for Infrastructure and Department for Communities through the Covid-19 Recovery: Revitalisation Programme 2020-21.
At the launch Belfast Lord Mayor, Councillor Kate Nicholl, joined Vice-Chancellor of Queen's University Professor Ian Greer and Richard Good, Director of the Turnaround Project, the charity which runs Big Loop Bikes as part of its work in engaging the community to support people on their journey out of the justice system.
The Bike Hub, which opened at the start of the academic term and has already proved popular with students and staff, sells refurbished bikes and offers bike leasing and a range of servicing options.
Professor Ian Greer said: "As the world turns its focus to the UN Climate Change Conference COP 26 in Glasgow it has never been clearer that one of the most prominent challenges facing society is securing a sustainable future for all.

"At Queen's we are committed to embedding the United Nations' Sustainable Development Goals across all our activities.

"As a major civic university, we're delighted to launch this Bike Hub at the heart of Queen's, demonstrating our commitment to sustainable travel while breaking down the barriers to cycling for our staff and students, resulting in health and environmental benefits for all.

"We are also pleased to be working with the Turnaround Project through this initiative to support their efforts in making a positive impact on society."

Lord Mayor of Belfast, Councillor Kate Nicholl, said: "It's such a great location for the hub and is a really positive step in increasing access to cycling, making it easier for people to opt for a more sustainable mode of transport. The physical and mental wellbeing benefits of travelling by bike, coupled with the positive environmental impact, are all great motivators to get more people cycling both on a personal and citywide level.

"Belfast City Council is committed to working in partnership with government departments and city stakeholders to create a people-focused greener, more accessible city centre that is connected to its surrounding communities. Active travel hubs, such as this great facility at Queen's, are fundamental to how we can collectively realise this vision."

Richard Good, Director of the Turnaround Project, said: "We're really excited about this new chapter for Big Loop Bikes. As well as the environmental benefits of getting more people cycling, this new hub and the partnership with Queen's will provide real opportunities for people to turn around their futures, and for others to support them on that journey."
Appointments at the Bike Hub can be booked through Eventbrite
Media
For more information please contact the Communications Office on comms.office@qub.ac.uk