A hat trick for Queen's University - winning three national Student Nursing Times Awards 2021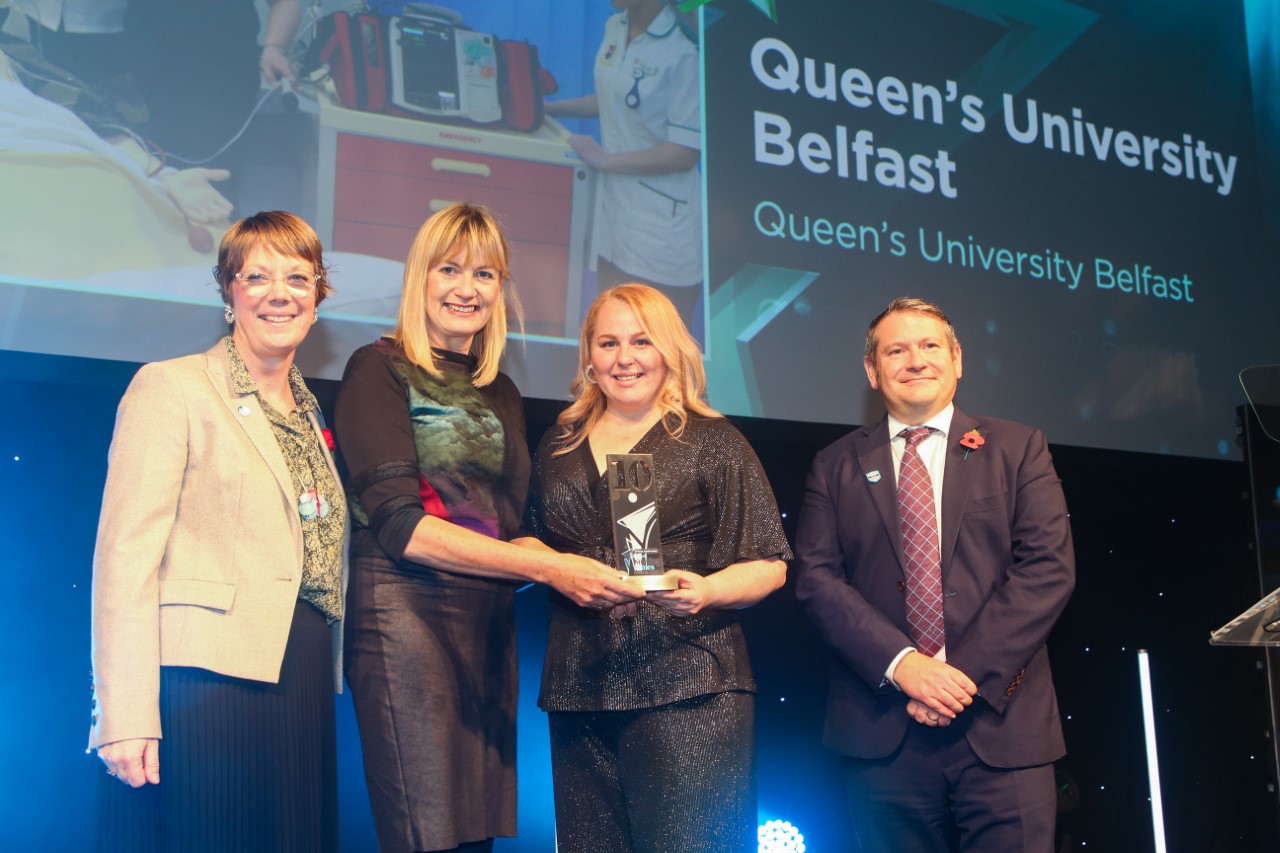 Queen's University Belfast has scooped three awards in a prestigious national competition run by the Nursing Times at the Grosvenor House Hotel in London.
The School of Nursing and Midwifery won the 'Best Student Experience in the UK' category against stiff competition from other universities, for the innovative and compassionate way in which they supported their students as they joined the NHS during the pandemic.
Stephanie Craig also won 'Student Nurse of the Year: Adult' for her work to make life better for people with dementia and their communities, which was funded by an Alzheimer's Society NI grant. Stephanie developed a 'game' that seeks to educate people about dementia and works relentlessly to reduce the stigma associated with this condition.
Final year Queen's student, Ryan Cahoon won the 'Outstanding Contribution to Student Affairs' award for his role spear-heading a range of different initiatives including remote drop-in sessions for students in practice and running online events to promote Organ Donation, Student Mental Health and Advance Care Planning.
The winners of the 2021 Student Nursing Times Awards were announced on 4th November, honouring student nurses, education providers and mentors. This year they celebrate their 10th anniversary and were back in person, after being held virtually in 2020.
Professor Donna Fitzsimons, Head of School of Nursing and Midwifery at Queen's said: "These awards are the culmination of years of hard work from our staff, students, patients and practice partners, and I couldn't be more proud of the Queen's Nursing and Midwifery family today. To win the 'Best Student Experience in the UK' is a huge achievement and even more important because it is our students who have nominated the School for it."
"Stephanie and Ryan are both amazing - they have put their heart and soul into making improvements for the benefit of patients, their fellow students and society. These awards testify to the excellence and professionalism of our whole team – including patients and nurses in practice – who join us in providing a great education for our students. The future of nursing is safe in their hands!"
Editor of Nursing Times, Steve Ford, said: "Congratulations to all our winners at the Student Nursing Times Awards 2021. The awards recognise a group of outstanding students on their journey to entering the nursing profession, as well as all those who support them along the way, including lecturers, universities and healthcare providers."