Secretary Hillary R. Clinton to host President Clinton and other global leaders at Agreement 25
Former President of the United States, President Bill Clinton, and the Chancellor of Queen's University Belfast, Secretary Hillary R. Clinton, are among the first global leaders to be announced as part of Agreement 25 at Queen's.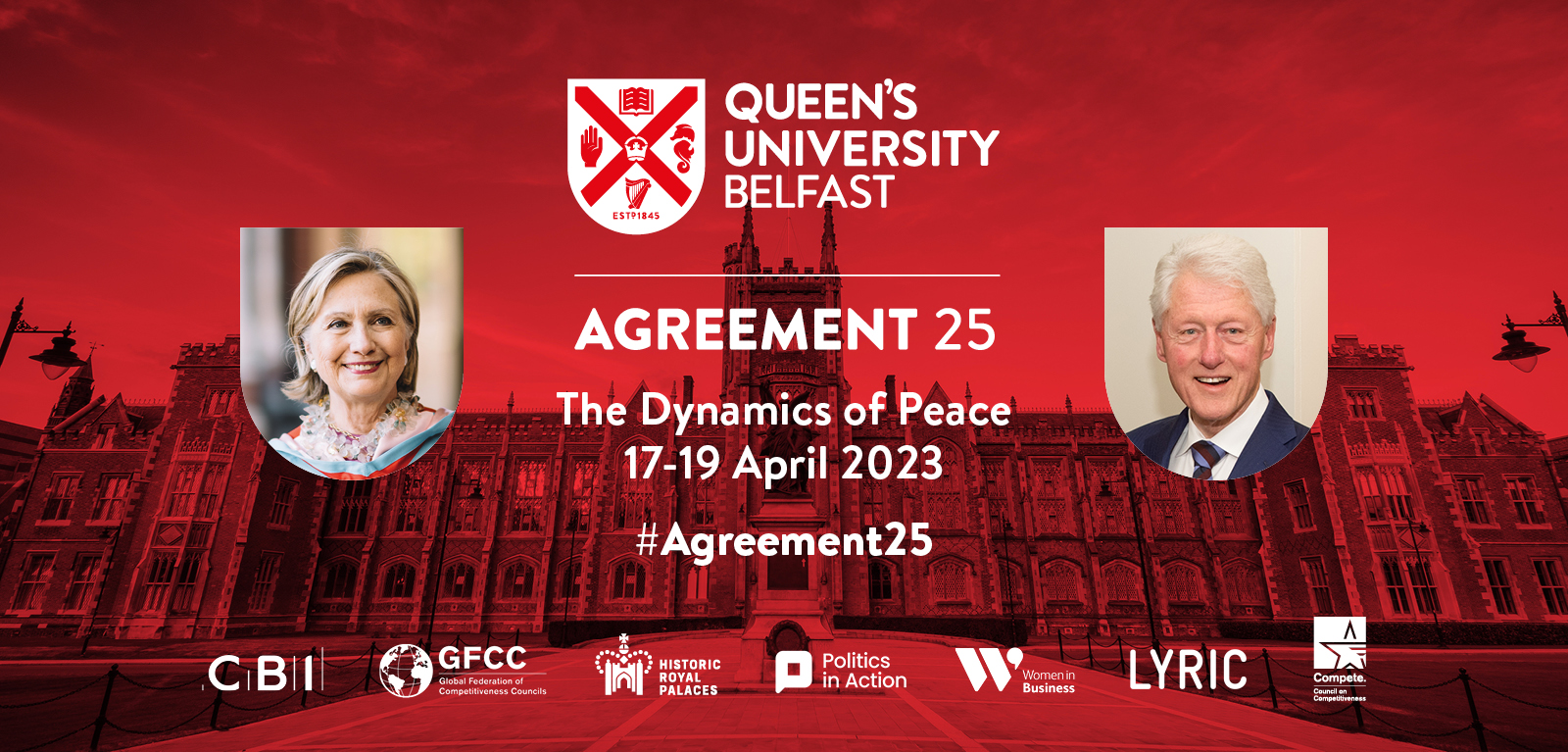 President Clinton played a critical role in the negotiations leading up to the signing of the Agreement, signed on April 10 1998, and has maintained a steady friendship in the region as it has served as a model for peace.
The University's Chancellor Secretary Clinton will host the three-day conference, which aims to reflect upon how the Agreement was achieved in 1998 while also looking forward with a renewed commitment to resolving outstanding issues as society looks forward to the next 25 years.
Global, political and civic leaders, past and present, are due to gather at Queen's from 17-19 April in what is described as the Signature event to mark the Belfast / Good Friday Agreement anniversary.
Speaking ahead of the event, Former U.S. Secretary of State and Queen's University Chancellor Hillary Clinton, said: "Northern Ireland and Queen's University are both close to Bill's and my heart. It's fitting that such a unique event will take place at Queen's. The University makes a significant impact on the world through its outstanding research and innovation.

"I am proud to host this conference, which will bring together civic leaders who have contributed to peace and reconciliation in Northern Ireland."
Professor Ian Greer, President and Vice-Chancellor of Queen's University, said: "We are delighted that our Chancellor Secretary Clinton, alongside President Clinton and a host of esteemed world figures will be joining this event to share their experiences and expertise in peace-building. President Clinton played a crucial role in securing the Agreement in 1998 while working with local parties to establish the institutions outlined in the three B/GFA strands.
"Secretary Clinton, as First Lady, Senator and Secretary of State, continued that work to secure progress in Northern Ireland through dialogue and working with local leaders and community groups to promote reconciliation. It is fitting that both of them will play a central role in the conference.
"With global leaders in attendance at our conference in April, the world's eyes will be on Northern Ireland. This is an opportunity to show how far we've come as a society since 1998. Northern Ireland is now a place of peace with lots to offer as a great place to live, work and invest. It is now also a leading destination for students worldwide to come and study."
Media
Media enquiries to suzanne.lagan@qub.ac.uk
Requests for media accreditation to be submitted to suzanne.lagan@qub.ac.uk by Monday 20 March 2023