Queen's scoops two awards at Balmoral Show
It was double delight for Queen's University, Belfast, at the Balmoral Show, winning the Best Overall Trade Stand while its School of Nursing and Midwifery picking up the Best Overall Stand.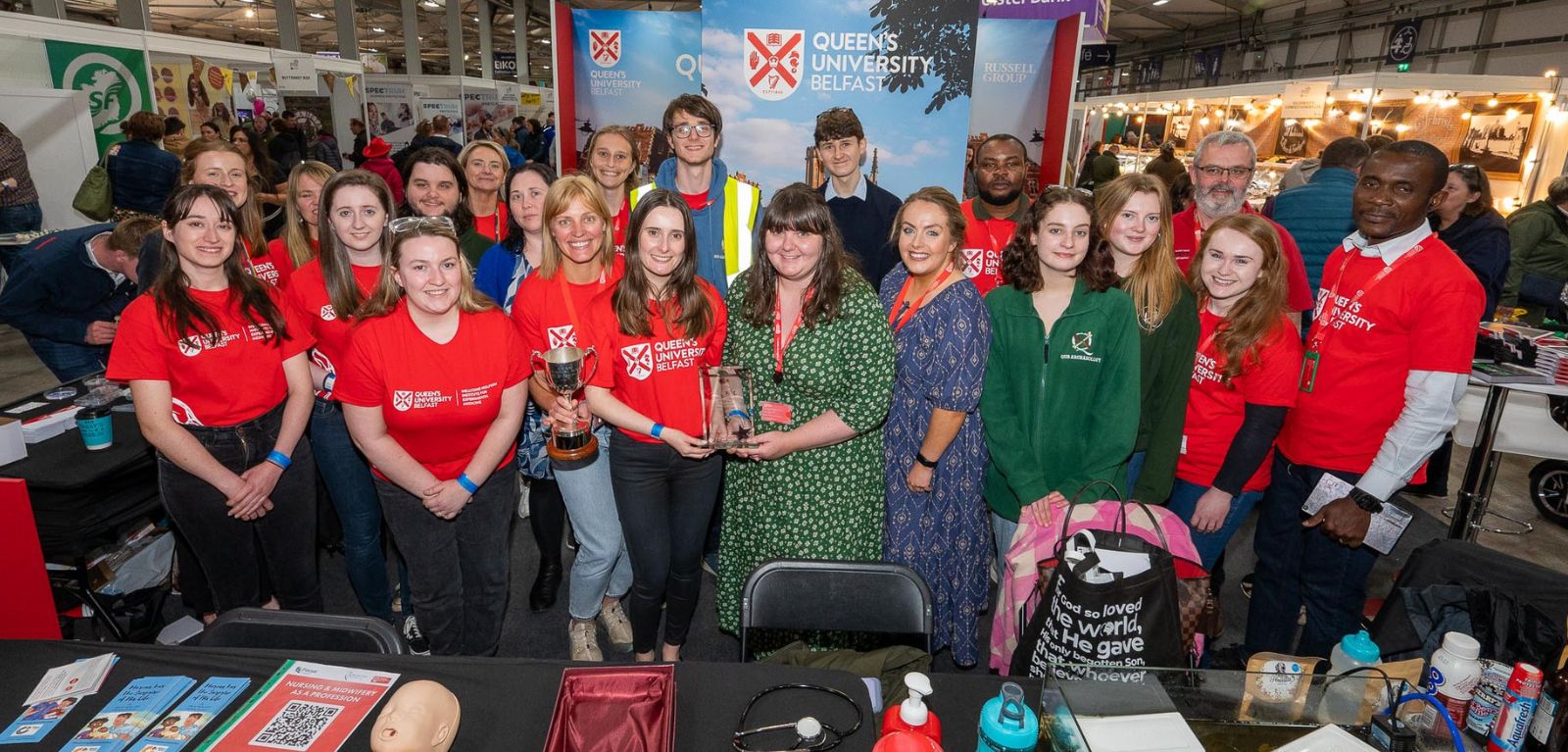 The Queen's stand includes representation from a number of schools across the University, showcasing the breadth of research areas and schools from food security to robotics.
The School of Nursing and Midwifery stand includes mannequins, encouraging children and young people at the Balmoral Show to learn how to perform CPR. This year's "Best Overall Stand" also includes QR codes, whereby attendees are invited to scan to participate in fun, interactive learning games. One newly launched game, created by Dr Gary Mitchell, aims to challenge some preconceptions about the nursing profession with the aim of encouraging more young people to consider this career pathway. Two recently published books, by Dr Maria Healy and Dr Debbie Duncan, also aiming encourage nursing as a profession for young males are on display.
Archaeology enthusiasts can inspect artefacts up to 7,000 years old while budding scientists can explore how the body fights off infection by observing microscope specimens of organs and learning how to grow cells.
Other activities include using a wooden toy, referred to in Psychology as the 'Tower of Hanoi', a tool used to assess problem solving skills in psychological tests.
Researchers from the Institute of Global Food Security are showcasing a number of tests used to detect food fraud.
Liudmyla Fihurska, originally from Ukraine, is on a Scholarship from the British Academy, which aims to support scholars at risk.
Liudmyla says: "I'm really enjoying my time at Queen's and the opportunity to talk to the public today about my work. Queen's is the number one University for agriculture so studying here is a great opportunity for me to learn new methods in my area of work on animals feeds."
Researchers from the School of Biological Sciences are using the opportunity to talk to the public about their research, which is focused on how to capture rich nutrients, often found in urban waste, to be repurposed for use as an alternative fertiliser in forestry . Capturing nutrients in waste water and brown bins that would otherwise go to landfills, could help to reduce dependence on synthetic fertilisers, which are both costly and damaging to the environment.
Researchers and students will be at the stand throughout the Balmoral Show until Saturday 13 May where the public are invited to learn about their work and take part in the interactive experiments on display.