Celebrating women leading the way in digital cancer research at Queen's on International Women's Day
International Women's Day is an opportunity to celebrate inspirational women scientists and the meaningful contributions they make to research and discovery every day.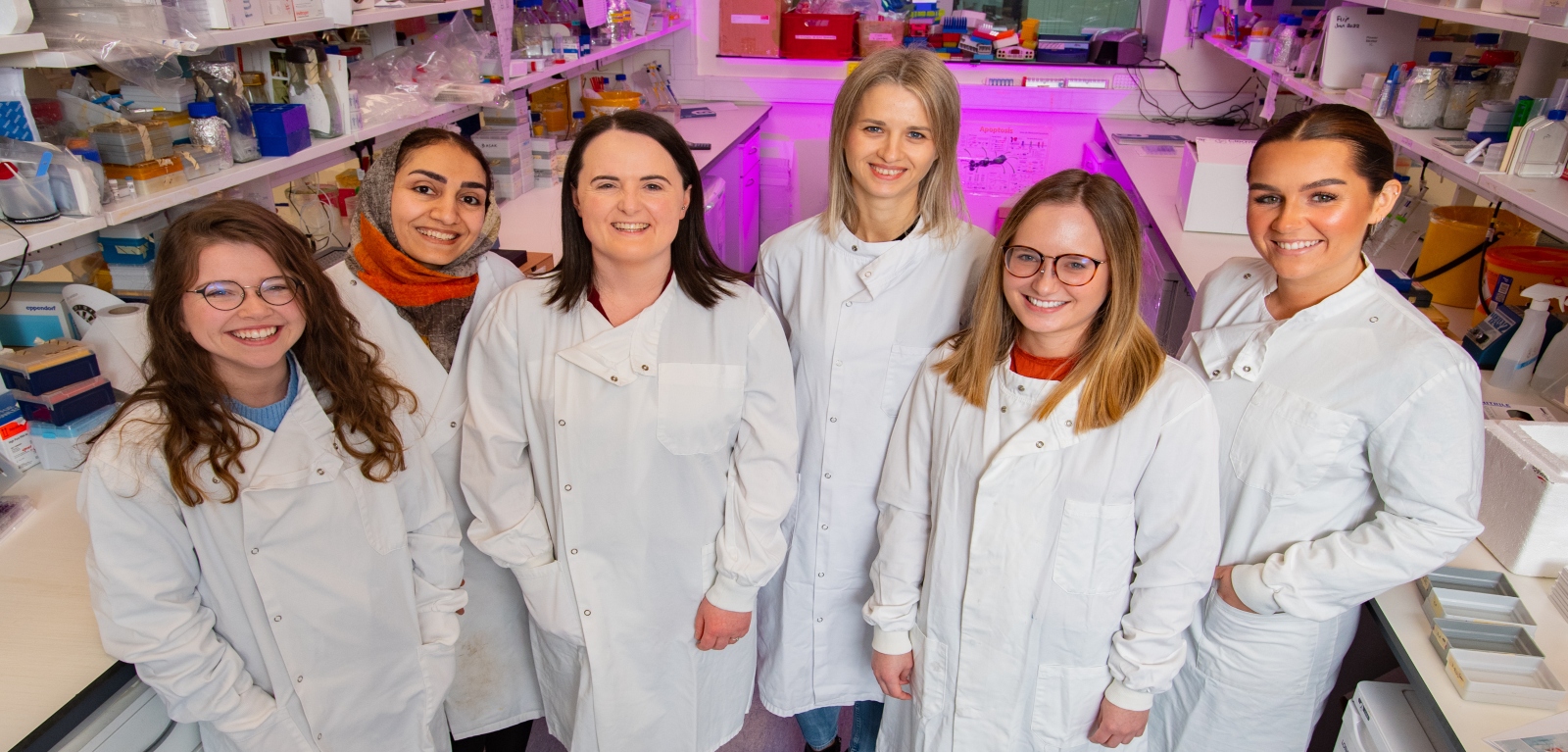 This International Women's Day 2023, we feature six fantastic women leading the way in digital cancer research at the Patrick G Johnston Centre for Cancer Research (PGJCCR) at Queen's University Belfast.
This team of incredible scientists are working in the field of forward-thinking digital cancer research. This type of research is driven by data to better understand the fundamental biology of cancer, with the aim of finding better ways to prevent, diagnose and treat the disease.
Here we find out more find out more about their backgrounds and journeys in science, the importance of gender equality in cancer research and some words of encouragement to inspire the next generation of young women starting out in STEM.
Dr Sarah Maguire, originally from Dublin, is a Lecturer in Applied Genomics and Bioinformatics at the PGJCCR. Sarah has over a decade of experience working in cancer research and is an expert in bioinformatic analyses related to cancer genetics, genomics and molecular pathology. Her current research focuses on integrating large multi-omics datasets to better understand breast and prostate cancer development and progression.
Sarah teaches scientific programming and applied genomics as part of the Queen's MSc in Bioinformatics and Computational Genomics programme and is also the academic lead for bioinformatics for the Queen's Faculty of Medicine, Health and Life Sciences Genomics Core Technology Unit.
Speaking about why inspiring other women and girls matters to her, Sarah said: "As a mother to a young daughter, I want her to know that she can accomplish anything she puts her mind to and being an inspirational role model for her is important to me."
Dr Natalie Fisher from Kilkeel is a Postdoctoral Research Fellow at the PGJCCR and has recently finished her PhD, for which she was awarded the Musgrave Research Studentship. Her research focuses on digital pathology and molecular data analysis to investigate known poor prognostic features in early-stage colorectal cancer. One of these features is "tumour budding", which are small clusters of cancer tumour cells that have broken away from the primary tumour and may suggest cancer spread in the body. Her current focus is looking further at this tumour budding to identify people with cancer who are likely to benefit from additional treatment. Analysis of this tumour spread is crucial for improving the identification and treatment of these aggressive but early-stage cancers.
Speaking on the importance of International Women's Day, Natalie said: "It's important to recognise the significant contributions of women in science, especially in inspiring and encouraging the upcoming generation of women."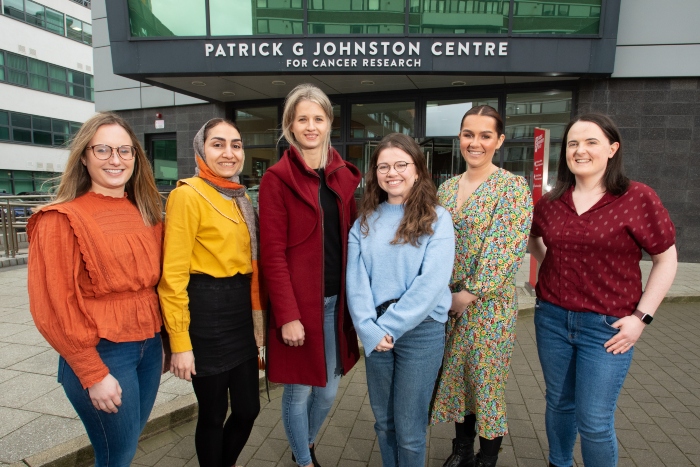 Courtney Bull from Newtownards is a first year PhD student at the PGJCCR. Her research is focused on the molecular characterisation of tumour-immune-stromal interactions to identify therapeutic options in colorectal cancer. She was previously involved in an all-Ireland genomic data science programme where she spent three months in the University of Galway learning how to apply various genomics data science methods to better understand biological cancer data. Her current work involves exploring the best way to understand which pathways are driving relapse in patients with colorectal cancer.
Reflecting on the importance of cancer research, Courtney said: "It was particularly valuable having the PGJCCR Public Engagement Day in February 2023 as I was able to see the real the impact of our work on people with cancer and got to talk to patients where they shared their experiences with me and showed their appreciation of the ongoing research in the Centre."
Shania Corry from Omagh is a final year PhD student at the PGJCCR. Shania completed her undergraduate in Liverpool, followed by a master's degree in London. Her current research looks at the molecular evolution of early-stage colorectal cancer and she is interested in how cancer cells can change between states and how this affects the body's immune response. She is currently investigating a cancer treatment which is being included in a clinical trial for patients soon.
Talking about why she was inspired to study cancer research, Shania said: "I am curious and like a challenge. I find cancer's ability to adapt and overcome so many external (treatment) and internal (immune system) attacks so fascinating. However, this ability results in devastating effects for so many people and their families. Working in research, where you are tackling questions for which the answer is currently unknown so that one day the answer you discover may help 'out-smart' cancer and help someone, is exactly where I want to be."
Dr Raheleh Amirkhah from Iran is a Postdoctoral Research Fellow at the PGJCCR. Her expertise is in the field of cancer bioinformatics and translational research. She did her PhD on investigating molecular mechanism of colorectal cancer using bioinformatics and computational approaches. During her PhD, she challenged herself by shifting from experimental cancer research to computational-based cancer research to get knowledge of both wet and dry lab, and thereby serve cancer patients more efficiently.
Currently, Raheleh is working on disease positioning of colorectal cancer mouse models by integrating human and mouse cancer genomic and transcriptomic data. The aim of her research is more specifically to develop a digital classifier to align pre-clinical mouse models to human cancer subtypes and thereby improve translation of findings from the pre-clinical setting into clinical trials.
Explaining the importance of challenging yourself to improve upon your knowledge, Raheleh said: "It was very challenging and daunting at first, but rewarding. Although fearful, do not be afraid of trying new paths; novel discoveries come from outside of your comfort zone."
Dr Nicoleta Sinevici, from Dublin, is a cancer researcher focusing on precision medicine at the PGJCCR. Nicoleta received her PhD in Cancer Biology from Trinity College Dublin. After completing her PhD, Nicoleta joined Harvard Medical School and Massachusetts General Hospital as a Postdoctoral Fellow in molecular imaging of cancer. Her primary research interest focused on understanding the mechanisms behind drug resistance in cancer treatments.
Since moving back to Ireland, she has transitioned to digital computational research and is currently investigating mechanisms of treatment resistance in rectal cancer. Her research specifically aims to answer why certain patients respond poorly to standard of care treatment and to understand the mechanisms that causes this.
Speaking about why she believes it is important for women to be represented in STEM, Nicoleta said: "It is important for women to explore all STEM areas without any prejudice. I have met, worked and have been inspired by numerous women who are brilliant scientists and have contributed to many scientific discoveries and this needs to continue with more women engaging in these areas."