6 Reasons Why Queen's accommodation beats renting privately
You can't beat the craic in Queen's accommodation, says postgraduate student Maisha Hossain.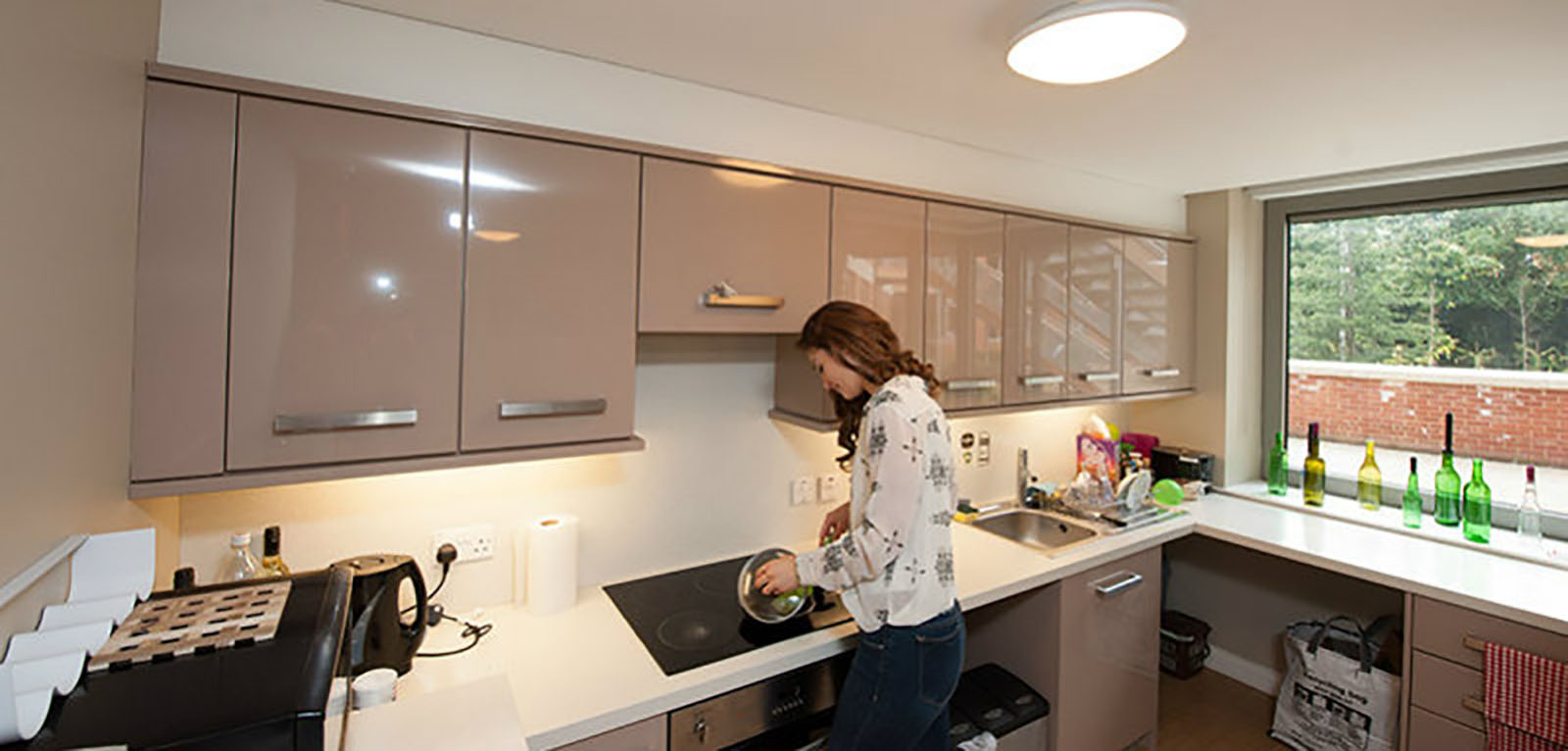 It has been two whole months since I have lived out of Willow Walk and not a single day goes by that I don't bawl into my pillow thinking of it. I always suggest Elms BT9 to meet up with my friends even now and find excuses like checking for my letters so I can visit it on a regular basis. While my new private accommodation that I share with a relative has its own perks, it never felt as homely as Elms, and here is why I am already homesick living just a few miles away from it!
1.The Homely Reception
Right from the moment I got out of my taxi from the airport, I walked to the Elms Reception and was met with a warm welcome and my brand new blue fob. A few wonderful volunteers helped me find my way through Willow Walk and to my room and even pulled my luggage up the stairs for me!
Then they took me to the Treehouse and introduced me to the Residential Team, where I showed my student identification details and received my box of bedding and kitchen (they let me choose!). I was once again amazed by the hospitality of Elms staff as they offered to carry the things and walked back to my apartment with me. It felt like home from the very first minute – I had the best sleep ever in my new bed that night!
2.Plenty of space
I loved everything about my apartment in Block M, Willow Walk, period. The fully-furnished place came with a dinner table for three, two couches, one TV and a whole lot of space in the cupboards and the fridge. All three of us housemates were into kitchenware and cooking and we all managed to store all of our plates, mugs and endless packets of tea and spices pretty easily! Our rooms were equally spacious with a large cupboard, a double bed, one table and chair, two side tables, and lots of drawers. I really notice the difference now that I have moved to private accommodation and struggle to find space for everything.
3.You're Always in Safe Hands!
The best thing about Belfast and Queen's accommodation in particular is just how safe and secure they are! In my first few days, I was scared to walk in late, but the security team at the gate assured me that they are always there for you!
The reception is open 24/7 for all kinds of problems you might have, and if you are careless (like me!) and have lost your fob, you can go and ask for a new one till you find and return your old one! I was not used to posting or receiving letters till I came here, and the Elms reception makes them both a lot easier – just ask them! Besides the reception, you can always access the Online Maintenance service to request anything that needs repairing or a little checking – again, just ask for it!
4.The Shops Are on your doorstep
I have lost count of just how many times I missed an item from my shopping list and ran down to buy it from the Spar right next to Elms BT9. It's so convenient to have a shop at such close proximity. The 24-hour Spar on the Malone Road always has the most amazing deals. That means you can go there at 4am and buy a carton of milk and come back like it's the most normal thing to be nocturnal!
5.The craic is better
The Treehouse is where everything starts and ends and makes everything in between happen. While the ground floor provides you with the important rooms, the rest of the building will take care of your social life, games and entertainment! Walk down the stairs if you need to get your laundry done, sit for a quiet discussion in the wee living room, or if you need to study, read or get something printed and/photocopied. If you need anything else, for instance. borrowing the hoover, just ask one of the Residential Assistants. Once you are ready to have fun and make friends, go upstairs. There is a free tea and coffee bar (yes, everyday!), pool tables, a number of board games such as Risk and Monopoly, and a whole lot of posters telling you what else is going on. I remember partaking in quizzes with my friends, being surprised by a group of 'leprechauns' in green on Saint Patrick's Day, and loudly singing random hit songs with the entire clan present in the room for no good reason! If you are staying at Elms, take your time to enjoy every bit of memorable events that only happen inside Treehouse.
6.The grounds are beautiful
When you live in Elms, you inherit a little village of your own. You are surrounded by trees (that the blocks are named after) and breathtakingly beautiful flowers. Elms is where the cherry blossoms bloom in January and the sycamores turn its greenest in April! Elms is where I ran out to witness my first snowfall, and rolled down the soft, white grass in glee. Elms is where I walked around in shorts in summer as the sun cast its pleasant warm glow on my face. Elms is where you can take long walks around the lovely premises, sometimes come across a staircase leading to a secret lane! Elms is amazing in every season and every part of the day. Elms will forever be my favourite home in Belfast. I hope everyone who takes a walk through Elms has the time of their life in there, just like I did!
‌
Maisha Mitthi Hossain

MA English - Creative Writing | Postgraduate |Bangladesh

I'm a Bangladeshi girl who enjoys aimless wandering and always end up in places with cheesecakes, chillies and puns. I once asked life for a break and it put that in the past and made me broke. Lately, I've been thinking of moving to a house at the Writer's Block in the street right after mine.

‌
Maisha Hossain
MA Creative Writing