9 Things to Know About Queen's Accommodation - from someone who's lived there
From navigating a shared bathroom sitch to whether to bring your own pots, Peter Moor nixes all your freshers' fears about halls.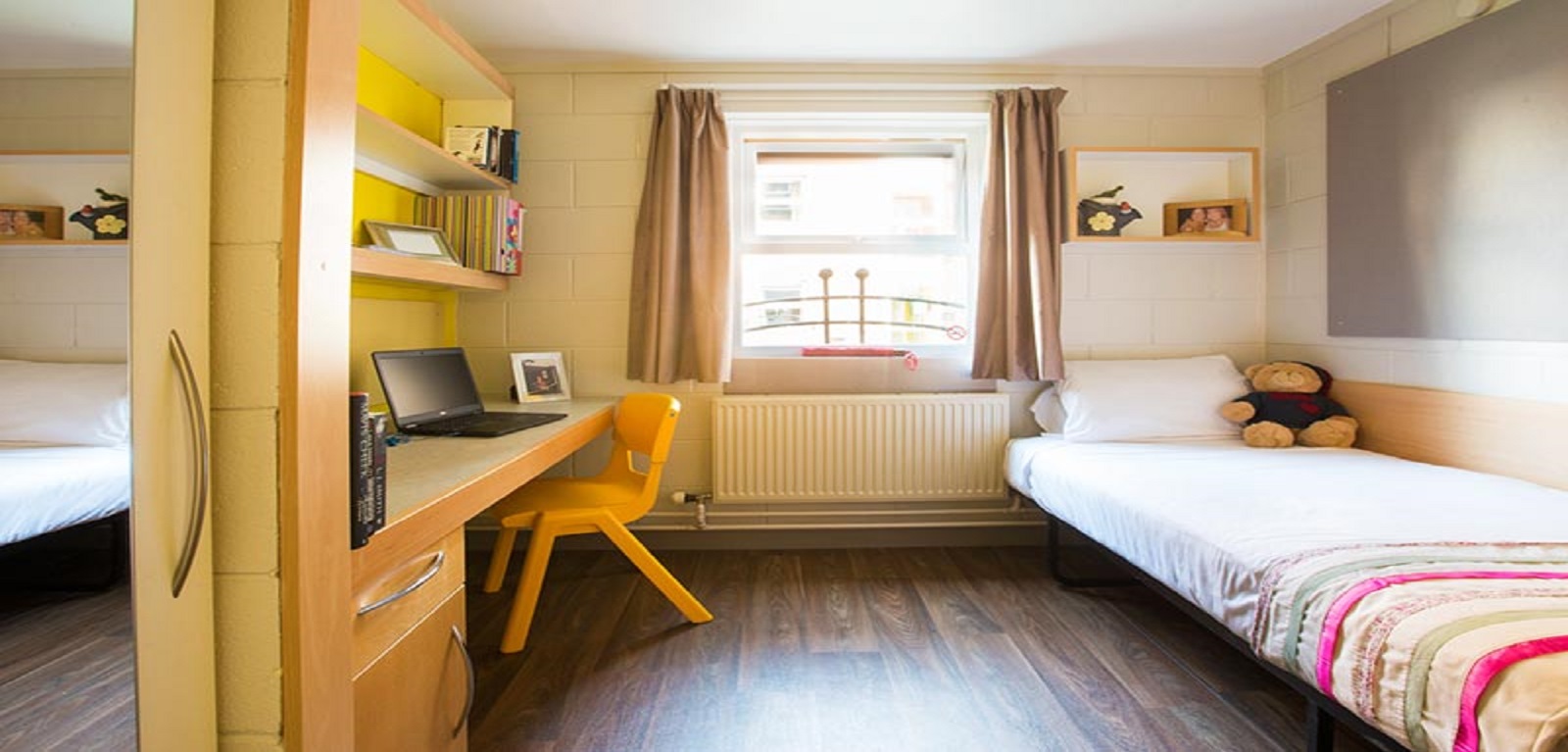 So you're thinking about accepting your offer from Queen's but now you're wondering where you will live in your first year. Well, Queen's has a load of modern accommodation options to suit every taste and budget. Here's all you need to know about Queen's Accommodation…
1. You can get a sneak peek at the brand new rooms right now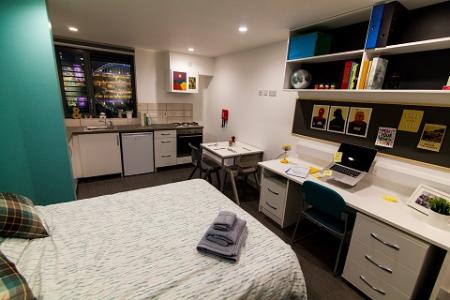 Elms BT1 and Elms BT2 are two new and snazzy accommodation sites being opened in the city centre September 2018 with a mammoth 1200 bed spaces. They're only a 15-minute walk from the main campus and the standard is very high. The marketing suite is already open which you can nosey at on one of our campus tours. There's a range of 3 – 6 bedroom flats - all en suite, costing £130 a week. You can also go for a self-contained studio flat for only a tenner extra a week but these aren't quite so sociable as the other flats on offer, even if you like your own space.
TOP TIP! Opt for a flat over a studio if you're the sociable type.
2. You inherit at least ten new friends automatically
Elms BT9 is also around a 15-minute walk from campus and I used to live here so have a bit of a soft spot for this place (formally Elms Village). Despite the name change, this place still has a great village, community feel with different blocks named after trees. I might be biased but IMO, the very best block is Chestnut Crescent 2 where I lived in my first year. The flats have up to eleven people in them so you immediately have a friendship circle of ten other people who you live, cook and eat with. This makes it a great choice for first year students if you're willing to be a bit further away from the city centre, although it's still only a 10-minute bus journey for just £1.35.
TOP TIP! Get a student travel card and save on your bus journey into town.
3. Sharing a bathroom is totally doable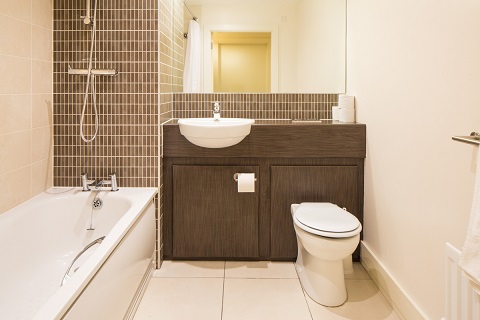 You've got a few different choices of accommodation at BT9. To save a bit of money you can get a shared bathroom: two toilets and two showers between the 11 of you in the flat which is more than enough with your flatmates being on different timetables.
TOP TIP! Talk to your flatmates about your routines – that way you can be assured the shower is free when you're pushed for time and need to make that 9am lecture.
4. Even the most basic rooms are of a high standard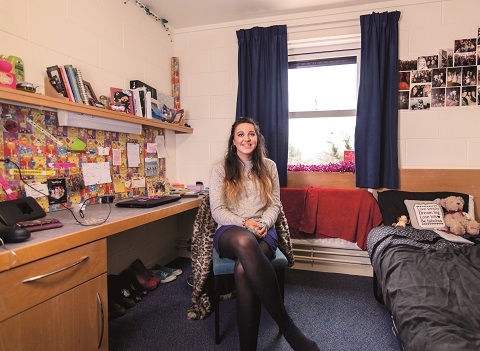 You can go for the standard version for £100 OR the premium version for £110. The only difference is the premium one has been more recently refurbished so has a fresh lick of paint, laminate flooring instead of carpets and just looks a bit more modern. If you want an en suite then they're £130, the same price as BT1 and BT2 which are a bit nicer than those at BT9 so bear that in mind!
TOP TIP! Book a campus tour to check out your options before getting here.
5. Doing your own laundry sucks (but it just got easier!)
All of the accommodation has very similar facilities including a 24-hour reception and security. There's a coffee bar and social space in each accommodation building and also a little shop as well in BT9. Unfortunately, you've got to do your own washing at uni but to make it easier, there's has an on-site laundry facility that's going to become state-of-the-art in the summer with a new app to let you know when your washing's done!
TOP TIP! Download the QUB laundry app so you'll get notified when your laundry is done.
6. Your friends are welcome to visit
You can hire out air beds and bedding for when your friends come over, which certainly makes for a great weekend if you have a friend from home in town.
TOP TIP! Give yourself time to settle in and make friends before you invite your friends from home to visit.
7. You can use the gym for free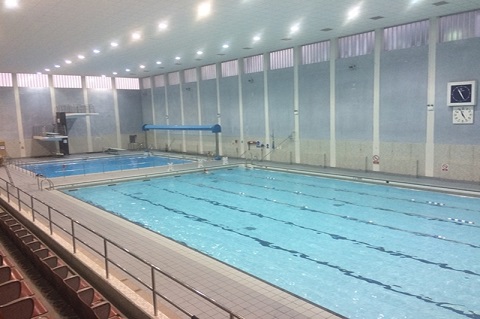 For any fitness buffs, in Elms BT1 there's going to be a gym area which anyone living in Queen's accommodation can use. Plus, everyone else in Queen's accommodation gets free off-peak membership at the Queen's Physical Education centre (PEC) so there's really no excuse!
TOP TIP! Even if you're not the weight-lifting sort, the PEC is worth a visit for the pool and sauna.
8. Help is available to pay the rent and buy essentials
Anyone reading this who's eligible for the GB scholarship, then as well as money off your tuition fees each year, you get a bit of help with your accommodation. So, you'll automatically get £20 a week saving on your accommodation making en suite accommodation cost just £110 a week. And don't worry about stuffing your pots, pans and bedding into your suitcase – this all comes in the Kitchen and Bedding pack. Even if you're not on the GB scholarship, you can buy the pack for just £65 when you arrive.
TOP TIP! Don't over-pack kitchen utensils. IKEA is easily accessible if you need to stock up on arrival.
9. Applications are open already!
What are you waiting for? Applications are open! Once you've applied you'll get a confirmation email by the next day. If you've made Queen's your firm choice, then you'll get your room offer by 25th July so get that date in your diary!
TOP TIP! Apply sooner rather than later to get your choice of room type.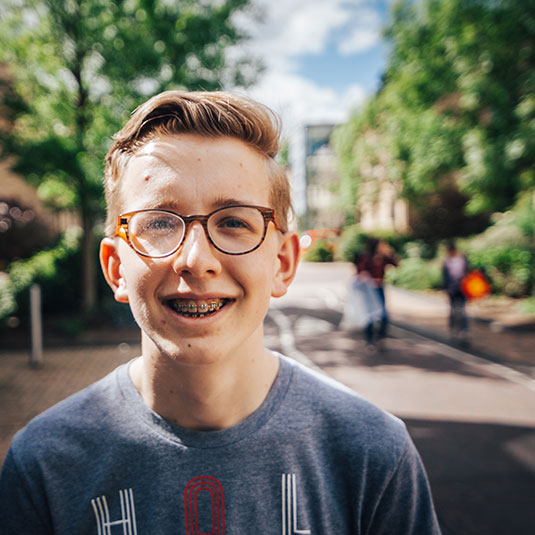 Peter Moor
Student blogger, BA English and Linguistics