A trip to the Naughton Gallery
On the 8th of December, I visited the Naughton Gallery at Queens for the first time. It was a refreshing new experience as I had never actually visited a gallery before although it was on my 'to do' list.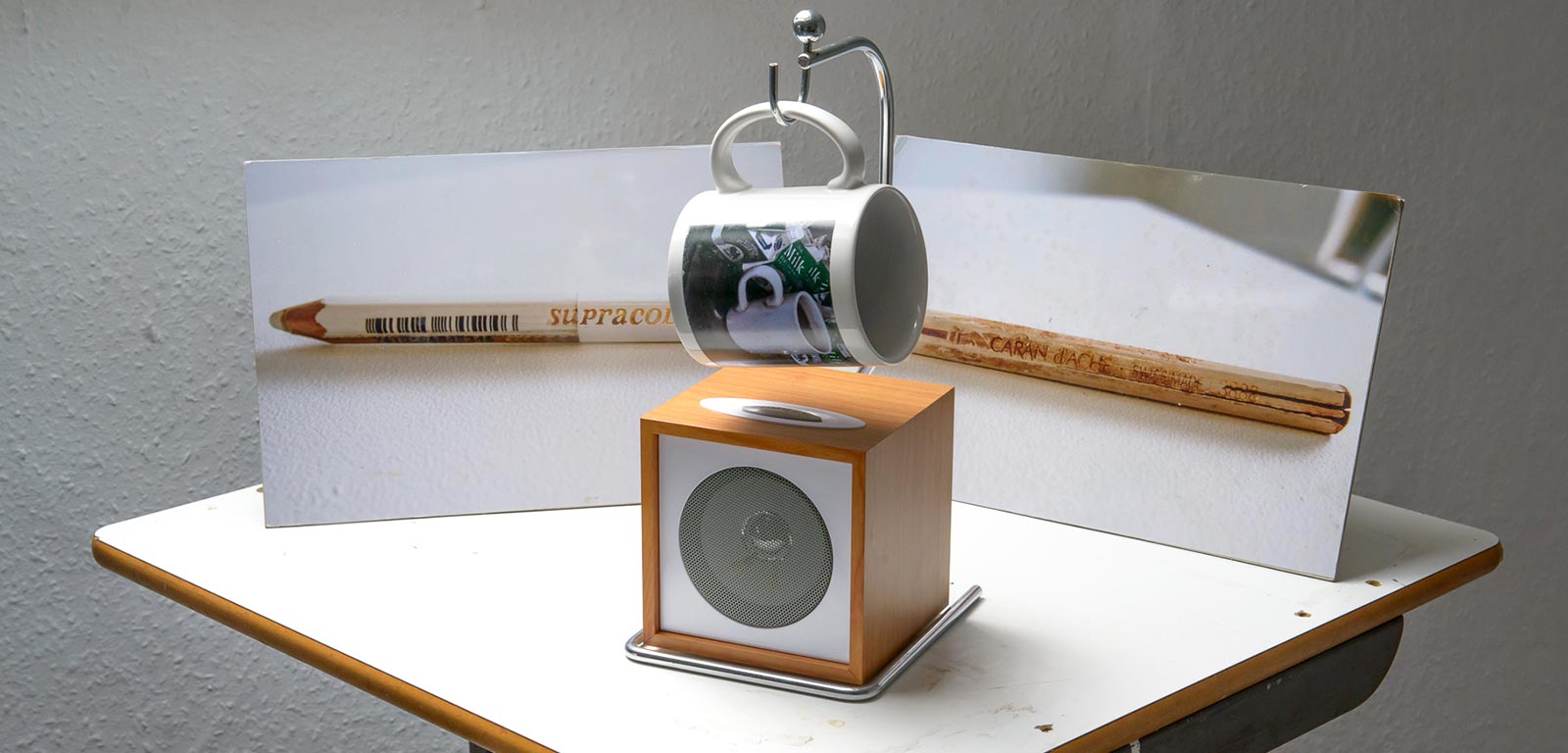 The Naughton Gallery was showing Locky Morris' display that evening, which was given the title 'Stop Lookin' At Photographs!'. Morris is an artist based in Derry (about 2 hours away from Belfast.)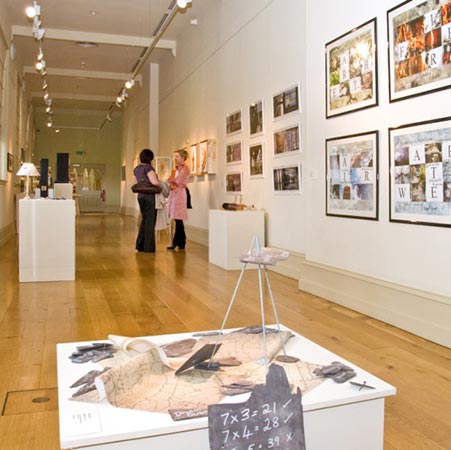 The Naughton Gallery, pictured, was given its name after its benefactors; Martin and Carmel Naughton.
Since its opening in 2001, the Gallery has become a well-known and respected platform for visual arts. It features an array of work, from the Queen's collection and exhibitions from local and international artists.
The art collections shown at the Gallery are extensive, including paintings, sculptures, and prints. The inventive vibe makes it a gallery I would thoroughly recommend students visiting - the Gallery is located in the main Lanyon building, just above the central black and white hall.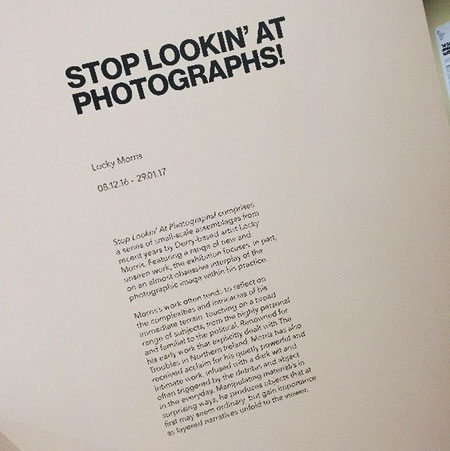 "Renowned for his early work that explicitly dealt with The Troubles in Northern Ireland, Morris has also received acclaim for his quietly powerful and intimate work, infused with a dark wit and often triggered by the detritus and abject in the everyday. Manipulating material/s in surprising ways, he produces objects that at first may seem ordinary, but gain importance as layered narratives unfold to the viewer."
When I first saw this title, my first thought was that Morris was fed up of society only looking at images to see things, and he wanted to change this by offering 'real' imagery. The artwork comprises a series of small scale 'assemblages' of quite everyday items.
What I most liked about the whole perspective of this exhibition is that you could find out although small, but significant to him, moments of his life which was shown through his artwork. The work reflected the complexities and intricacies of his home life, focusing on personal, familial experiences.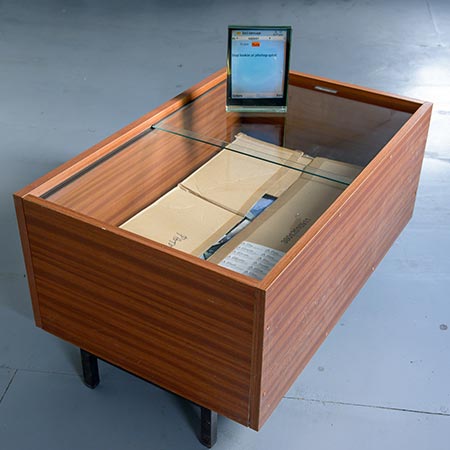 Stop Lookin' at Photographs! (2016)
This piece inspired the title of the exhibition. Shown is a box of photographs stashed in an upturned cabinet, being blocked by another photograph, with the image of a text message: Stop Lookin' at Photographs!
The story behind this, is that Morris was in his attic searching for something for his wife, but ended up there for hours looking through photographs in this box. His wife then sent him a text with that message. I personally thought this piece was sentimental, and showed the appreciation that Morris finds in highlighting these small things.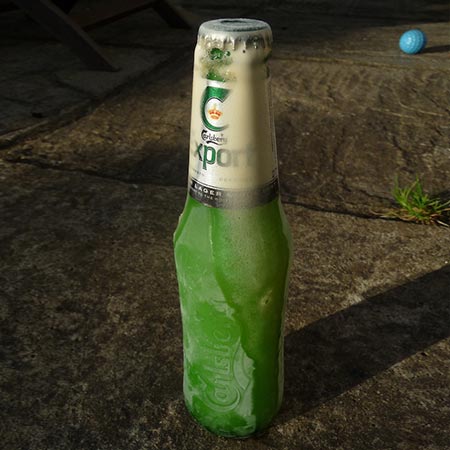 Frozen Export (2010)
I related to this piece since before "pre's", I tend to put my drink of choice in the freezer when getting ready, only to find that my bottle of Echo Falls has frozen… Similarly, Morris also makes the same mistake, by putting his Carlsberg in the freezer then forgetting about it!
The difference is I don't take a photo of my mistake, but from the great imagery I may start! I think the photo, although small, reflects on the common mistakes people make just by loss of memory, and these remind us that we're only human – all that from a picture of frozen Carlsberg....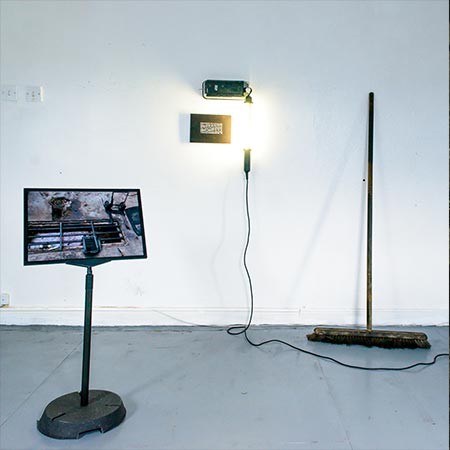 The Drop (2007, reconfigured 2016)
This piece took me a while to get my head around, especially when all I could see was what looks like a TV, dirty broom, and a light. With a little explanation, I was able to find out more - Morris was at the mechanic and dropped his sunglasses under the car. The mechanic helped retrieved them with the broom and these are the items that tell the story from the scene.

On High (2011)
This piece 'On High' is my favourite, simply because it's just so strange and unique.
What you can see, is a builder on top of scaffolding with a towel over his head, pretending to be a Jesus / Mary figure. Morris has added a light to further emphasize the holy theme of the photo.
What I love is that you can see a builder on the right doing his job, acting like there is nothing weird about this in the slightest! I wonder if that guy is a builder or if he was just having an off day?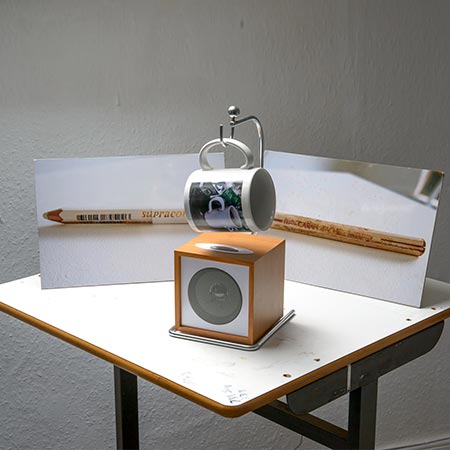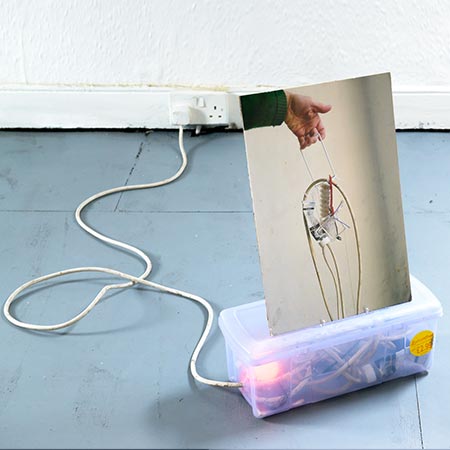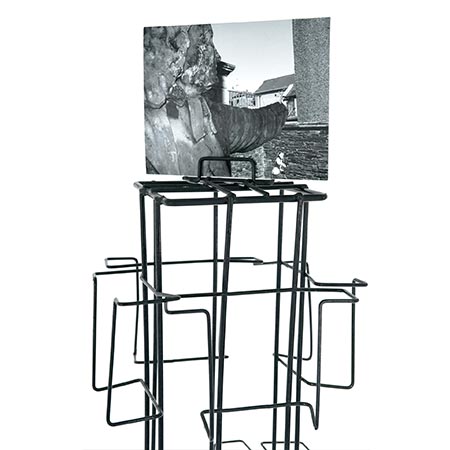 Some more of Locky's works from the exhibition
My visit to the Naughton Gallery was an enjoyable, and really different experience – with all my assignments stressing me out, it was nice to get out of the library, have a glass of wine and look at the exhibition.
It wasn't what I was expecting, but it was really refreshing to see how he appreciates and highlights all those small moments in life, that can make us smile. I didn't know much about art before I visited, and now I feel more educated on it.
Now that I've been to the Naughton Gallery I'll definitely be coming back again to see the next exhibition (not just for the free wine, although that may help!)
Alishia O'Boyle

LLB Law | 1st Year | Isle of Man

I was born in Cardiff, Wales and lived there until I was 4 years old. We then (mum & dad) moved to the Isle of Man! I now have two younger brothers, who are 8 & 12. Hobby wise, I enjoy cycling, tennis and netball - I enjoy walking too but that's usually done with an Instagram photo opportunity in mind!