Cheap Easy Student Meals
Sometimes, you might have had a long day of lectures and the last thing you want to do is cook yourself a nutritious meal but honestly, when you make an effort, it is so worthwhile so here's some quick and easy recipes for you to knock up!
Fish, Chips and Peas
This is a really simple one and a lot cheaper than getting it from a takeaway. All you need to do is buy some breaded or battered fish (I'd go for breaded) from the frozen section of Tesco, some potatoes and some mushy peas.
Chop the potatoes into wedges and place on baking tray. Sprinkle with oil, salt, pepper and garlic granules.
Bake in oven for around half an hour until nice and crisp. Cook the fish and the mushy peas as per the instructions One thing is this meal needs a load of tomato ketchup!
Doritos Salsa Pasta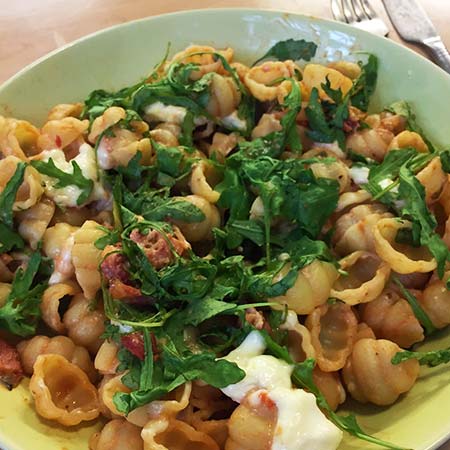 I know that the title for this recipe sounds a bit strange but honestly it is good and it's so simple! All you do is cook some pasta, fry off some bacon and mix in a few tablespoons of the Doritos mild salsa (although Tesco's own brand salsa is cheaper and tastes the exact same!)
To make it a bit creamier, why not stir in a few teaspoons of cream cheese! If I want real luxury, I sometimes even put in some rocket and a bit of mozzarella cheese on top!
Spanish Omelette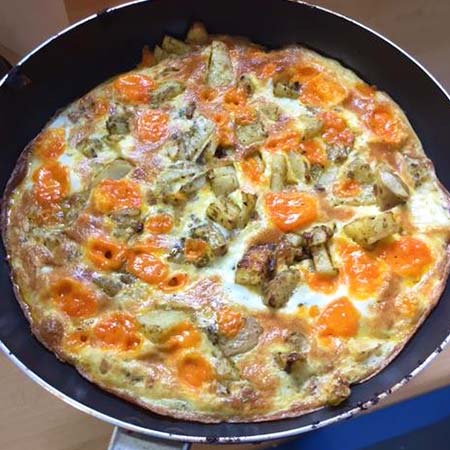 Make sure you dont stir it...Unless you want scrambled eggs!
This one can either be a big lunch or a dinner. Chop some potato up into small cubes and fry off for around ten minutes in a frying pan. I do it in some pesto to make it extra tasty! Beat up three eggs and add a dash of milk as well as some salt and pepper.
Pour this omelette mix over the potatoes, as well as any other ingredients you may have cooked e.g. onions, peppers, bacon. I often put lumps of cheese in it.
Once you have added the omelette mix, don't stir it all in otherwise you will get scrambled egg. Put it under the grill until the omelette just starts to go brown.
Mediterranean Vegetable Pasta
This has to be a particular favourite of mine. Get some Mediterranean vegetables from the frozen section in Tesco. If there's none there, then just buy some of your favourite fresh veg like peppers, onions and mushrooms.
Fry these veg for around 10 minutes in a frying pan and add it to some cooked pasta.
Stir in some red or green pesto (you can probably tell I'm a pesto fanatic!) and sprinkle some cheese (the best sort is parmesan!) on top. This goes perfectly with garlic bread!
Peter Moor

English with Linguistics | 1st year | Huddersfield, England

I am 19 year old Yorkshire lad, born and bred but now studying English with Linguistics at Queen's. I decided to come to over to Northern Ireland after many holidays visiting family across the country. I am part of the university politics society and the debating society. This semester I'm also doing a French language course - wish me luck! I'm a keen swimmer which is certainly needed when this country has so much good food to offer!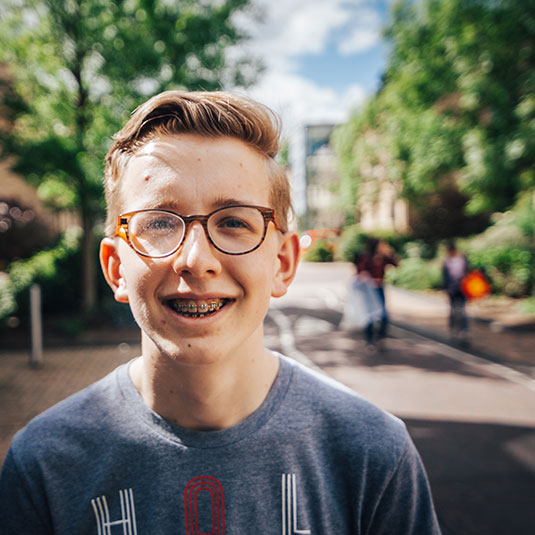 Peter Moor
Student Blogger, BA English and Linguistics