Five reasons I chose Queen's to study an MA in History
Making the decision of what course and what university to attend is a life changing one. It can be a daunting task but also an exciting one.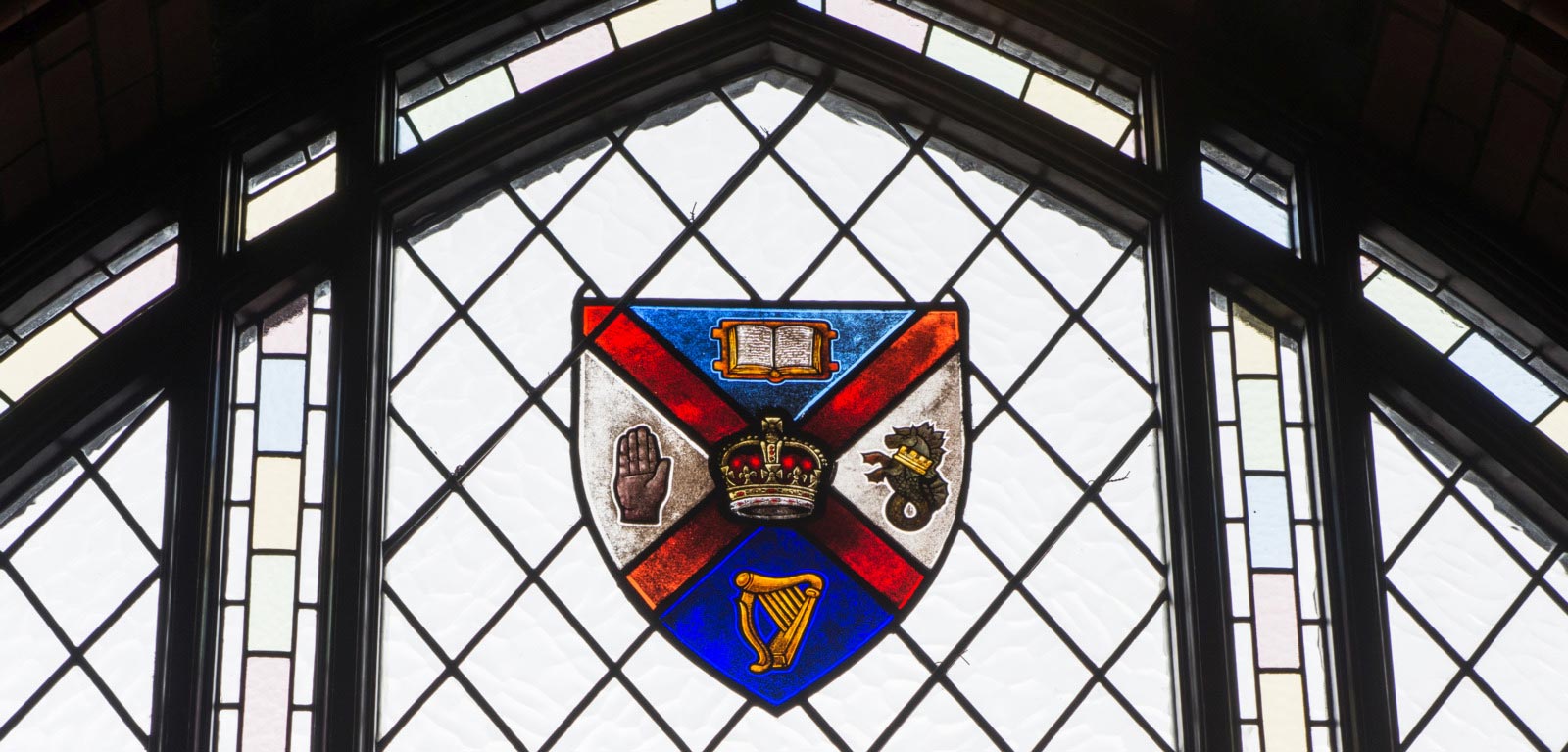 From visiting different Universities and campuses to meeting people in the same situation as yourself. Everyone is bustling through hoping one university is going to stand out amongst the rest. For me that university was Queen's and here's why...
1) The course
The main reason why you are attending university is to expand your knowledge within a subject that you are interested in. Therefore, number one has got to be the course!
You are going to be undertaking one to three years of intense study within your chosen subject depending on the course. Thus, what is taught on the specific course you are interested in is key. Here at Queen's, I chose the master's course because it offered numerous areas of history that I could specialise in.
These areas being British, American, Irish, Religious, Medieval and Early Modern. I chose the British History strand as it suited my preferred interest area in Modern Britain. There are also some compulsory modules which everyone must take to ensure everyone has an equal knowledge of some key debates and methods. The MA is broken down into three modules in the first semester and three modules in the second, alongside a 20,000-word dissertation.
This may seem daunting but as long as you are organised and have a routine it'll make it easier for you to manage. Some examples of the modules I am currently studying are Cold War Britain, From Blitz to Blair, and Debates in History. At master's level, there are fewer contact hours than undergraduate as it is more independent study.
There aren't any lectures; instead, you attend seminars. You are given reading for each week and use the seminar to develop ideas with your fellow students and lecturers.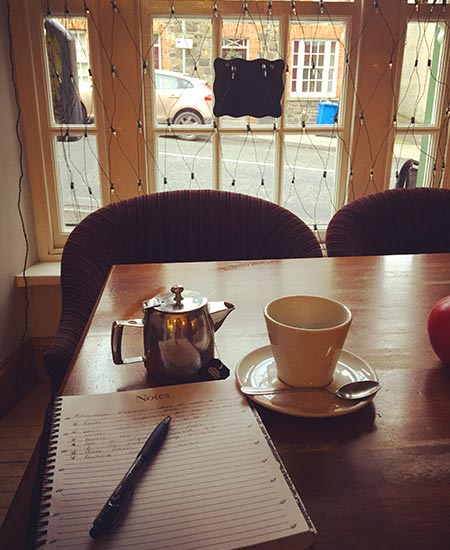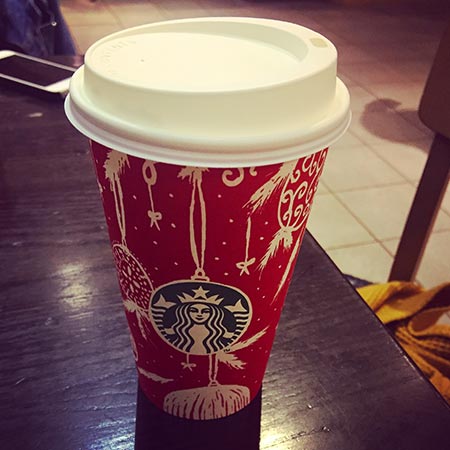 Tea and biscuits help with note taking; as does a constant diet of Starbucks!
On average I spend around four hours a week per module reading and preparing for class... which means one thing... a lot of tea and biscuits are consumed!
---
2) Opportunities outside of the course
The University also offers a lot of great opportunities outside of the course. For example, in the Graduate school (which is stunning by the way) they offer different courses, including Degree Plus, whereby you attend different seminars to build up your transferable skills. Therefore, when you go into the Postgraduate world you'll have the further experience to put on your CV.
The University also offers language classes at a discounted rate. So if you are planning on maybe working abroad after your degree you can pick up the lingo before you leave. There are also conferences you can attend and furthermore, speak at as a masters student at Queen's to help with your networking skills.
I've received a wide range of emails since joining the University in September with different opportunities. You are kept up to date of all the many opportunities on offer.
---
3) Reputation
Queen's University has got an excellent reputation as it is ranked within the top 1% of universities in the world. You might wonder what impact that would have on you?
Going to a highly recommended University is a step towards giving yourself the best start within Postgraduate life. It also means that the University is well recognised by a wide range of employers. On my course I was given the opportunity to take a module called 'The Public Internship' which I am starting next month.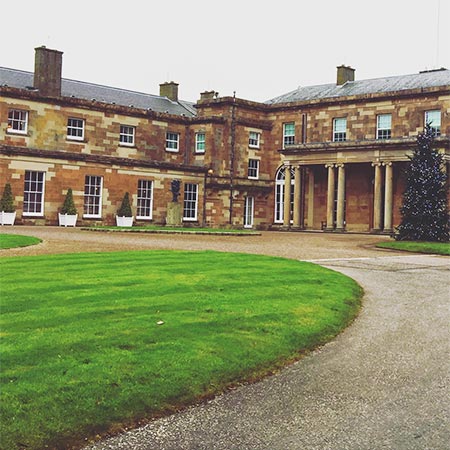 The beautiful Hillsborough Castle
This combines academia with hands-on experience as the University gives you a list of possible companies you can contact to work with. I applied for Hillsborough Castle run by Royal Palaces and am looking forward to working there within the next few weeks. Other people on my course are working with the BBC and Belfast City Council to gain experience by a well-recognised employer.
---
4) Resources
The resources a university has to support you is key when choosing where to study. Queen's has a big library with an extensive collection of books, special collections, short term loan collections and online articles/archives. It also has some hidden gems to cheer you up whilst you are typing up your essays.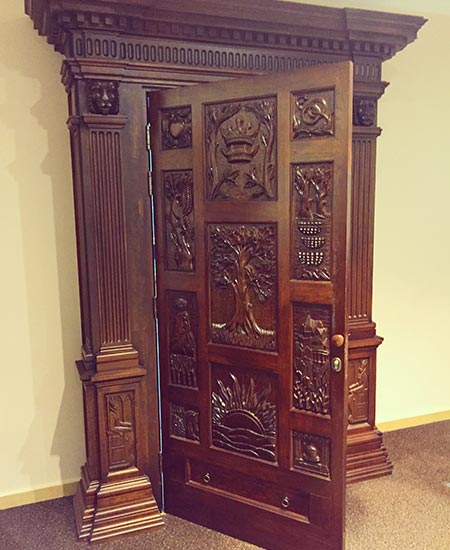 Unfortunately this door doesn't lead to Narnia; The C.S. Lewis reading room is almost as impressive though!
There is the C. S. Lewis room which has the door from Narnia and you can sit in there to do your work. The Botanic Gardens are also just outside of the library if you need a breath of fresh air and some pretty scenery. Lastly, there is the Graduate School building which is only for postgraduate students.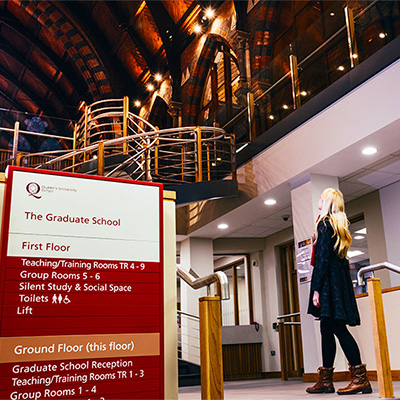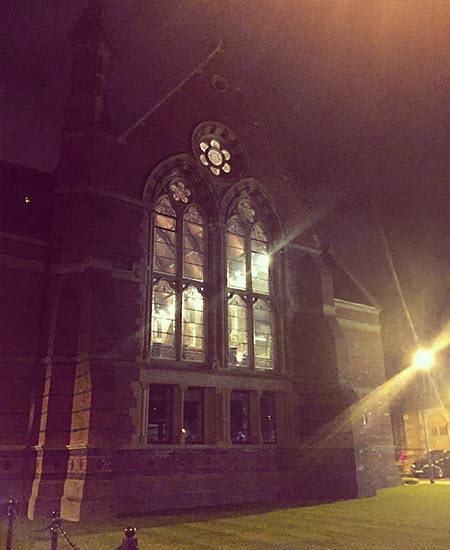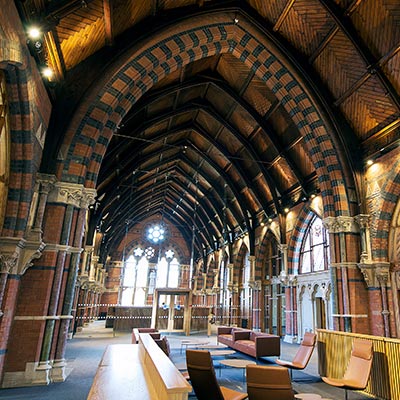 The Graduate school is incredible inside and out and offers amazing facilities exclusively for Postgraduate students
This building is not only stunning architecturally but it also has rooms you can book out to work in and its own set of computers, giving postgraduates their own space to work.
---
5) Support
Last but definitely not least is the support you receive as a Queen's student. You are undoubtedly going to get stressed at some point during your course but with the right support, you'll break through it.
There is the Student Guidance centre which supports students in numerous ways no matter how big or small the problem. In terms of my course, the lecturers have been super helpful. Essentially they are there to help and guide you along the way. So don't be scared to drop them an email if you are having some essay trouble or just generally don't quite understand a topic.
Rhianne Morgan

MA History | Aberdare, Rhondda Cynon Taff, South Wales

I am a Welsh wanderer with a wealth of worldly wisdom, currently taking a stop off in Northern Ireland. I am an aspiring historian currently studying an MA specialising in Modern British History at Queens. When struggling to write this bio, I asked my friends to describe me in three words... "Smart, sharp and sassy" was their verdict. However, I shall leave it up to you guys to decide.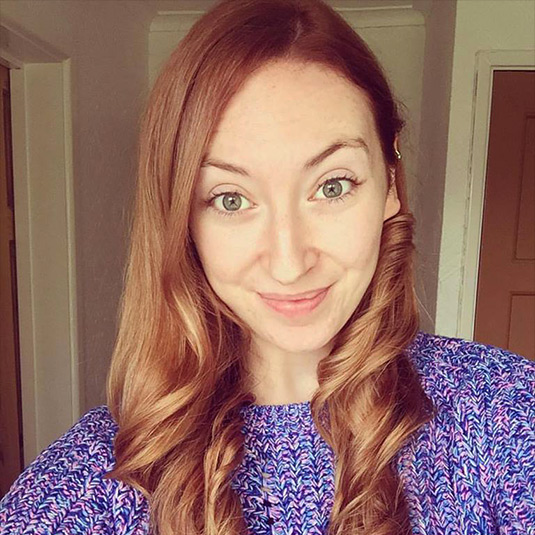 Rhianne Morgan
Student Blogger, MA History