Representing Queen's Cyber Security Across the UK
Over the past couple of months I've been lucky enough to represent the Centre for Secure Information Technologies (CSIT) at the Northern Ireland Science Festival and an event at Trinity College, Cambridge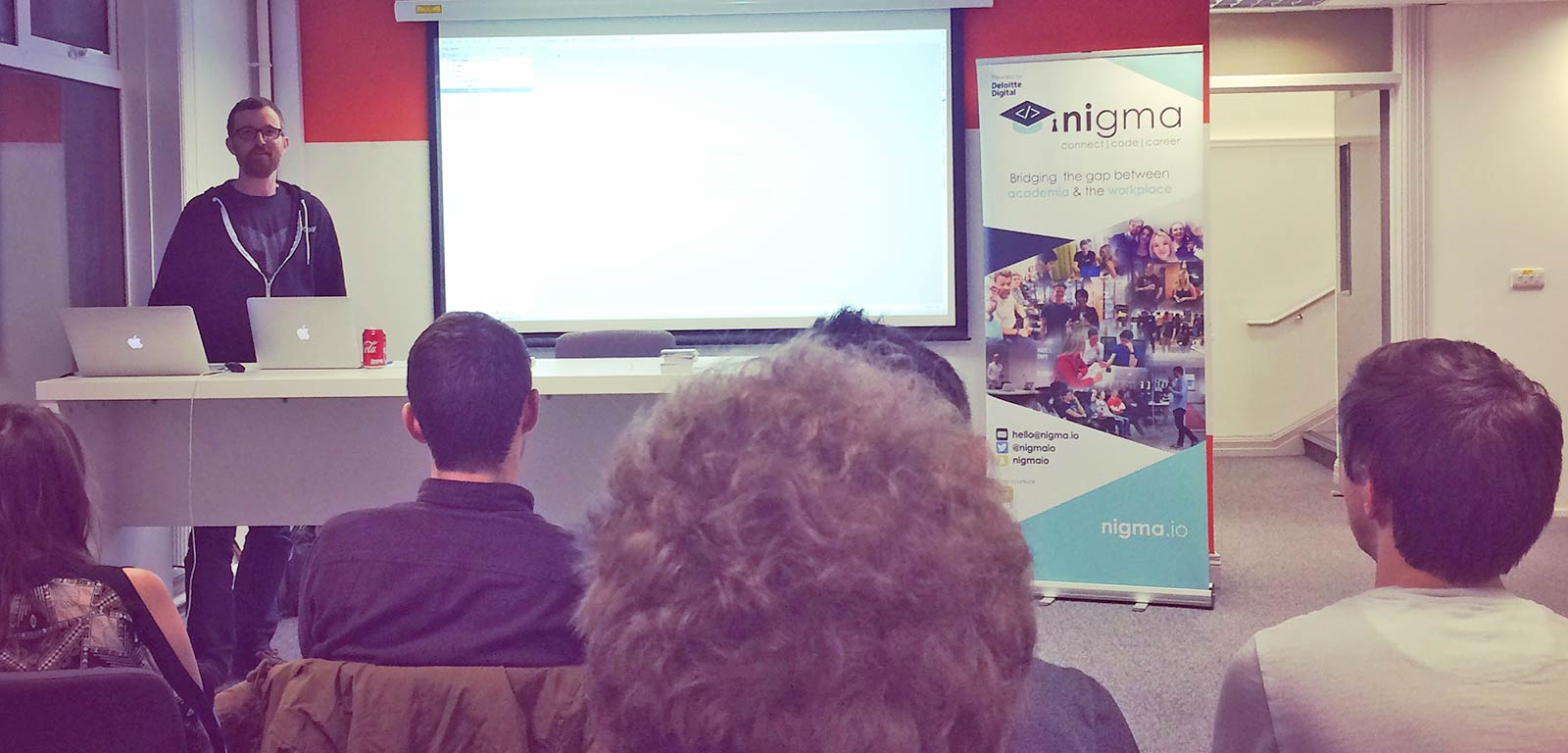 The Northern Ireland Science Festival
This took place a while ago but this year was the first that I've been involved so I wanted to write about it.
There were over one hundred different events across twenty-five venues at this years event. The focus is on cool stuff related to science, tech, engineering and maths, with Queen's being one of several funders.
It's all quite eclectic with talks, workshops, films, debates and DJ sets among a wide range of events. I was invited to represent* the Centre for Secure Information Technologies (CSIT) on a panel discussion called 'The Entrepreneurial Scientist and the Sustainable Development Goals'.
I'll try to explain what that is - the United Nations have list of global Sustainable Development Goals for improving society, reducing poverty, handling climate change, improving industry and infrastructure and a whole lot more, and the event was about how these might tie into Northern Ireland.
The night was held by the British Council NI and Catalyst NI in the Innovation Centre which is just around the corner from CSIT. It had various senior figures from different sectors in Northern Ireland present plus a whole host of international students studying in the UK via the Newton Fund, which helps students outside the UK study here.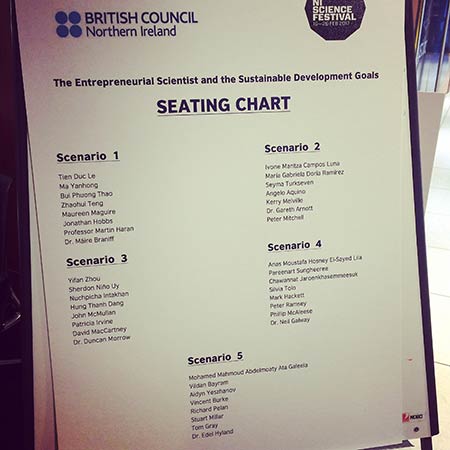 International vibes at NISF
There were different scenarios for each section of the panel to discuss, and ours was cyber security. We had to fast forward 10 years and imagine Belfast being the target of a major cyber attack affecting emergency services, banks and infrastructure, with the aim being to discuss what technologies may have prevented this, and what policies the government should have put in place.
We also had to discuss the threat to jobs from artificial intelligence and machine learning, areas which are part of my PhD. Our table had a good discussion with lots of input – there were some international students, the regional director from the Institute of Civil Engineers, the CTO for Kainos, a senior manager from Invest NI and a chemistry teacher.
It was an opportunity to talk to people about cyber security in real terms that are more understandable than using a lot of technical jargon. I think it's important to do that generally, people need to be aware and protect themselves where they can but it's just not realistic to expect everyone to have the same level of technical knowledge.
After our discussion, I presented our findings back to the room and when we finished I was also invited to a dinner afterward (thanks to Naomi McAteer from the British Council), which was a nice surprise. It was in the Bridge suite in the Titanic building where I got to meet the international students properly and do a little networking.
Representing Queen's at Trinity College, Cambridge
A few weeks back the CSIT / QUB repping continued, this time at Trinity in Cambridge, England. I was part of a team of four from CSIT taking part in a UK wide cyber security competition called Inter-ACE where thirteen different universities with ACE (Academic Centre of Excellence) accreditation battled it out in a Capture The Flag (CTF) event.
In a CTF there are lots of different cyber security challenges, like trying to hack into a server, find hidden information in a picture, decrypting ciphertext or examining hard disk images for suspicious data. Our team had previously won the QUB CTF competition held in March to represent the university.
‌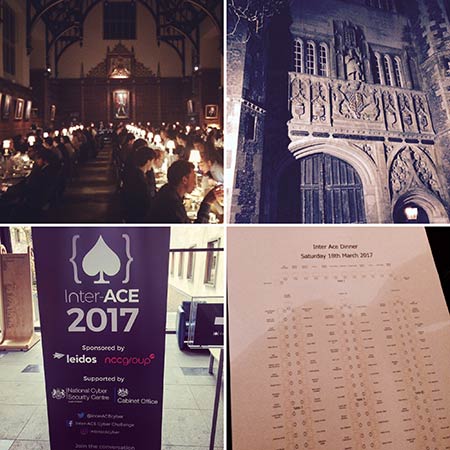 Cambridge was awesome! A real privilege to go.
We flew out on St. Patrick's Day, the CTF was on the Saturday then we came back Sunday afternoon. The CTF competition on the Saturday was intense. It was held in the Intel lab in the Bill Gates building in Cambridge uni, with about one hundred students arranged into their teams spending about five hours working on the cyber security challenges.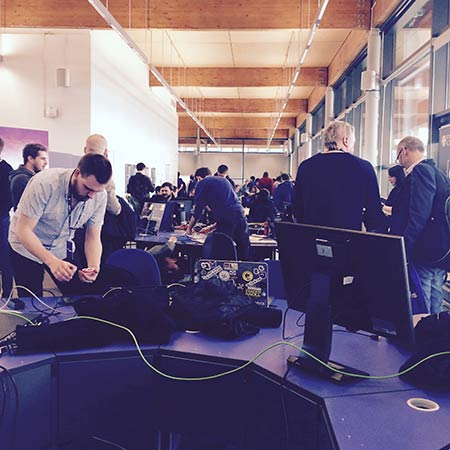 The Intel lab in the William (aka Bill from Microsoft) Gates building at Cambridge uni
You get points for each challenge you complete, and there is a live leaderboard so you can see how you are doing compared to everyone else. It gets competitive, as you can imagine! The competition lasted a good five hours and then we attended a dinner in Trinity's Great Hall which was a real privilege. It is very grand but we didn't feel too out of place as everyone was in same boat, just trying to take it all in.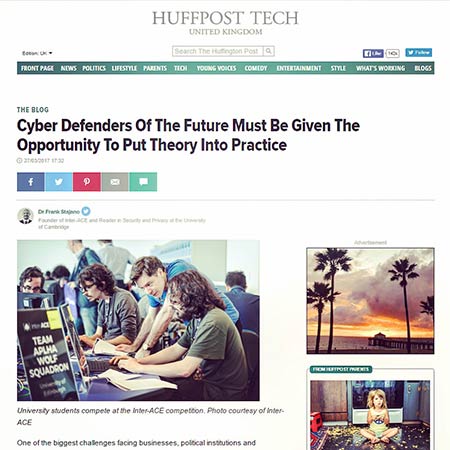 Shout out to the Huffington Post, that's our team in the middle…
The dinner was fantastic and the prizes for the top three teams were handed out at the end (we are still waiting to hear how we did – the £6,500 top prize was won by Imperial College London!). After the dinner, we headed out into Cambridge and it was a great night overall.
I would say the competition was a learning experience since it was the first time I'd taken part, and it has whet my appetite for next year for sure. And getting to see Cambridge itself was excellent, it is a massive campus with beautiful architecture and a nice city, if you get the chance to go then do so.
* Thanks also to David Crozier from CSIT and Joanne Stuart from Catalyst who had me representing CSIT on the panel. It was a great experience and I hope to be able to get involved in more talks like this in the future, time permitting.
Stuart Millar

PhD Cyber Security | 1st Year | Belfast


I'm doing my PhD via the CDT programme at CSIT. I want to make a contribution to people's lives (I know! But seriously I do) and cyber security lets me do that. It's about keeping people safe - think nasty software on your phone, protecting hospitals or fighting off international bad guys. Plus I always wanted to max out my academic potential; in a different life I'd be an actual doctor.

I enjoy getting out with friends, training, catching movies, and writing electronic music. I used to work in radio too, presenting and producing with BBC Radio 1 and RTE 2FM. Secretly I'm a closet nerd, I don't do selfies (though that may change for this blog!) and somehow it took me until 2017 to discover Cards Against Humanity. Hope you like my ramblings!

Twitter - @StuartMillar | Instagram - @stuart.millar | LinkedIn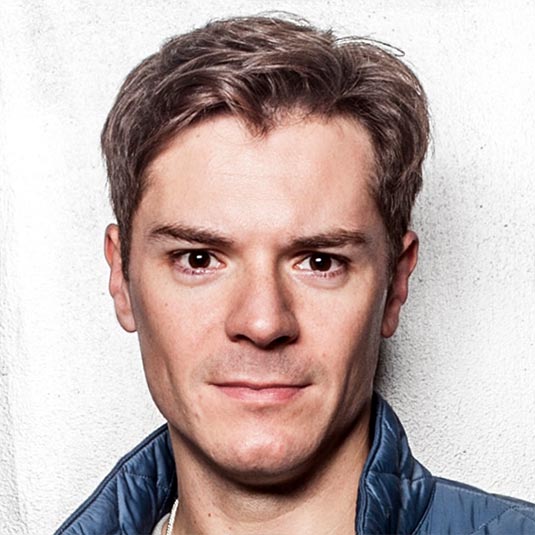 Stuart Millar
Student blogger, PhD Cyber Security