Belfast on a budget
Product Design Engineering student Andre McCarron knows that it's hard to make the student loan last. Here are his six simple tips to making your money go further.

We've all been there…you wake up the day after that insane night out, you've made it to the end of the semester but funds are dwindling, you bought that thing you just HAD to have, or, maybe, you didn't have a lot of money to begin with. Well, ladies and gentlemen, here are my six simple tips to surviving the jungle that is Belfast with no more than a couple of spare buttons and a hole in your pocket where your money used to be.
As someone who came to the end of this year and decided to go on holiday with next to no money, I might not seem like the most inspirational and knowledgeable person on this topic, but when you spend everything, you have to learn fast how to live with nothing.
1. Plan everything
No matter what you're budgeting for, be it the weekly groceries or a big night out, try to anticipate everything so you plan ahead. Make a list for your weekly shops and try to avoid just popping to the shop to buy a small thing. If something seems like it could cost anything between £x and £y, then plan for the higher option and work around it. If it works out costing less then great! Keep that to the side and you'll have some money for a rainy day.
2. Choose cheaper pastimes
You have come home from university, all your work is done, you've had your dinner and you've the rest of the night to yourself, what do you do? You have a few messages from your friends about going out to Limelight, some others have asked if you want to go to the cinema, and then your last message is from your best mate, who simply wants to go for a walk.
Picking the cheapest pastime from time to time may not sound like a big saving, but considering that a cinema ticket with snacks could cost £10, a night out could range from £20-50 depending on where you go, and a walk with your friend is free, it all adds up by the end of the year. This also means that when Christmas or a birthday comes around, the money you have saved can be used to get someone that perfect present without you having to put your hand down the side of the sofa looking for money.
3. Work when you can
If you have been lucky enough to get yourself a part time job, chances are they will be pestering you in the work group chat about shifts that need covered, or passing around the overtime sheet every week to see if there are any takers. If you have a free night, why not take a shift? It might not sound like the most glamorous thing to do but considering you could make £50 on a night where otherwise you could have been spending £50 it really helps to balance the books at the end of the month!
4. Shop around
Everyone loves the convenience of their local shop, especially if you live in Belfast where there's usually a shop within a two minute walk from your front door. However, just because it's close doesn't mean it is the best place for you to shop. For example, a 2L bottle of Pepsi in a Centra is £2.50, whereas the same bottle in Tesco can be as low as £1. Different shops have different prices, so shop around! Going to 4-5 shops every week as opposed to 1 could save you a fortune in the long run. And keeping an eye out for deals could save you a small amount of money per week, but a fortune per year.
5. Always go for the cheapest option
When you're shopping for your evening meal always remember to check the reduced section. Some people might turn their noses up at yellow-stickered goods but the savings you can make are huge and if you're going to be eating the food on the same day then it's a no-brainer really! Comparing prices like this for all products you buy could save you a fortune every year, maybe a few hundred pounds to send you on that holiday you've always wanted to go on.
6. Make a budget and stick to it
Make a note of how much money you have for the year, be that from your savings, student loan or parental assistance. Deduct the cost of your rent, add any potential money from a part-time job and then divide your total by 52 to see what your weekly budget is. It's so easy to get carried away at the start of the term, especially if you've got a loan and are not used to having such a large sum sitting in your bank account BUT you must remember it has to last the year and knowing what your weekly spending limit is will help you curb your spending. If you spend a little too much one week you know you'll have to sensible the next week.
So those are my 6 tips, the knowledge I have bestowed upon you will help you for years to come. Go forth and save money!
Andre McCarron

BEng: Product Design Engineering | Placement year | Derry/Londonderry

Hi there! My name is Andre and I am currently on my placement year of my BEng course: Product Design Engineering. While engineering does make me think and challenge me, there still must be some time for self-expression, Right? From experience if you need someone who can talk to you about having to be on a budget, where the cheapest version of everything is, or even just for a bit of fun? Then this is the blog you HAVE to read. Come on in and enjoy!

‌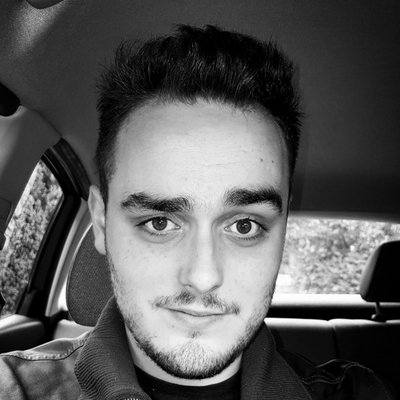 Andre McCarron
BEng: Product Design Engineering