Take a Day Trip to Dublin
Dublin is only a short train ride away from Belfast so it makes a great destination for a day trip. Join Medical Student Patrick for a sightseeing trip through Dublin.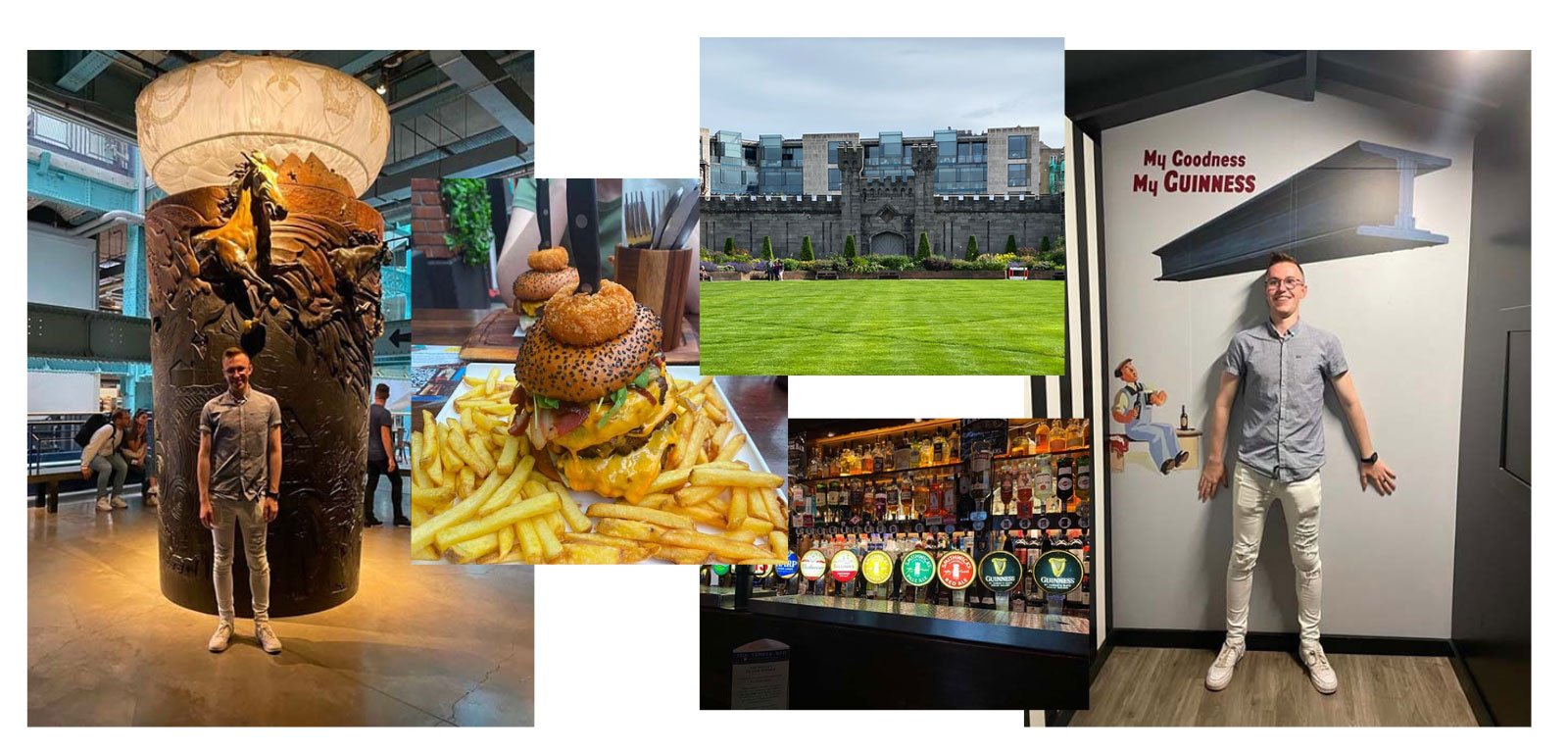 When you study at Queen's and live in Belfast, a great day out can be a trip down to Dublin. I'm going to take you along with me on a daytrip to Dublin and show you around!
How to get to Dublin?
Given that many of us do not drive when we are at university, and also due to difficulties parking in cities; a great way to get to Dublin is by taking a train directly from Lanyon Place in Belfast City Centre to Connolly Street Station in Dublin.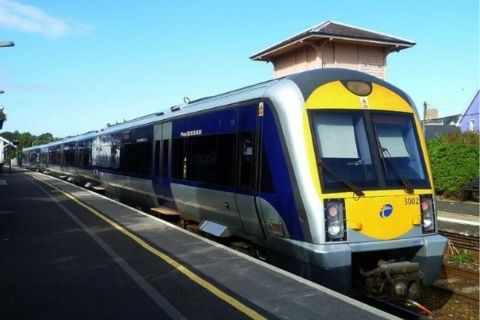 Belfast to Dublin is just over 2 hours on the train
Translink (Northern Ireland's bus and train provider) have 'Web Saver' tickets available for single and return tickets that are online discounted coach tickets to Dublin Airport and Dublin City Centre. Bus singles start from £8 from Belfast but must be booked online at least 60 minutes before departure. For the Enterprise train service prices start at £10.99 from Belfast and must be purchased 72 hours prior to travel.
16-23 year olds can also take advantage of yLink card offers including 1/3 of bus and rail travel in Northern Ireland and up to 50% off Enterprise train tickets.
If you're a 24+ year old student don't worry- you can avail of the 24 Plus Travel Card which entitles you to 1/3 off cash and mLink singles, day return*, weekly and monthly tickets and up to 50% off Enterprise fares.
yLink and 24 Plus Travel cards are free to apply for so make sure you apply for one to take advantage of the discounts.
Grafton Street and St. Stephen's Green
Grafton Street is Dublin's main shopping area. There is everything from major department stores like Brown Thomas to traditional Irish Cashmere shops, with all the main high street staples you would expect. It's very lively and something I really love is the music and street-performance acts - some of the performers are really amazing and really create a great atmosphere in City Centre.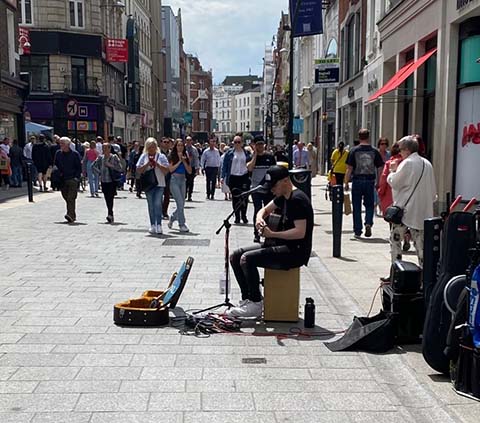 Busker in Dublin
St. Stephen's Green is a beautiful park just beside Grafton Street. It's of historical significance too, with it having been a site for the 1916 Easter Rising so if you are a history-buff there interesting walking tours and information signs in the park too.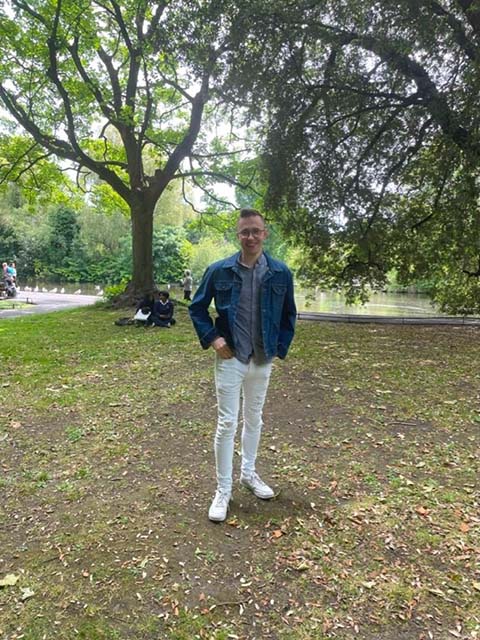 Patrick in St.Stephen's Green
A word of warning though - DO NOT FEED THE SEAGULLS! I learned this the hard way when one swooped down and took my friend's McDonalds burger after I gave it a chip!
Guinness Storehouse - St James's Gate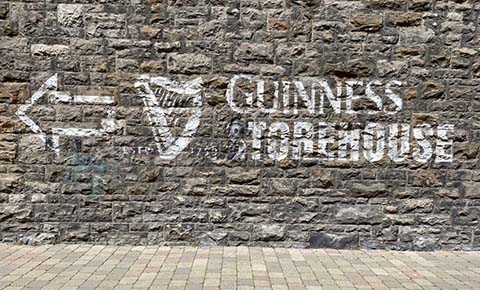 If you are visiting Dublin, the Guinness Storehouse is a rite of passage. You should book a tour as it can be get quite busy. On the tour, you learn about the process in making Ireland's national drink; from the hops grown and how the fermentation process works.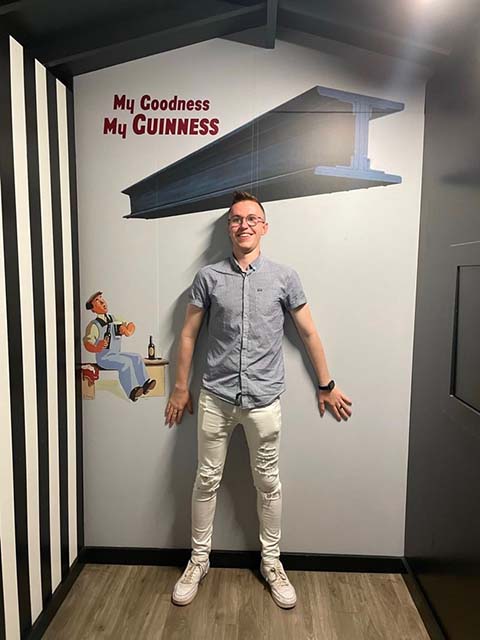 Patrick at the Guinness Storehouse
A highlight on the tour is the tasting rooms where experts show you how to properly taste Guinness and the subtle smells and notes in each pint. You also get to see the advertising and marketing used by Guinness over the years to make the brand a worldwide icon.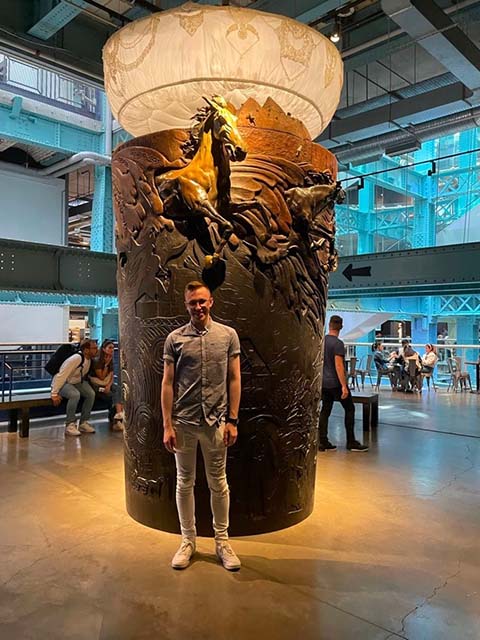 Anyone remember the iconic Guinness ad with the horses?
After your tour you then get to spend time in the Gravity Bar where you can enjoy a pint with a panoramic view of the Dublin skyline.
Dublin Castle and Gardens
Right in the heart of Dublin City Centre is Dublin Castle, and the beautiful gardens that surround it. I had never been here before and was taken away by the stunning courtyard the castle boasts. This is also a historical landmark and was once the seat of Government in Ireland prior to partition. It's definitely worth a visit - very photogenic if nothing else!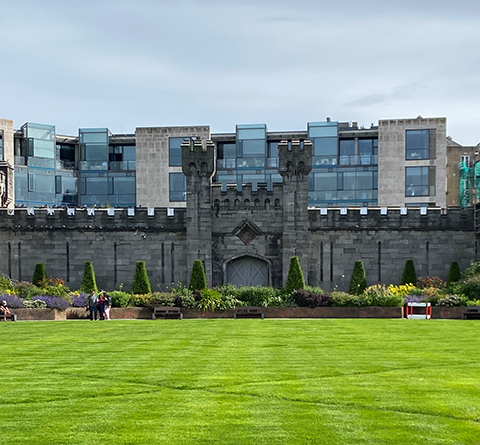 Dublin Castle
Temple Bar Area
If you like Belfast's Cathedral Quarter, you will love Dublin's Temple Bar Area. The Temple Bar is a tourist attraction in its own right, drawing tourists in its own right for a pint in a traditional Irish Pub setting. Given it is a tourist area, food and drinks can be on the expensive side though so it's worth bearing that in mind when planning your trip.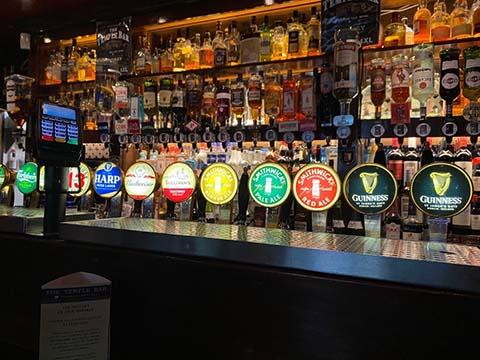 Plenty to choose from in the Dublin bars
On my day trip, I went to the Temple Bar for a drink and then on to an American Diner the "Thunderroad Cafe". Here, I got the biggest burger I have ever seen. All in all, it had 3 burgers, bacon, salad, cheese, and an onion ring, surrounded by a mass of chips. It really was huge, and I couldn't eat it all!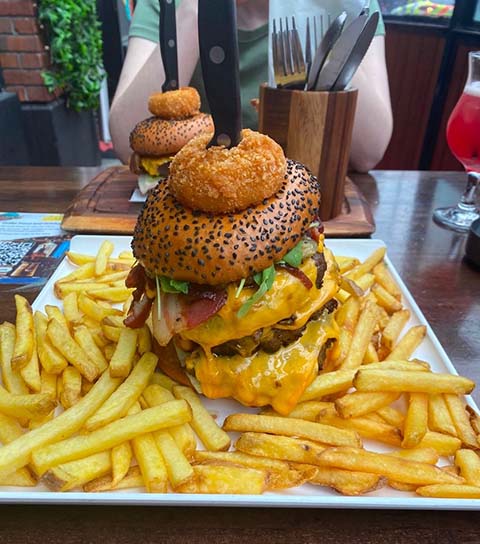 Delicious burger at the Thunderroad cafe
Theatres, Shows and Concerts
Dublin has a lively arts scene with lots of theatres, shows, galleries and a regular schedule of concerts too.
To finish off my day trip, I went to see the Glaswegian comedian Larry Dean at Liberty Hall Theatre just beside the river Liffey. It was a great end to the day, and I was actually sore from laughing at the end of the show!
I hope you enjoyed coming along on my daytrip with me. There is a lot more to do in Dublin that I couldn't fit in to one day like Dublin Zoo, Phoenix Park and Kilmainham Gaol for example, but I will definitely be back soon to pick-up where I left off.
Find out more
Translink (for busses and trains)
Patrick Doherty (He/Him)

2nd Year Undergraduate Medical Student | NI

I'm a 21 year old currently in my second year of studying Medicine here at Queen's University Belfast. I was a school-leaver when I came to university, having went to school in Ballymena beforehand. I'm not sure what I'd like to do when I graduate although the idea of writing or medical education appeals to me.