Belfast Pride Festival 2022!
This year saw the biggest ever turn out for the Belfast Pride parade. Hear from medical student Patrick about all the events he attended as part of the Pride festivities.
HI, I'm Patrick - a third year medical student at Queen's University Belfast. I recently attended the Belfast Pride Festival. It was the first in-person since 2019 and my first ever Pride. I've had the most fun, inspiring, and uplifting week and wanted to share what I got up to!
Pride Launch Gala - Friday
It started off with the Pride Launch Gala at Belfast City Hall. I was absolutely thrilled to be able to go. I had never been to an event in City Hall before and was blown away by how beautiful it was. The function hall was lit up in rainbow colours, with balloons and with displays around the room.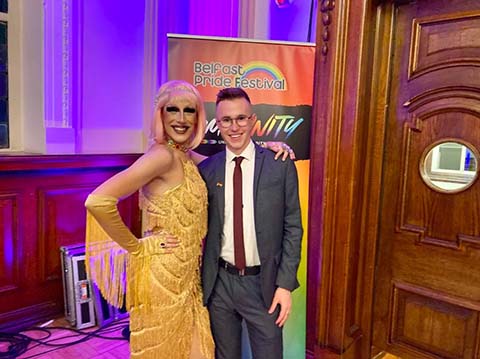 The event was hosted by a drag king and queen who provided laughs and looks whilst leading us through the different speakers and awards. In the audience were politicians from across the political spectrum, community groups like the Rainbow Project and Cara Friend, schools, our very own Student's Union, and members of the public.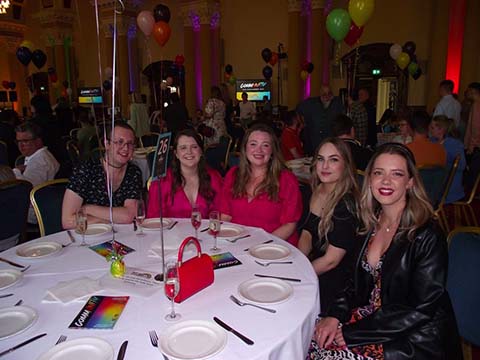 I was lucky enough to be sitting with our SU President and her team. They won an award themselves on behalf of the university for being the best Pride Ally Union. This well-deserved accolade is a recognition of the advocacy and outreach work that the SU continue to do on behalf of the LGBTQ+ community.
Overall, it was a heart-warming, enjoyable, evening which I was thrilled to be able to attend. A really great way to kick off the Belfast Pride Festival 2022. To finish off the night a few of us went to Libertine where they were having a Britney Spears night. I was half-convinced the tribute act was Britney herself - they literally looked identical!
Pride Talks Back - Policy Focus - Monday
I've always been a bit of a nerd where politics is concerned. I love hearing debates on policy and like seeing problems addressed head on in a discussion. That is why I wanted to attend Pride Talks Back so much. It was held in Common Market - which does great street food if you've never been before.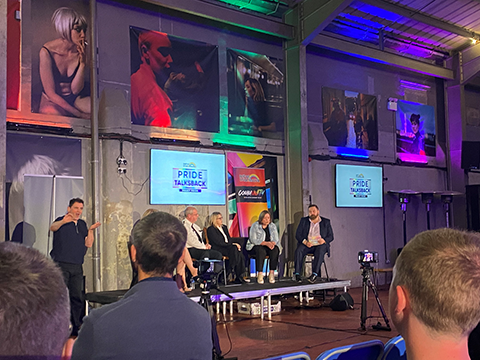 The panel was made up of the Minister for Communities, the police chief constable and representatives from different legal and regulatory bodies - making for an informed, interesting discussion. They discussed how to tackle homophobia and transphobia and panel members were asked if they believed their organisations could have work still to do to tackle institutional biases in this regard. Also discussed were conversion therapy, trust in policing and failings in Relationships and Sex Education (RSE).
For me, the most compelling discussions was around institutional bigotry where speakers laid out in detail how although legislation is vital, but one speaker raised that really, we as a society have to decide where we stand - whether that be for equality or division. She recognised that there is a temptation to believe that any organisation is somehow immune from problems of homophobia or transphobia, when in reality most, if not all, organisations continue to have work to do. I found this particularly insightful.
I was extremely glad I attended Pride Talks Back, mostly because it was thought-provoking and made me re-frame some of my thoughts based on what some of the speakers had said.
Queen's University Belfast Pride Picnic - Wednesday
I didn't expect there to have been such a huge turnout at this event held outside the Elmwood Hall on Wednesday afternoon! I was blown away and all credit for that goes to QUB Prism and the Diversity and Inclusion Unit at Queen's. There was free ice-cream, tacos and wood fired pizza for all in attendance, with an absolutely beautiful set of balloon arches and balloons spelling out PRIDE, against the impressive backdrop of the Elmwood Hall.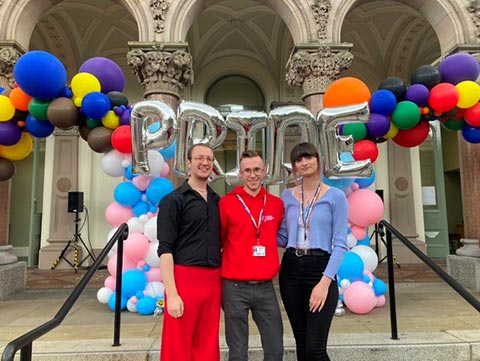 It was a great opportunity to network with other LGBTQ+ students and staff along with those who are allies. The atmosphere was vibrant and cheerful, and made it a very fun afternoon. All credit to whoever put together the music playlist too - I wholeheartedly approve of your taste in music!
Pride Parade Day - Saturday
I was unbelievably excited for the Pride Parade, after party and going out on Saturday night! I wasn't disappointed! We started the day with some friends coming round to my house to get ready to head into town for the parade. We got on our brightly coloured outfits and pride-coloured face paint, grabbed our pride flags and set off!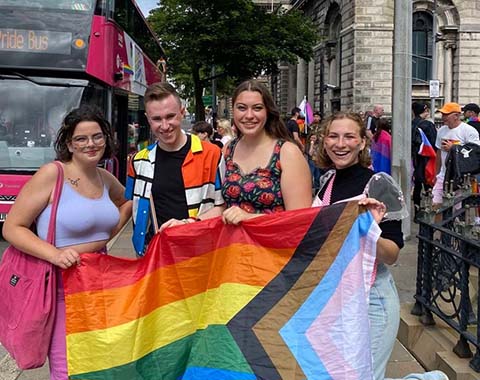 We went to down towards the Albert Clock and joined in with friends in one of the marching groups. It was such a thrill to do the tour route and see the thousands of people who had lined the routes. Particularly heart-warming was the families and peoples of all ages who had come which filled me with hope for the future.
It's important to note that Pride is a celebration of love and joy, but also whilst LGBTQ+ rights still come under attack from certain groups and politicians, that it is also a protest too. Great activism took place with people for trans healthcare, banning conversion therapy (which QUB Medical School recently signed a charter to support banning), and destigmatising LGBTQ+ relationships.
After the parade was over some friends and I went to the Sunflower Bar and then to Union Street - where most of the Queer bars and clubs in Belfast are located around. It was absolutely packed with huge queues to get in! The atmosphere was great, and everyone was in a great mood. We stayed to see the original Derry Girl, Nadine Coyle who took to the stage to perform some of her iconic Girls Aloud hits.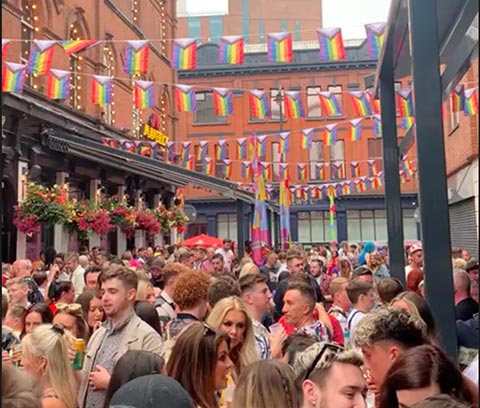 After a rest and food back home, we then got ready to go on a night out, this time to The Kremlin - a queer club just beside Union Street. I love a dance and I was exhausted by the end of a long day's partying and enjoying myself.
This year's Pride Week has without a doubt been the best week of my year so far. I'm already looking forward to next years! Happy Pride!
Find out more
Patrick Doherty (He/Him)

2nd Year Undergraduate Medical Student | NI

I'm a 21 year old currently in my second year of studying Medicine here at Queen's University Belfast. I was a school-leaver when I came to university, having went to school in Ballymena beforehand. I'm not sure what I'd like to do when I graduate although the idea of writing or medical education appeals to me.