Hey there Sports Fans!
Belfast is number one in the UK for ice hockey but we also compete at football, rugby and Gaelic games. Intrigued? Find out where to get your sports fix in Belfast with student blogger Charlotte.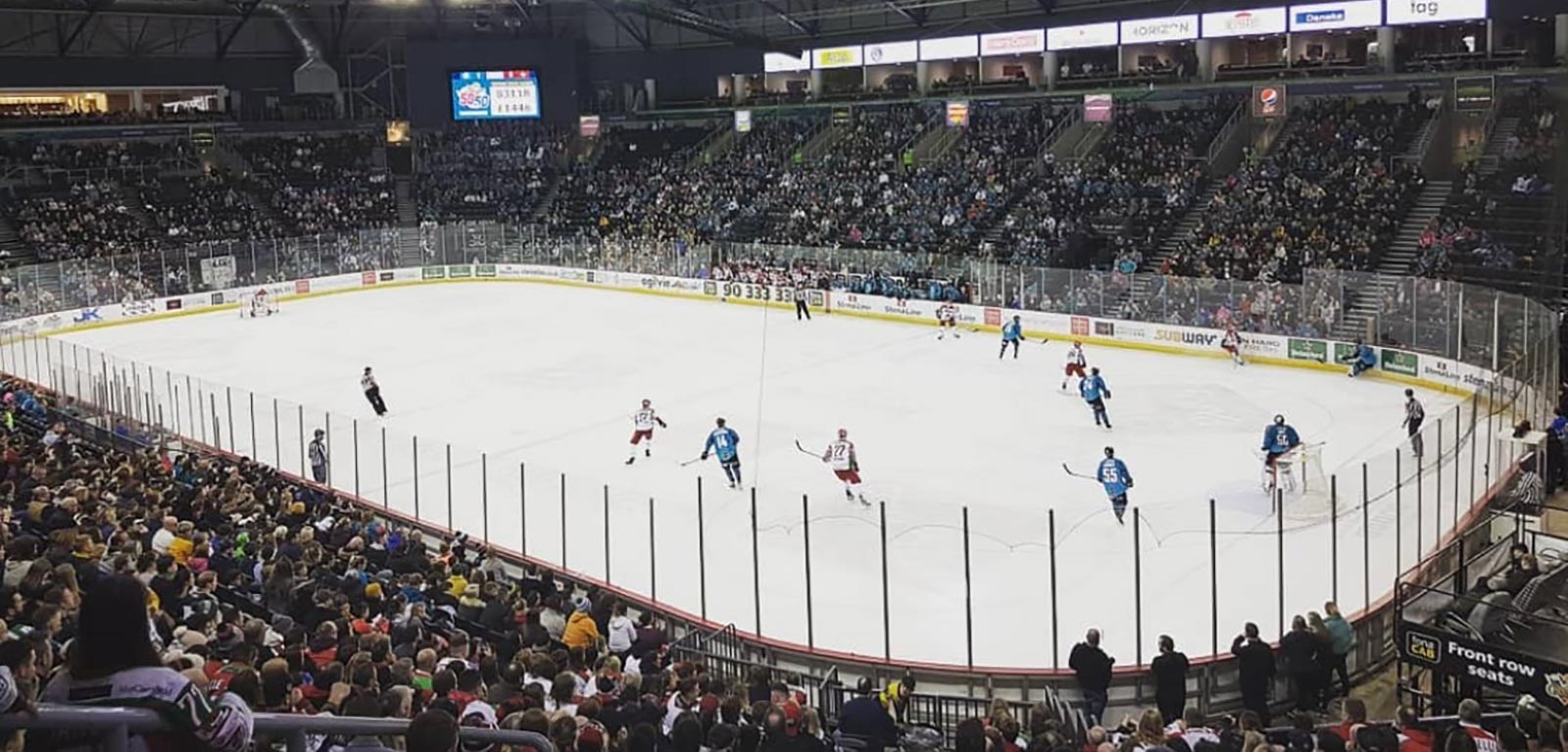 Since joining the university, I have noticed that the sports over here are different to what I have been used to in England. Not only are there different sports, the atmosphere at matches is also completely different. I have been lucky enough to attend football, rugby and ice hockey matches in the city since joining and would recommend that others go to watch a match too. Tickets to sports matches are not too expensive and so they're accessible on a student-friendly budget.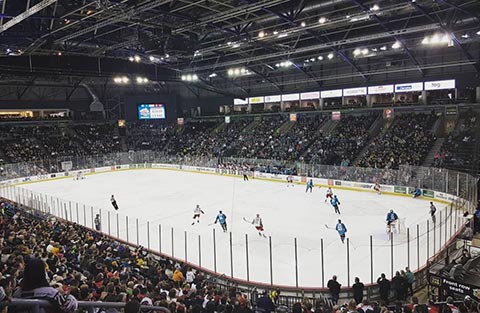 Ice Hockey
The ice hockey over here is incredible to watch and I have now gone to watch the Belfast Giants play 7 times. The Giants are the current champions of the UK ice hockey league for the sixth time and are well worth a watch. Ice hockey is not as popular around the UK and is mainly thought of as a Canadian and American sport but wow does Northern Ireland play well!
The way the matches are laid out feel very American with the half time games and the Subway shooting machine which launches Subway sandwiches into the crowd. I love buying a rubber puck and competing in the half time competition where you throw the puck onto the rink and hope to get the closest into the middle as possible to win prizes. The sport itself is exciting as the skaters glide rapidly around the ice and have the occasionally fight with each other which always make matches more interesting. The Giants play at the SSE Arena which is easy to get to via bus from Queen's and the tickets can be anything from £10 up.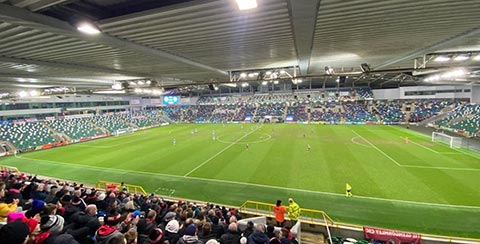 Football
The football is a completely different vibe to a premier league match in England. The level of football in Northern Ireland is more similar to those in league 1 which makes it harder to predict the score. There are a number of teams to choose to support and I myself have chosen Glentoran because their stadium is easy to get to. This year, I live now by the Linfield stadium and so have watched some of their matches too. Windsor Park, where Linfield play, is the Northern Irish national football stadium and so is very modern and well equipped. Tickets for football matches over here can be from around £12 and up. It is worth a visit if you like football to go just on a random evening after lectures as it is cheap and convenient to get to.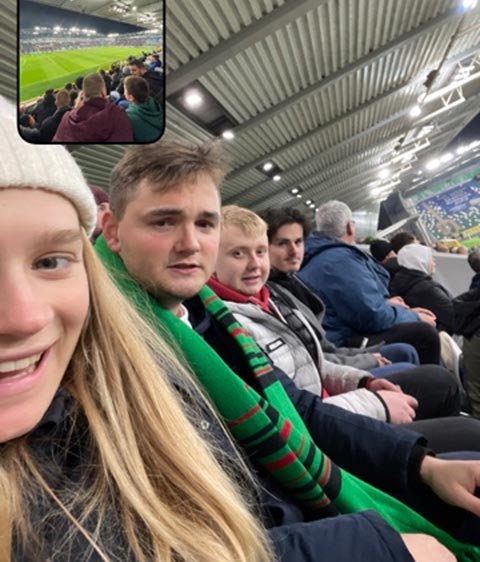 Rugby
The rugby in Belfast is great to watch. Ulster, my chosen team, play at the Kingspan stadium in Belfast which has a capacity of 18,000. They are currently fourth in the United rugby championships and so are doing fairly well. Tickets for the rugby are around £25 each which is still quite reasonable. They have lots of really cool merch which is sold at the stadium and in the city centre. For those wanting to watch important national Irish rugby matches, a trip to Dublin is essential. The bus from Belfast to Dublin with Translink only costs £8 and takes around 2 hours making Irish rugby matches accessible to attend.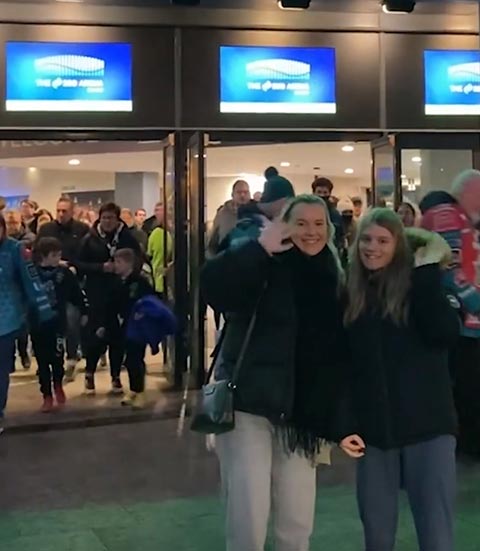 Camogie, Hurling and Gaelic Football
On top of these sports, something which I would love to see one day is defiantly a game of Camogie, Hurling or Gaelic. These are Irish sports (Gaelic games) which I had never heard of before coming over to Queen's and I have seen friends play in the park on a sunny day in Botanic Gardens, however I'd love to see a proper match.
I have been told that Camogie, and the male equivalent Hurling, are similar to lacrosse mixed with rugby, played with a stick and very physical. In Gaelic football you can handle the ball by carrying, bouncing, kicking, hand-passing, and soloing (dropping the ball and then toe-kicking the ball upward into the hands) and it has goal posts like rugby when you can score goals or points when you kick it over the bar. Look them up on YouTube to get a better idea!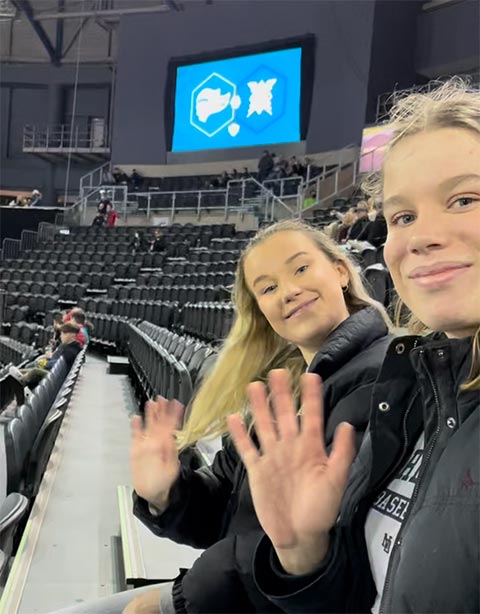 I believe that if you join Queen's and are not Irish or Northern Irish then it could be exciting to watch to learn more about the Irish sporting culture.
Find out more
Charlotte Jennings

Politics and International Relations | Undergraduate Student | London, England

I'm a Politics and International Relations student in my second year at Queen's. I am from London and currently live in student housing but lived in Elms BT9 last year. I love to be a busy person and am a member of multiple societies and teams at Queen's.

I am also undertaking a charitable project at Queen's called the Zambia project where we host fundraisers in order to collect money and aid for our missionary trip to Zambia. In my spare time I teach water sports in Bangor and so far I have thoroughly enjoyed my time in Belfast even though it is very different to London. I would highly recommend the university to anyone as I have had the best experience here so far and have fallen in love with this country.