Spend Halloween with me in Derry
Located just two hours by bus from Belfast, Derry/Londonderry is internationally renowned for its commitment to embracing the Halloween spooky spirit. Hear what Beth got up to and watch her spooktacular highlights video!
Needing a little more inspiration to get us in the truly frightful Halloween mood, my housemates and I made the journey to do a little trick-or-treating of our own around the city.
How do I get there?
We took an express bus from Great Victoria Street Bus Station, which is just a fifteen-minute walk from the main Queen's University Campus. Discounted student fares are available for this trip so make sure you avail of them.
We arrived in Derry at 11 am and were greeted by a deluge of rain, nothing like the cold nipping winds of Autumn and the smell of rain in the air to get you in that Halloween mood!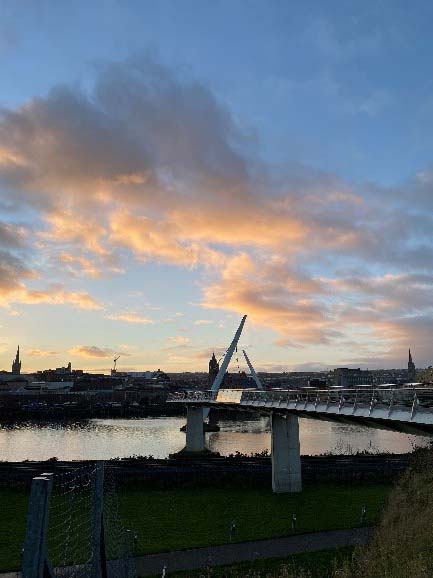 Peace Bridge
What did you do when you got there?
We had done some research before on where were some good places to eat, so we made our way to Brøn Cafe on Bishop Street. We filled our tummies and braced ourselves again for the weather.
We made our way to the Free Derry Corner where we rambled about and took in the murals. We also visited the Museum of Free Derry which offered concession prices for students. This was an extremely informative addition to our trip and I would recommend checking it out to anyone planning on making a trip to the city.
What was one of the highlights?
Each of us a fan of the popular television series, Derry Girls, we ambled over to the iconic moural located beside the Foyleside Shopping Center. We then headed down towards The Peace Bridge and passed the hoards of families bustling busily about in costume. We walked the length of the bridge taking in the views from both sides of the river Foyle and then decided to head back indoors to heat up after being out in the chilly air.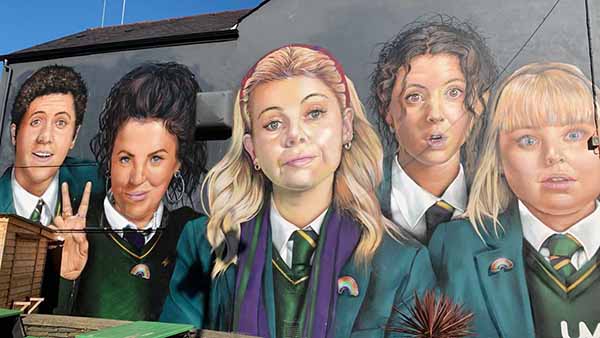 Derry Girls Mural
What else can I do in Derry?
We settled on Peadar O'Donnell's bar on Waterloo Street. We indulged in a customary pint of Guinness to warm us back up again and then braced ourselves once again to face the chill. We walked along the walls of the city and stopped by the Craft Village, nestled just off Shipquay Street. We took our time rambling in and out of the little shops and picked up one or two items to remember our trip by.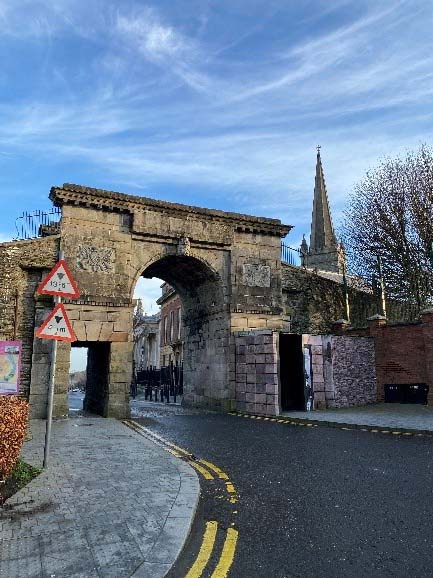 Historic Walls of Derry
Tell us about the Halloween Spirit!
Guildhall Square was adorned with ghostly decorations and we were treated to live music and indulged in some candy apples after which we made our way back to the bus depot. I would thoroughly recommend a trip to Derry, a relatively short journey by bus, this city is not one to be missed!

Candy Apples
Find out more
More blogs on Belfast and Northern Ireland - you might get some inspo for your next weekend trip!
Beth Molloy

Geopolitics| Postgraduate Student | Dublin, Ireland

Hello! My name is Beth, and I am a master's student at Queen's studying Geopolitics. I moved to Belfast from Dublin and am enjoying uncovering the amazing experiences and opportunities both Queen's and the city of Belfast have to offer. I hope to be able to share some useful tips and tricks to navigating Belfast life as a student with you!