Belfast's Best Street Food
Street food is a great way to try new types of food as a student. Belfast has a vibrant street food scene, and you can find some real hidden gems. Why not come along with me as I take a tour of Belfast's best street food?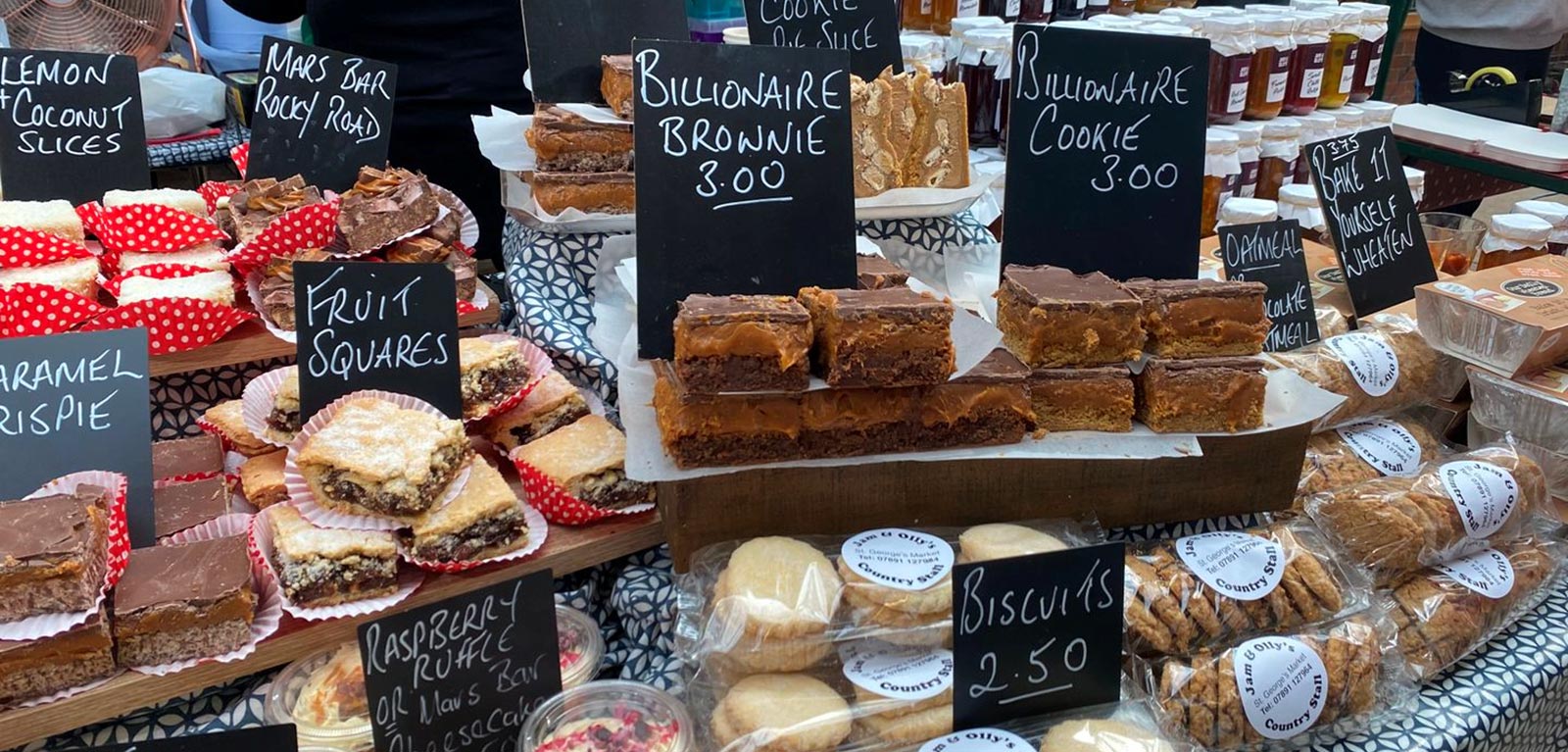 Trademarket
Excitingly, there is a new street venue just opened in Belfast!
Trademarket has just opened on the Dublin Road (on the site of the old Movie House Cinema). It hosts artisan food stalls like the New York style Bodega Bagels and Brew and Yaki which will sell bubble teas. There's also a ton of picnic-style seating where you can enjoy a drink from one of the two bars at the back of the venue.
Vintage clothing retailers will also be represented, and even a dog boutique has been announced on the Trademarket social media!

Several vendors have stores in former shipping containers
I am very excited about this vibrant addition to the student area of Belfast.
Common Market
If you walk down from the Cathedral Quarter, you'll find the Common Market. It's quite a small food market but it definitely makes up for it in the quality of the food you'll find.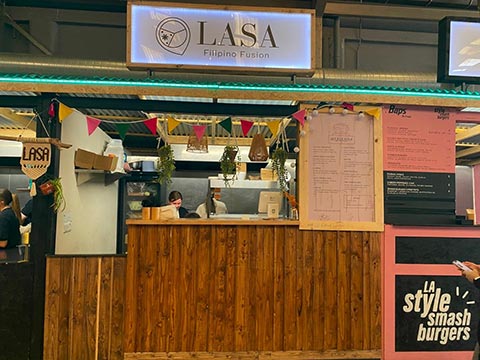 Of all the street food I found in Belfast, LASA Filipino Fusion was undoubtedly one of my favourites. The staff were amazing and suggested things I should try - I had the Cauli Wings, Tocino Skewers and Lumpia. I was blown away by the flavour. The spring rolls were crispy and rich, cauliflower had plenty of kick and the skewers were meaty and were complimented by a sharp vinegar dip (and it was very photogenic food too)!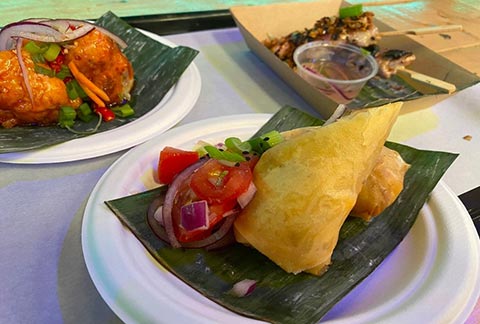 One of Common Market's other gems is Hey Chick. They do fried chicken and "junk" food. I tried their Junk Fries which are crisscut fries with a meaty garnish and a tangy sauce.
They really compliment the Chick Sticks I tried too - chicken skewers with a sweet and sticky marinade. Definitely worth a visit. The staff are happy to help with suggestions and recommendations and with the bar right beside their stall, I'd recommend it as a fun lunch or dinner out for sure!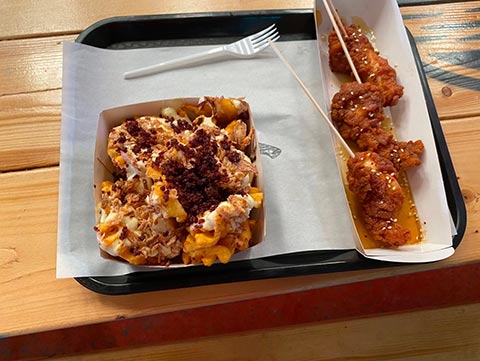 St George's Market
Just down from Lanyon Place Station is St. George's Market - which has been a Belfast street-food staple for a lifetime. As well as street food, you'll also find craft stalls, antique stalls, and thrift shop stalls. Most of the stalls in St. George's Market are very reasonably priced which makes it a very student-friendly place to do some shopping for street food.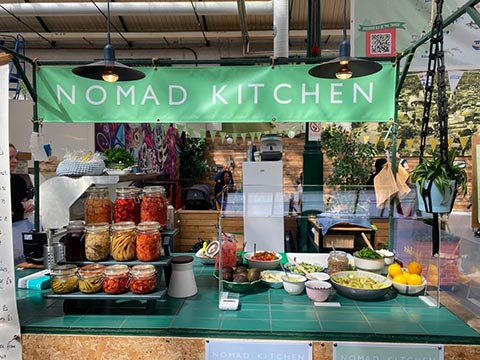 To start off I found Nomad Kitchen. They do gorgeous flatbreads with fresh produce which makes for a healthy and vibrant lunch. I also tried their apple vinegar drink. Honestly, I was sceptical at first but was quickly proved wrong and it was a delicious, sharp drink that wakes you up and definitely gives you a boost. Another great stall if you're looking for a healthy treat is Dabo Smoothies. They make their smoothies fresh to order and they also do a range of fruit drink shots which are a healthy way to start the day!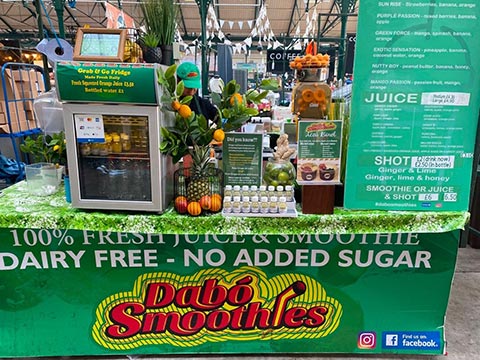 I'm unashamedly a sucker for a baked treat too. There are few things I love more than a brownie or a traybake - a guilty pleasure. If you have the same guilty pleasure, you will have a great time in St. George's Market.
I found this lovely bakery called Jam and Olly's. I was stuffed at this stage of my street-food tour, but it all looked and smelled so brilliant that I'll definitely be back to re-stock my treat cupboard soon!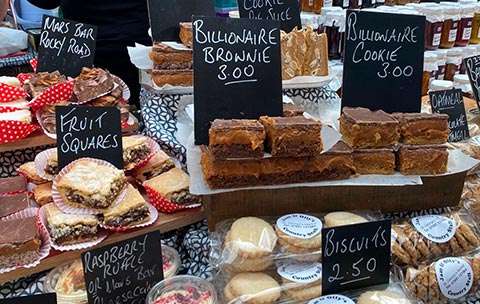 I hope you enjoyed this whistle-stop tour of some of the street food Belfast has to offer. With more street food due to arrive in Belfast very soon, it's an exciting thing I'd really recommend you try when you are studying here at Queen's University Belfast.
Find out more
See Mollie's video of Street Food and Markets in Belfast
Read more Food blogs
Patrick Doherty (He/Him)

2nd Year Undergraduate Medical Student | NI

I'm a 21 year old currently in my second year of studying Medicine here at Queen's University Belfast. I was a school-leaver when I came to university, having went to school in Ballymena beforehand. I'm not sure what I'd like to do when I graduate although the idea of writing or medical education appeals to me.