Belfast's Best Walking, Running, and Cycling Spots
Belfast has some great spots for walking, running, and cycling. These are a great way to take a break from your studies or escape Belfast's city life. Below Tobias shares some of his favourite spots.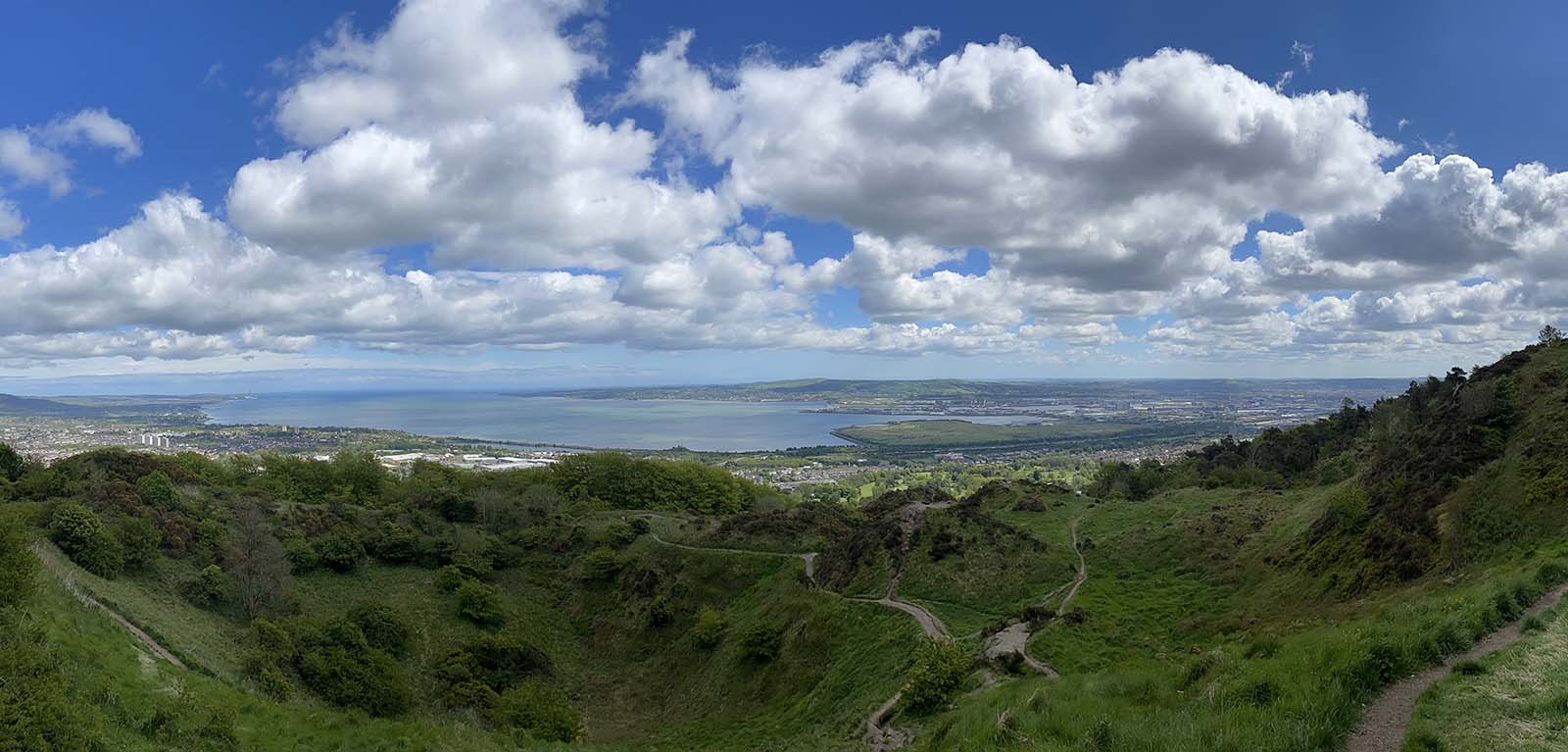 Stranmillis Embankment
Stranmillis embankment is a popular spot in Belfast for walking, running, and cycling as there are a variety of routes and it's in the centre of Belfast, alongside the river Lagan.
Queen's Sport at the PEC (Physical Education Centre) can be a great starting point as it's close to the university campus and many student housing areas e.g., Holylands and Stranmillis. There are numerous bridges along the river which is great as you can simply cross a bridge close to your halfway point instead of having to double back on yourself.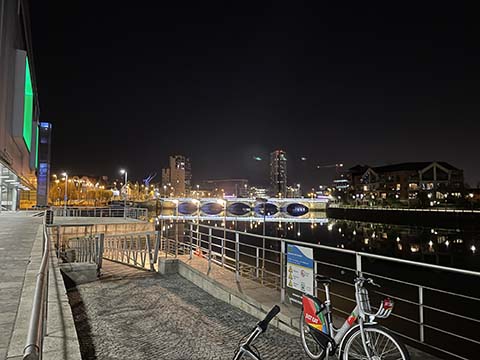 Pick up a Belfast Bike by the river
A popular route is cycling alongside the river and up to Titanic Quarter. This route takes approximately 20 minutes from the PEC. Belfast Bikes can be rented from outside the McClay library and opposite Queen's main campus.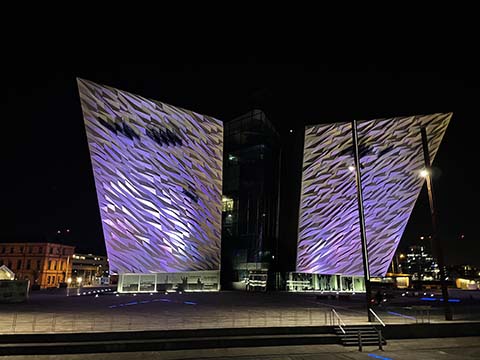 Titanic Belfast at night
Titanic quarter provides a great spot to get some great photos, especially at night, and you can carry on behind the Titanic Museum to get a great view of Belfast Docks and HMS Caroline.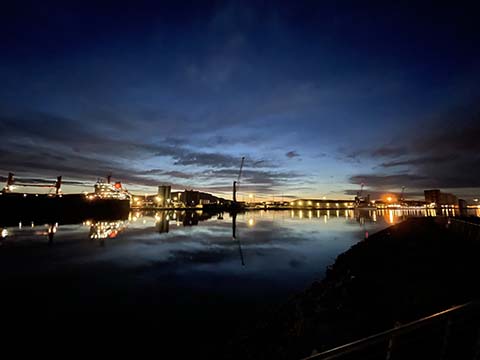 Belfast Docks at night
Alternatively, if you are looking for a simple circular walking or running route alongside the river you have two good options:
The shorter route starts at the PEC, running along the embankment up to Ormeau Road Bridge, crossing the bridge, and then running down the opposite embankment until you get to King's Bridge. You can the cross King's Bridge and head along the embankment until you reach the PEC again. I've outlined the route below, which is approximately 1.35 miles.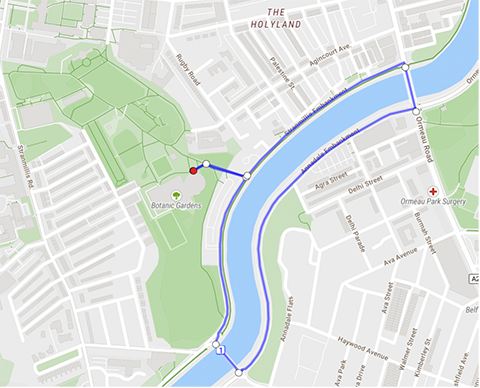 Route along the river
A second, longer circular route takes you alongside the embankment up to East Bridge Street's bridge near Lanyon Place station. If you cross East Bridge Street's bridge you can then head down Ravehill road, connect to Ormeau embankment alongside the river and then either cross at Ormeau Road Bridge or King's Bridge to get back to the over side and finish at the PEC. Below you can see the outlined route for the longest route up to East Bridge Street's Bridge and down to King's Bridge. The route is approximately 3.8 miles.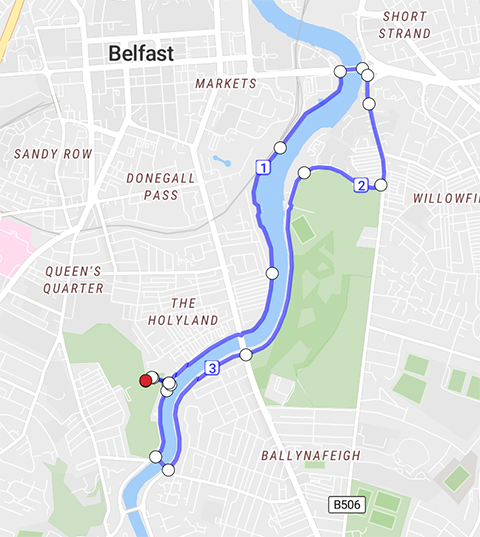 Longer route along the river
Lagan Towpath
Lagan towpath is a great spot to go running, walking, or cycling if you want to feel like you have escaped Belfast but don't want to travel far. You can access the towpath near Queen's University Boat Club (the rowing club), situated just off the main road near Stranmillis college.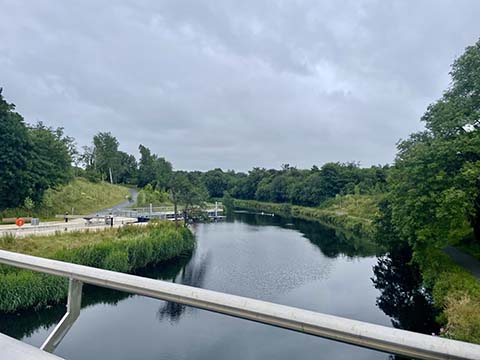 Stranmillis end of the Lagan Towpath
This route takes you along the river but is surrounded by fields, with no roads in sight giving you the sense you have left Belfast. A typical halfway or turn around point on this route is when you reach a café called The Lock Keeper's Inn; this can be a great spot to grab a drink before you head back towards Belfast.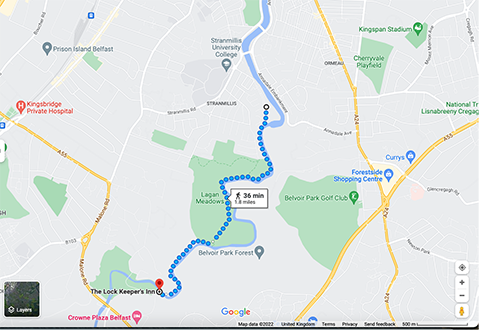 Walk from Stanmillis to Lock Keepers and treat yourself to a tray bake
The distance from the start (rowing club) to the café is approximately 1.8 miles and takes 36 minutes to walk.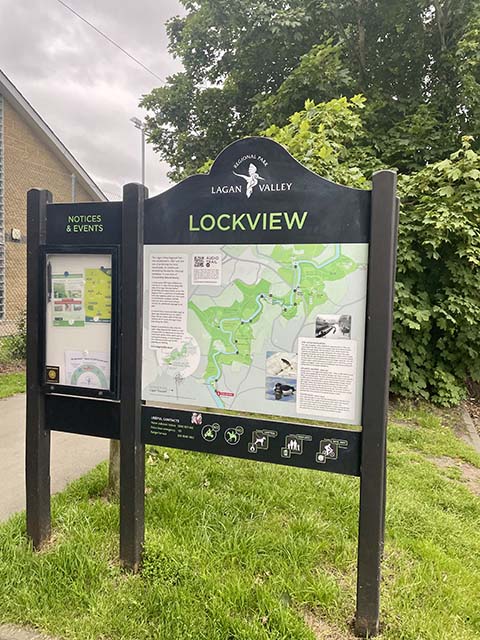 Lagan towpath signage- look out for herons and hummingbirds!
If you wish to cycle, Belfast bikes can be rented opposite Stranmillis college near Anytime Fitness, at the start of the route. There is a car park near the rowing club at the start of the walk if you wish to give yourself a head start and drive to the start of Lagan Towpath. The route can be found below.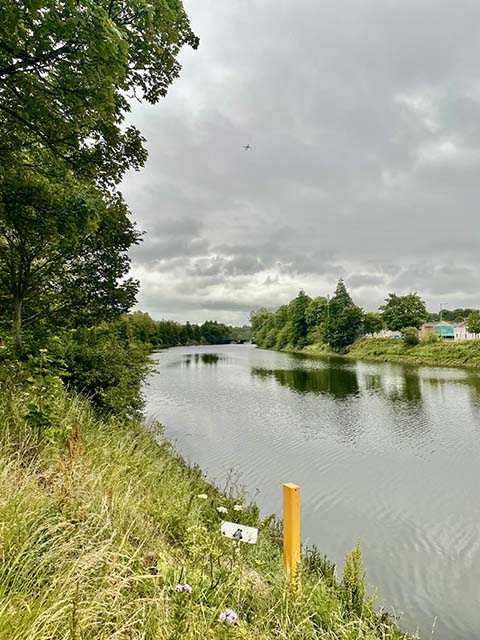 The views on the Lagan towpath are beautiful
Cave Hill
If you are looking for a more challenging walk (or hike!) then walking up Cave Hill could be for you. Not only will this get your blood flowing, but you'll be also rewarded with great views of Belfast once you reach the top.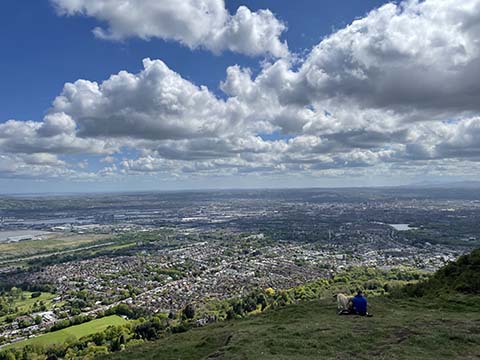 Amazing view from the top of Cave Hill
Cave Hill is situated in Cave Hill country park which offers a range of different walks and routes. You can easily get to cave hill by bus or driving and parking in Cave Hill's car park or Belfast castle. Equally you can also access Cave Hill from parking in Belfast Zoo's car park, just be aware that this entrance to Cave Hill is sometimes closed.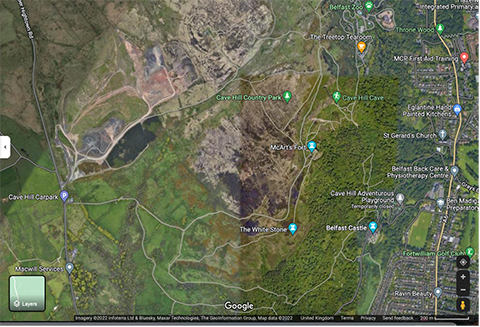 Map showing Cave Hill
An aerial view of the Cave Hill area and nearby car parks can be seen above. The main cave hill circular route walk is 4.5 miles long, taking around 2-3 hours to complete. The route varies with steep terrain and rough ground making it a good challenging route. More information on Cave Hill walks can be found on the Belfast Hills Website.
Belfast's Parks and Gardens
If you are just looking for some fresh air and a short stroll, then the parks situated around Belfast are a great option. Botanic Gardens is the most convenient option for many students as it is situated next to the Queen's main campus and library making it a convenient option for those who want a break from studying. When the sun is out, you'll find this place packed with students socialising.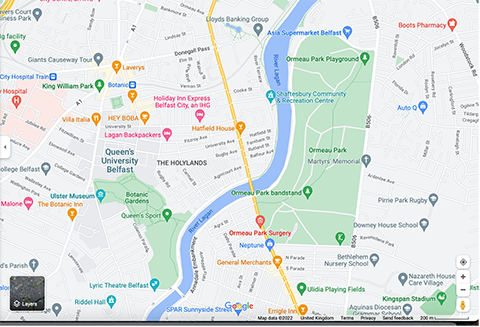 Map showing Botanic Gardens and Ormeau Park
A second alternative option is Ormeau Park, situated on the opposite side of the river to Botanic gardens and Queen's University. Ormeau Park is larger than Botanic gardens so is the better option if you want to go for a longer walk or run.
*onthegomap.com and Google Maps were used for estimating route distance, approximate time to complete and to depict routes on a map
Find out more
Outdoor and Sports in Belfast
Tobias Hunter-Tod

Computer Science | Undergraduate Student | England

I am a 21-year-old undergraduate student from Herefordshire, England. I've always had a passion for technology and business which led me to study computer science at university. In my spare time you'll find me developing apps or on a night out in Belfast! I lived in Elms BT1 in 1st year and now currently live in the Stranmillis area. In terms of Societies, I am a member of the Wine and Cheese Society and Queen's Computing Society. My interests/hobbies include, app development, travelling, socialising/networking and Enterprise SU events/competitions.