A Very Derry Halloween
Queen's Accommodation organises a trip to Derry for Halloween every year. If you missed out on Europe's biggest Halloween celebration then join Sami for her recap!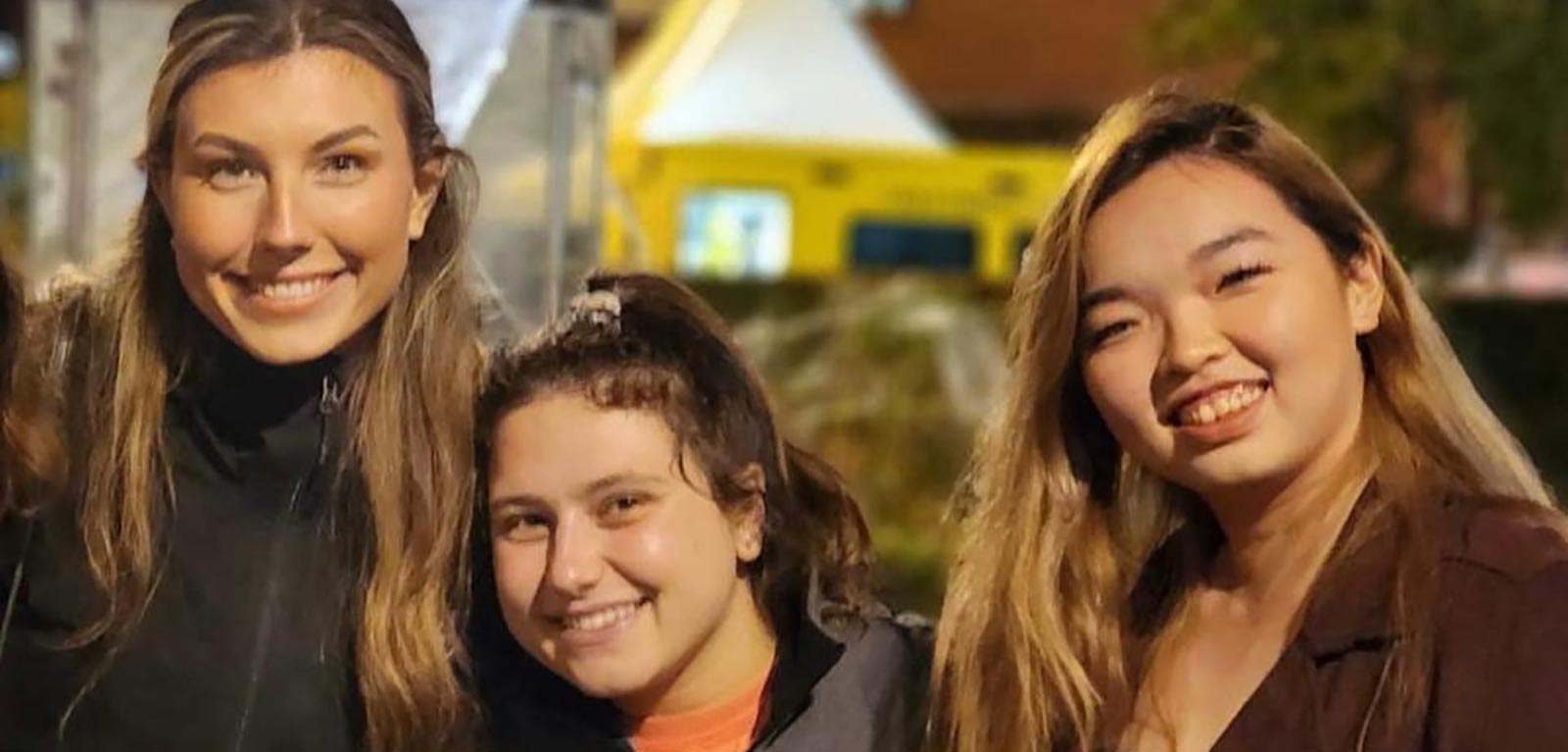 Every week student accommodations plans a few inexpensive trips around Belfast and Northern Ireland. Whether it be hiking, aquariums, forests, natural reserves, or ice skating, accommodation trips have something for everyone!
Queen's Accommodation organises a discounted trip every year
In the beginning of October, tickets were released for a round trip charter bus to go to Derry for Europe's biggest Halloween festival. Follow along with me to find out what makes 'scary Derry' the go to Halloween community.
Each day, as I walked to university from my accommodations, I saw signs for 'Europe's biggest Halloween festival'. I knew that I had to experience that – after all, when else would Europe's biggest Halloween festival be just a mere hour and a half from where I was living?
A whole lot of fun for a fiver!
Lucky for me Queen's accommodation planned a trip to Derry on October 31. Round trip transportation from Belfast to Derry cost only £5 and we were guaranteed 6 hours of 'good craic' in Derry. £5 is quite a steal, considering that train tickets to Derry start at £8 for a round trip, depending on the day of the week and if you are traveling during peak travel times.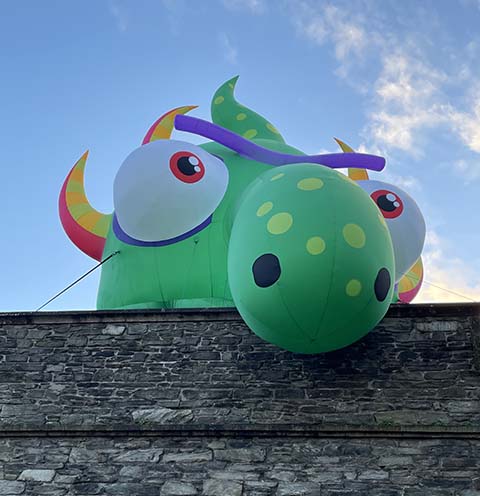 Even in the daylight, inflatable dragons peaked over the walled city

I bought my ticket at the beginning of October and I was counting down the days until the trip! As the month progressed, I looked at the program for Derry and got excited about the activities that were in store for me to experience. Fireworks, parades, delicious food, and scary scenery, I couldn't wait to see what made Derry the go-to Halloween spot.
Getting there
On Halloween, at 2pm, we met outside of accommodations and a chartered bus came to pick us up. The bus ride took about two hours, as we made our way from the city of Belfast to Derry. We got there at about 4:15PM and we were dropped off just outside the city center (another perk of going with the Queen's Accommodation- if we'd got the train ourselves it would have been a much longer walk since the train station is over the bridge in Ebrington Square.)
As soon as we got there, my friends and I decided to get some dinner as most of the festivities began at 6pm. We popped into a Thai restaurant and got some yummy food before heading out to explore the walled city at half past five.
Scary Derry
As soon as we got in to the city, we saw that it was decked out for Halloween. Fantasy animals peaked their heads over the walls of the city, eyes were peeled throughout the city, spider webs covered the bushes, and 'scary Derry' was written out. We were in for quite a treat!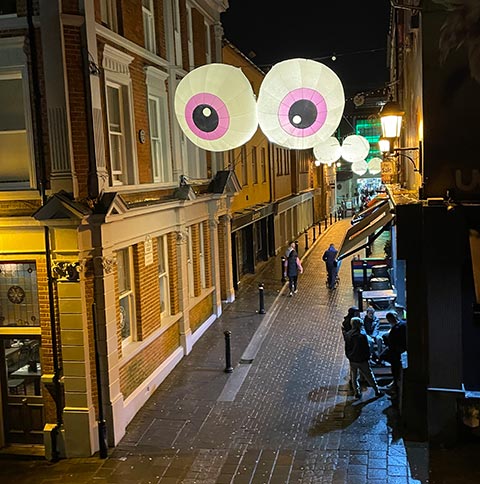 Eyes watching between the alley ways
A huge parade
After wandering through the streets, we walked towards the main street since we knew that there was a parade going on throughout the city. At about 7:30pm, the parade started. There were floats, dancing, bands, and it looked like the entire city was involved! It was the best parade I've ever seen! The entire town looked like they came together to put on this wonderful show.

Fireworks over the Peace Bridge
After the parade ended, we walked towards the water for fireworks. I never would have expected fireworks for Halloween, however I was pleasantly surprised to learn that fireworks are a huge thing in Northern Ireland for Halloween. In fact, we had been hearing fireworks going off throughout the city for the week leading up to Halloween.
The main attraction
Although we could hear fireworks going off throughout the surrounding cities to Derry, the main attraction was the fireworks over the Peace Bridge. The Peace Bridge connects Ebrington Square with the rest of the city (showcasing the coming together of both communities). It served as a perfect spot for the fireworks exhibit and was one of the best shows I've ever seen. The dark skies of Derry with the white of the Peace Bridge was a stark contrast for the colored fireworks that lit up the sky.
Music and street performances
When the fireworks finished, we went to see the performances at the corners of many streets within the city and within the bars. We opted out of listening to music since we were cold and wet from the rain, so we decided to stop into a coffee house and grab some hot chocolate. I don't know if it was because I was cold, or if I was excited to get out of the rain, or if the hot chocolate was yummy, but I think it was a combination of all three that made this the best hot chocolate I've ever had!
At 10pm, the bus came to pick us up. We headed back to Belfast and arrived at around 11:40pm and were lucky enough to be dropped off back at our accommodation.
All in all, I wasn't quite sure how I had imagined Europe's biggest Halloween festival, but I honestly could not have been more impressed. The various costumes, the beautiful fireworks, and the sense of community throughout the city, made it a very Derry Halloween!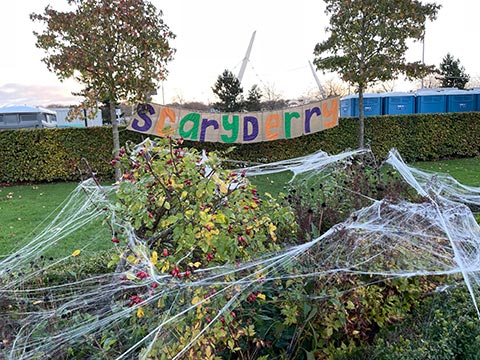 Scary Derry Sign
Find out more
MA Conflict Transformation and Social Justice
Sami Koitz

Conflict Transformation & Social Justice | Postgraduate Student | Maryland USA

I've always been interested in the Middle East, specifically the Israeli-Palestinian conflict and non-profits that work towards building bridges between divided societies.

I am from Maryland, USA (about a nine-hour flight from Queens) and graduated in 2022 from Susquehanna University with a double major in Communication Studies & International Studies.

Outside of academics, I am a member of the equestrian team, Jewish Society, and wakeboarding club. I love meeting new people and I look forward to chatting with you.