Studying Abroad at Queen's: My Experience
Ever considered studying abroad but were worried about making friends, settling in, and being ready for such a big move? Check out Malaysian student Darshana's blog on her amazing experience at Queen's and turn all your fears into excitement!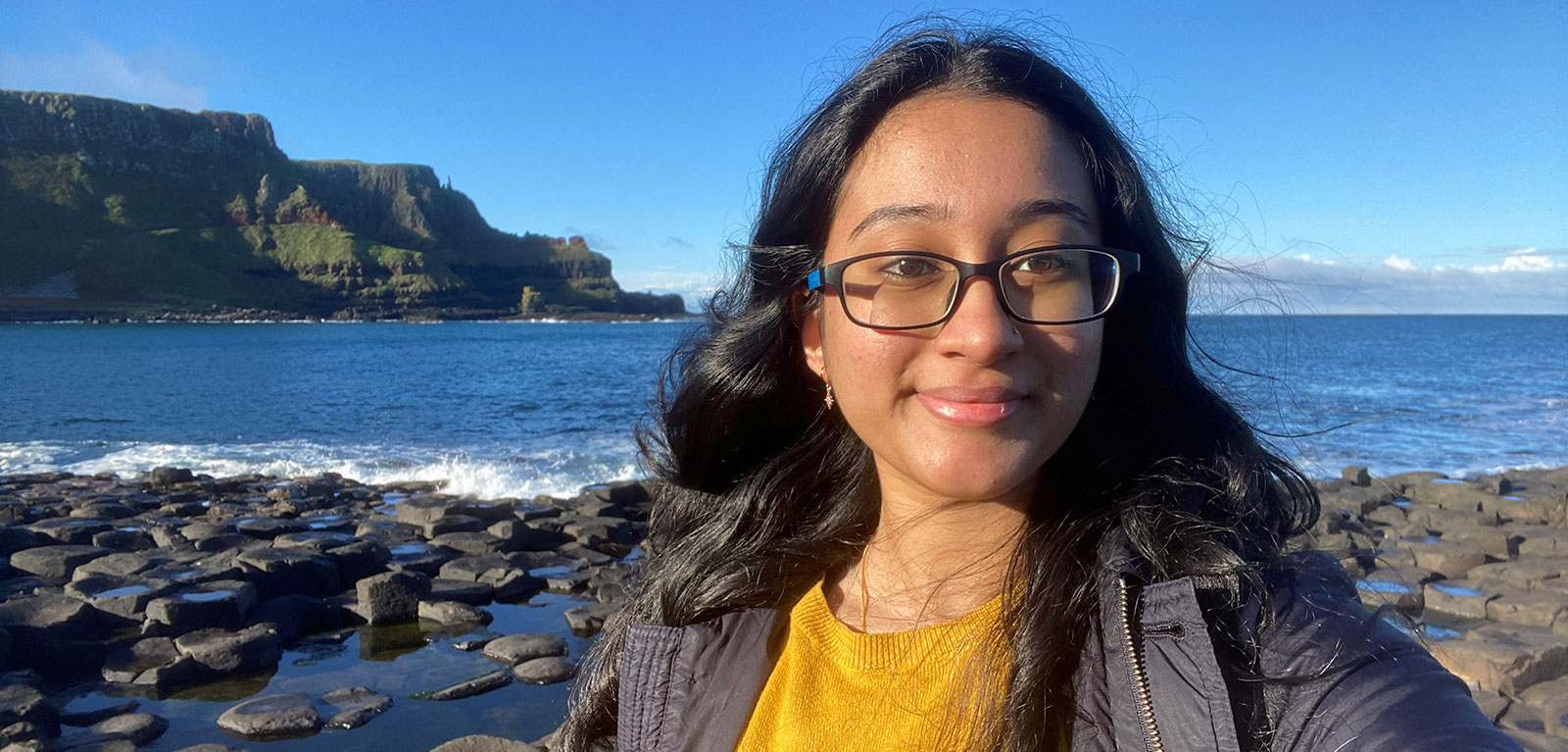 Why I Choose Queen's University Belfast
I had always known that I would be doing my last year abroad in the United Kingdom, but I only had to pick my choice of university at the end of my second year. I had so many options, but Queen's University Belfast became my ultimate choice after all the considerations.
After checking whether the university provided all the modules that I was interested in taking, the next consideration was the university's location. The fact that Queen's is located in Northern Ireland worried me as I originate from a country with hot weather throughout the year. All the people I talked to warned me how cold it is here! Despite that, I was still adamant about going here after looking at other factors such as the cost of living and safety.
To my parent's relief, Northern Ireland has one of the lowest living costs compared to everywhere else in the United Kingdom and was also one of the safest places to stay. That was a key factor*.
Another personal choice was that I wanted to study at a university that offered a rich historical atmosphere and stunning architecture! This was because all Universities in Malaysia, albeit beautiful, are modern buildings. Looking at the picture of Queen's University Belfast through Google while still in Malaysia gave me a sense of awe. Arriving here and looking at it in person is definitely one of the moments I will never forget.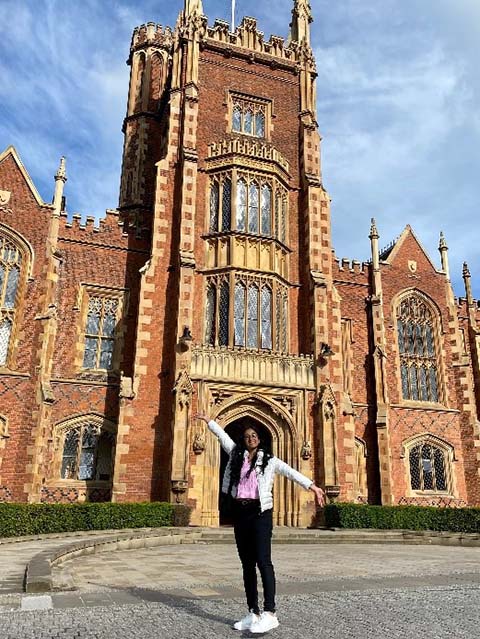 Queen's University Belfast, Lanyon Building
My First Impression of Studying Abroad
I arrived in Belfast after an almost 24-hour flight (together with layovers). It was autumn, and once I had gotten out of the plane, the cold instantly hit me, and I experienced Belfast's weather. I remember being scared and excited about starting a new life here from scratch. Once I got to the student accommodation, the Elms BT1 staff were accommodating and helpful in ensuring I got settled in.
Exploring the city
After quarantining for a week, I explored the Belfast City Centre. I was amazed by the environment as it was so different from my home country. I had lived in a city where there were so many high-rise buildings, but here there were none!
It's a small city and you can actually walk to all the places you need, which is so convenient.
Adjusting to the accent
It also took me quite some time to adjust to the Irish accent as I could only understand bits and pieces of the conversation with people. Despite the initial difficulties, it was easy to adapt as I come from a country that is diverse and have multiple languages and dialects.
There are lots of activities to help you settle in
Luckily there were many activities and events hosted by the clubs and societies of the university in order to ensure that new students have a chance to socialise. Even the Queen's Accommodation hosts many activities in the individual common rooms where you can mingle around. I managed to join some events and meet new people from all over the world which is an exciting experience!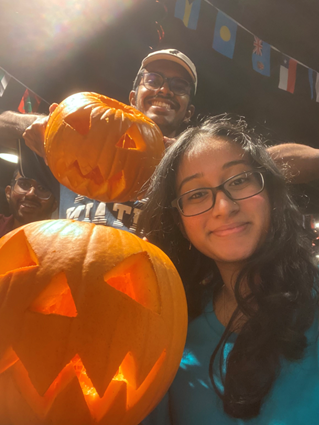 Pumpkin Carving in Queen's Accommodation
Starting classes in a new environment
Entering my first class was also nerve recking as the classes here are more of a two-way street of communication rather than just sitting and listening. I had to prepare my tutorials ahead of time and ensure that I was up to date with all the materials provided by the lecturer. Learning to manage my time with all my assignments, tutorials and lectures was quite challenging at first, but over time you get the hang of it!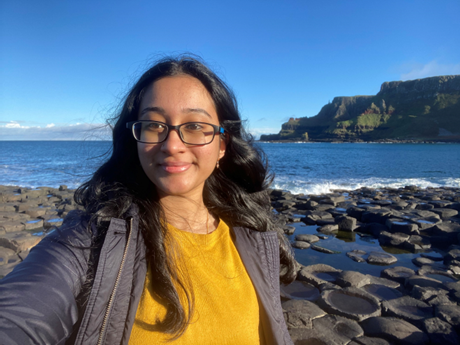 Trip to Giant's Causeway organised by Queen's Accommodation
My Experience After Almost a Year
After almost a year of studying at Queen's University Belfast, I would say that my experience studying abroad was definitely eventful and life-changing. This experience has made me look at life differently and taught me many new things. How so, you ask? I'll break it down into a few points.
Gaining Independence
Back in my home country, Malaysia, everything was easily accessible to me as I grew up there and had friends or relatives who could help me everywhere I went. However, upon coming to Northern Ireland it was the first time ever that I had to do everything by myself. I had to make my own decisions on what to cook, and things to buy, manage my time and much more.
Honestly, it felt quite scary but liberating at the same time. Right now, I'm at the end of my degree and I feel that this experience has indeed made me an independent person and has taught me how to manage my own life without expecting help from anyone!
Personal Growth
Through the experience of studying abroad, I have learned and grown as a person in many ways. I had to learn how to live with a group of people and compomise on certain things. It was hard at first, but overcoming challenging times and learning from my mistakes have really made me a better person. I can definitely say that I am a different person than I was when I first came here.
The education system here is quite different to what a Malaysian student would usually expect. There is more student participation which meant I needed to prepare my work ahead of time to be able to participate in classes. The smaller groups of students during tutorials helped me become more confident in answering questions during classes.
I even gained the confidence to participate in a Mediation competition even though I had barely any prior experience in mediation. It ended up being quite fun and I gained a lot of new knowledge!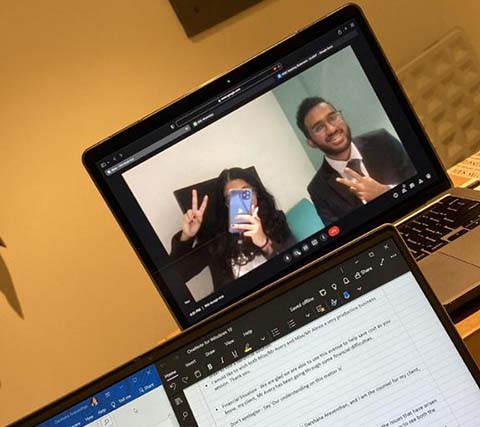 Joined an Online Mediation Competition
Learning New Things
Mingling with people from different countries has given me a more global mindset and broadened my outlook on life.
Malaysia is a multi-cultural country as such, it was easy for me to adapt to make friends from other countries here in Belfast. Making new friends allowed me to gain insight into how people live in other countries and their cultural backgrounds.
In Malaysia, some universities do not have the option of getting student jobs with the university. However, in the United Kingdom, most universities offer many varieties of jobs for students to help them earn some extra money during their stay here. I was unsure whether I had the skills to do so at first but eventually I gained the confidence to try and now have managed to learn new skills such as video editing and blog writing for Queen's!
Advice for Future Malaysian/International Students
1. Make friends
My advice for any future students would be to try to mingle and make friends with many people. Don't stick to just one person or a group of people. Opening up your friend group and getting to know more people is a beautiful experience. At the end of your course/term, you might have friends from many places around the world whom you can visit in the future!
2. Have an Open Mind
Start with an open mind. Things might not go as you expected based on stories you've heard from other people's study abroad experiences. You may not travel to the same places that others have travelled to when they studied abroad or even experience the same events etc.
But don't worry, the best part about studying abroad is making the experience YOURS!
You can plan your own unique travel itineraries and make your experience more memorable.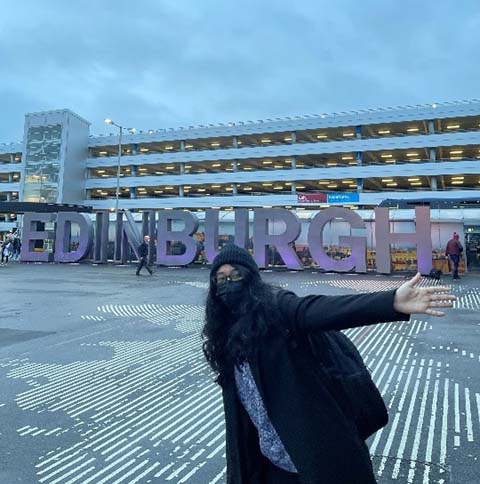 I planned a trip to Edinburgh, Scotland
3. Remember to manage your time well
Don't forget the most important thing is time management. The main reason you've come abroad is for education! As much as travelling and having fun with friends all the time sound fun, don't forget to study hard and do your best for your exams.
* Belfast has the lowest cost of living in the UK (Mercer Cost of Living City Ranking 2023) and is in the safest region in the UK (UK British Crime Surveys 2021/22).
Find out more
Study abroad (for Queen's students going global)
Darshana Araventhan

Law | Undergraduate Student | Malaysia

I am a 3rd-year transfer student from Malaysia doing my final year of Law degree at Queen's University Belfast. I live in the Queen's Accommodation Elms BT1 at Belfast City Centre, which is convenient as there are many amenities nearby. Apart from attending classes and studying, I love trying out new recipes and cooking for my flatmates. I also enjoy travelling during the holidays and have visited several places in Northern Ireland during my stay here. I hope you enjoy and find my blogs useful during your time at Queen's!