Why You Should Join Queen's Knights Cheerleading Club
Jia Xin answers some of the questions for those who are interested in knowing more about Queen's Knights Cheerleading - Cheerleading might not be as 'girly' as you think!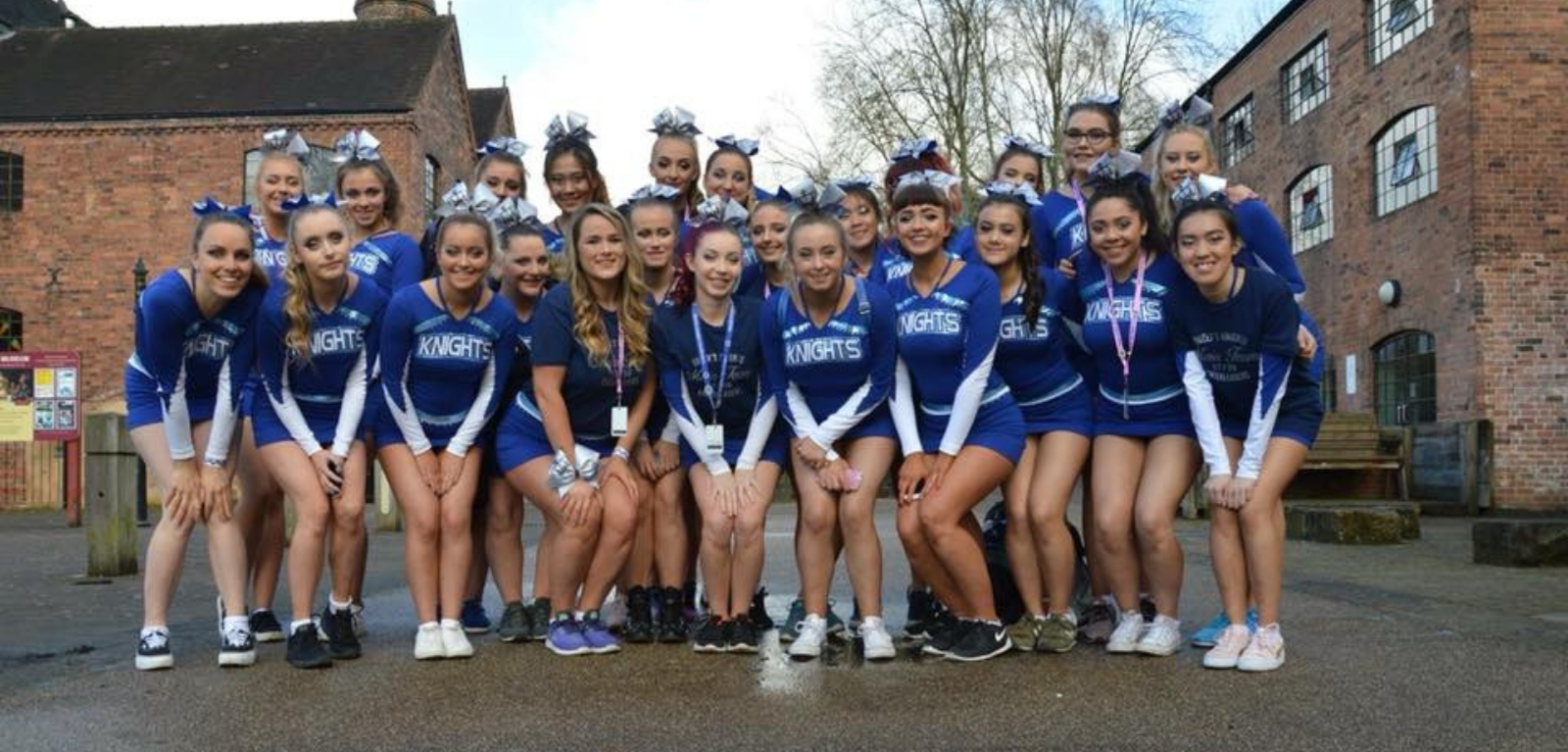 Why did I decide to join cheerleading?
Cheerleading is a sport that I have been interested in and I have always wanted to be a part of it but I was never brave enough to try. Fortunately, I got to speak to a few of the present members of the cheerleading club and they told me all about what it's like. So I decided to give it a go.
The club allows new prospective members to join their tasters' session, which was a week after Freshers. Whoever's interested can join for free to try out different skills and to determine whether cheerleading is the sport for them. During my taster sessions, the coaches and seniors taught us basic cheerleading skills – including basic stunts, jumps and tumbles. After attending the tasters' session, I found that I liked it and decided to join as a member.
It is totally fine to decide to not join as a member if you think cheerleading is not the sport for you after coming to the tasters' session. Also, you might need to consider whether you are able to commit to the training times especially when competition season is approaching, there might be additional practice times.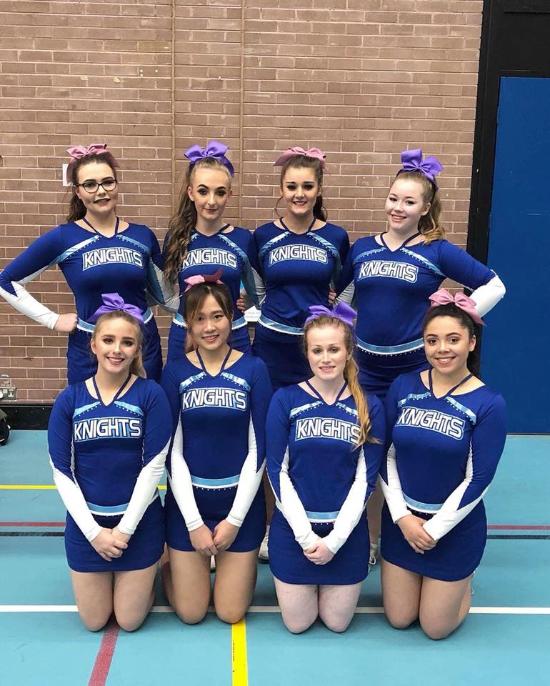 Are there any try-outs before joining?
In some cheerleading clubs, there will be try-outs for those who want to join because the clubs will only accept members with the required skills, strength and flexibility. However, this does not apply to Queen's Knights Cheerleading as they accept members without prior cheerleading experience or relevant skills.
In fact, the majority of the members here had never done cheerleading, dance or gymnastics before – including me! The coaches teach us everything from scratch, there is no need to worry about whether you have the skills or flexibility as everything can be learnt from the start.
The only time there is try-outs is for competition and performance teams.
What are the different teams in Queen's Knights Cheerleading?
The Queen's Knights Cheerleading club has four different teams that you can join based on whether you want to compete in competitions or just go along for fun.
The Competition team: Which is further divided into the main team and stunt group. They will join university competitions representing Queen's University Belfast.
Performance cheer: A competitive dance team which consists of hip-hop/street team and the pom team. This year I am in the performance cheer pom team!
The Showcase tea: Also known as fun gym – a non-competitive team where they will be performing stunts, dance and tumbles on behalf of the club in events. There are no try-outs for the showcase team.
World's team: Selected members will be competing in the University World Championships in Florida.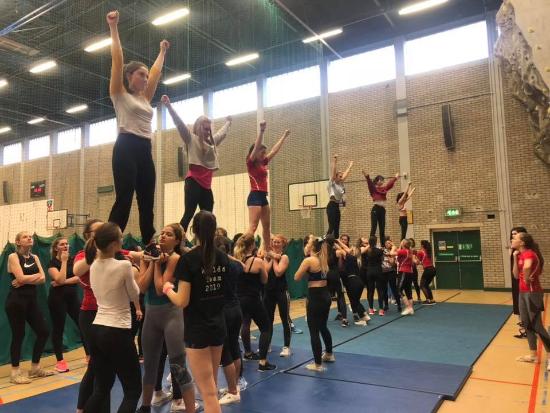 What are the main positions in a prep stunt?
The three main positions on any cheerleading team are back-spot, base and flyer. Back-spots are mostly tall, they are the ones who load the flyer in. When the flyer stands up in a prep, the back-spots will be supporting her ankles. They are also the ones who lead in a prep where they do the counting.
Bases go in pairs. When the flyer jumps in they will have to support her heels. They are also the ones who will have to lift the flyer all the way up.
The key thing for back-spots and bases while lifting the flyer is to engage their legs by squatting which gives them power. It is physically very difficult, or not possible, in some cases, to lift the flyer by using purely arm strength. (Your wrists will hurt too!)
The flyer is the one who is up in the air in a prep. They will have to stand up straight in the air while holding their own weight to avoid falling off. It is also crucial that the flyer holds her own weight especially while standing up otherwise it will be very heavy for the back-spots and bassists to support her up.
Currently, I am base in the team, I used to be a flyer when I first joined, however, I appreciate that I get the opportunity to learn basing.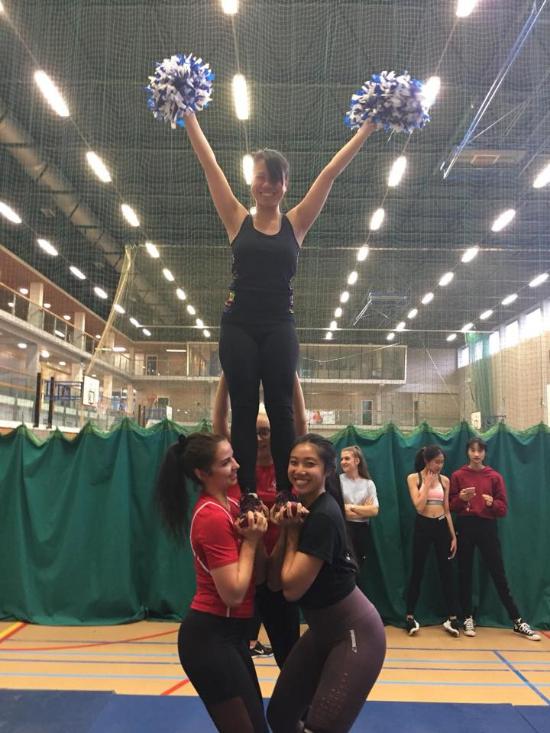 Will there be lots of practices where we have to attend?
It depends on which team you would like to join and which team you are in after try-outs as there will be different practice times for different teams. For example, I am in the performance cheer team so it is mandatory for me to attend performance cheer practices however I am not required to attend practices for other teams.
Are there any risks of falling/injury during training?
Certainly, there are risks of falling, especially if you are a flyer. But the most important thing is to always get back up after falling off. You will only get stronger after every fall.
Up until now, I have not sustained any injuries resulting from my practice however I am always sore in my muscles after every practice. There are certainly risks of injuries because we do risky moves from time to time.
Is cheerleading considered very 'girly'?
On the face of it, it seems like it especially the way they dress during competitions. However, after attending training for a while I realized it can be a very tough and intense sport where we have to be very sharp and powerful in our movements, instead of being graceful and pretty. No matter what positions you adopt (back-spot, base or flyer) you have to be very strong yourself to achieve the result as a team. I would say that in terms of the moves, it is the complete opposite of ballet.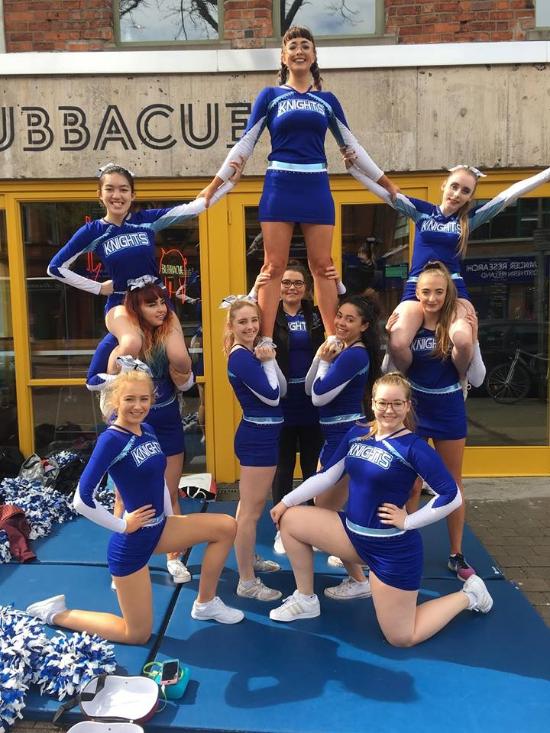 Any bits of advice to cheerleaders/future cheerleaders?
Never hold back. Always know that you have so much potential for greatness, but sometimes the only thing standing in your way is yourself. It takes time to build your confidence and cheerleading is one of the good ways to come out of your shell to try things that you have never tried before!
Thinking about becoming one of the Queen's Knights Cheerleaders? Visit our Facebook page to know more about us!
Jia Xin Chang

LLB Law| 2nd year |Malaysia

I'm a 20-year-old Law student from Malaysia with a weird accent. I'm occasionally talkative, however I'm a natural introvert. I'm a lone ranger who enjoys her solitude and calmness, but I'm not anti-social. I'm a music lover and I play the piano, and constantly regret not picking up a second instrument when I was younger. I love singing but I'm not vocally trained. I don't listen to any other music except rock - the heavier the better! Sometimes called weird by my friends, but I prefer to think of myself as unique. I have had an immense passion for writing ever since I was very young, and I write in both English and Chinese. I was the editor of my school bulletin and a student journalist during my high school days. I'm now a casual blogger and I enjoy my job (despite suffering from writer's block all the time). Welcome to my space.
‌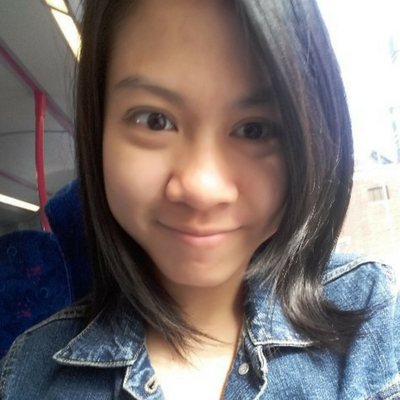 Jia Xin Chang
Guest Blogger