How to make the most of living in Queen's Student Accommodation
From taking advantage of all the trips organised for you, to meeting your new best mate at the Coffee Bar activities, Sumita's here with a guide to making the most of living in Queen's Accommodation.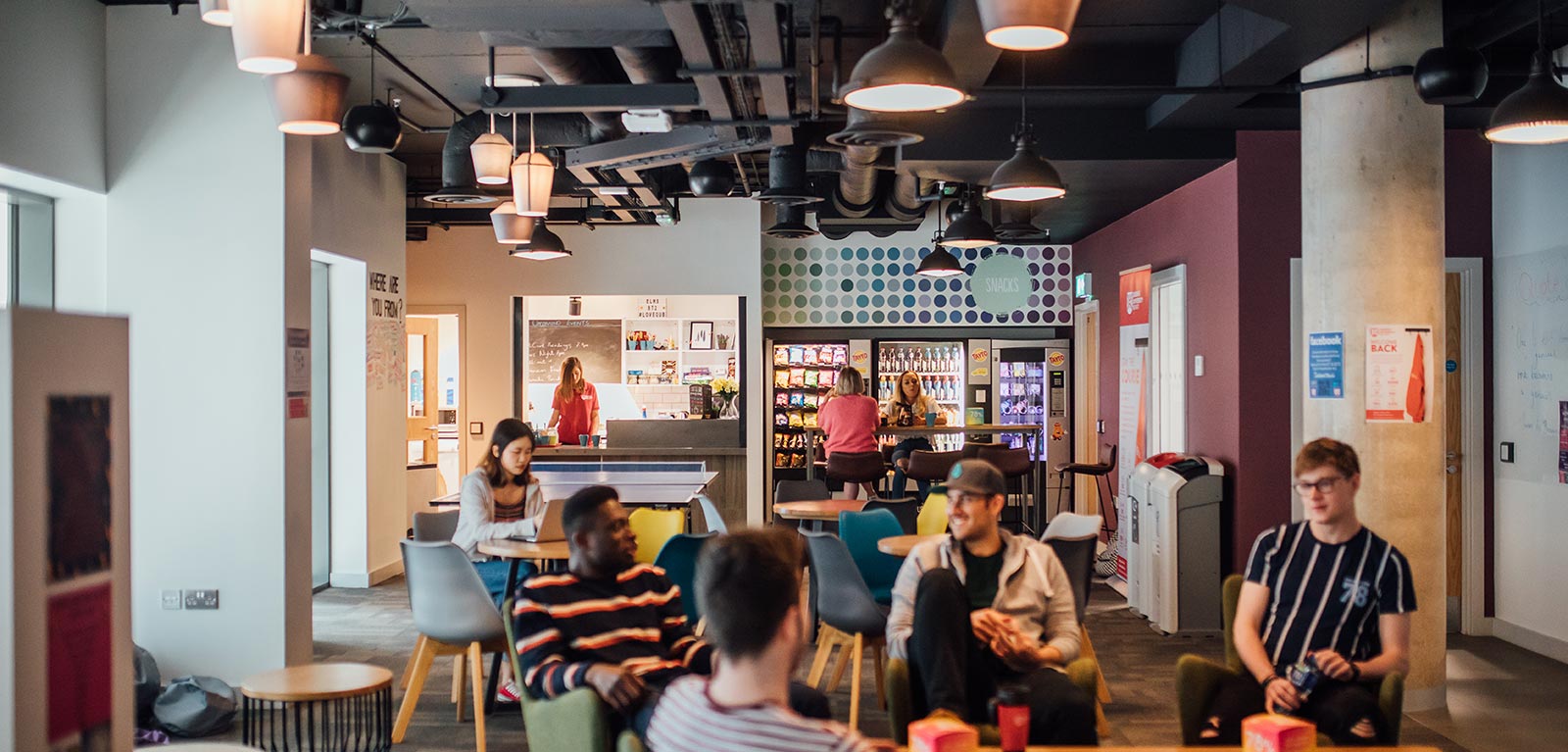 Choosing a place to stay is undeniably one of the major decisions taken by students and a lot of thought goes into it – price, amenities, location, security and many more. As an international student, Queen's Student Accommodation was an obvious choice. After calling it home for the past 8 months, I have thoroughly enjoyed it and realised how to make the most out of it.
Enjoy the Coffee Bar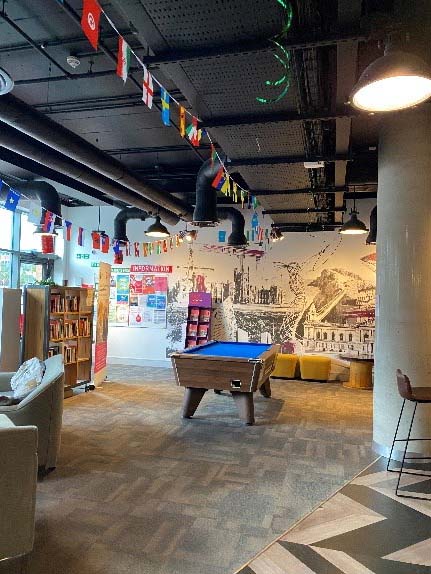 The Coffee Bar at Elms BT1
This is the social space within Queen's Student Accommodation. It's open at 7pm every day except Saturday and serves free coffee and tea. Depending on which venue you are staying at, they also have board games, Ping Pong and even arcade games.
You can pick this as a venue to come down and meet your fellow neighbours to make some new friends. Over time, most of them become familiar faces as well. Even if you're not up for meeting people, it is a great place to bond with flatmates as well. There's also a TV which you may use to watch YouTube or catch a live game!
Take advantage of all the trips and activities organised for you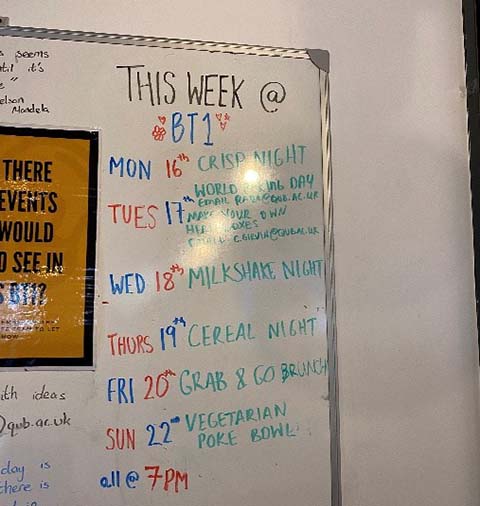 The list of events at Elms BT1
At 7pm, the Residential Assistants, consisting of student volunteers prepare events! This includes Grab and Go Brunch, Bubble Tea Night, Ping Pong tournaments and many more. During special events, there are even themed events such as St Patrick's Day, Christmas and Chinese New Year. This also provides residents an opportunity to meet others as many of them usually attend these events.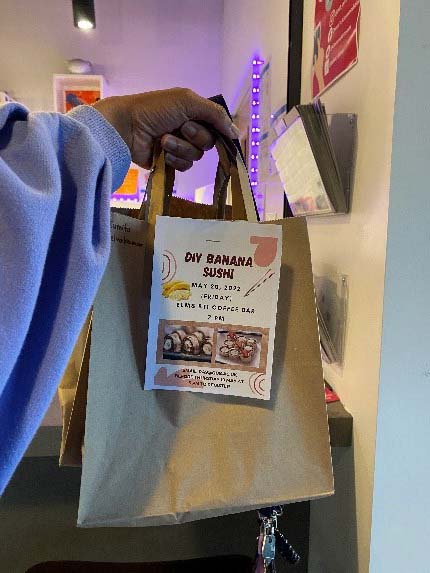 My DIY Banana Sushi Kit from Elms BT1
Trip to Giant's Causeway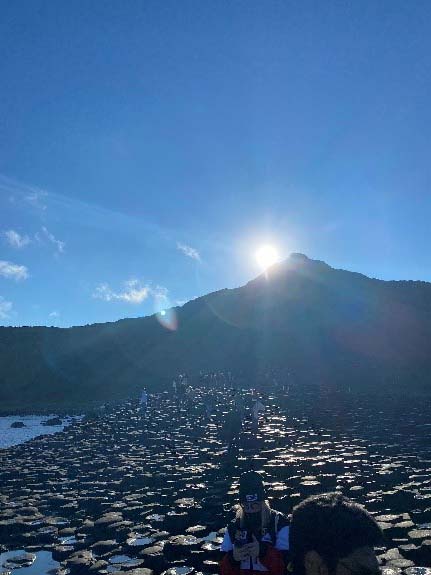 The Giant's Causway
The Accommodation team also hosts trips often within Northern Ireland including a Game of Thrones Tour, Glenariff Forest Park, Bowling, Ulster Folk Museum and more. I personally made the most out of these trips as I would always check for new trips. The prices offered are cheaper than they would be if you went on your own and these trips conveniently pick you up from your accommodation so you do not have much to worry about!
I would say that I probably would not have to gone to most of these places if not for the trips being organised for me. To make the most out of your stay and to truly explore Northern Ireland, I would highly recommend that you go along and discover its beauty.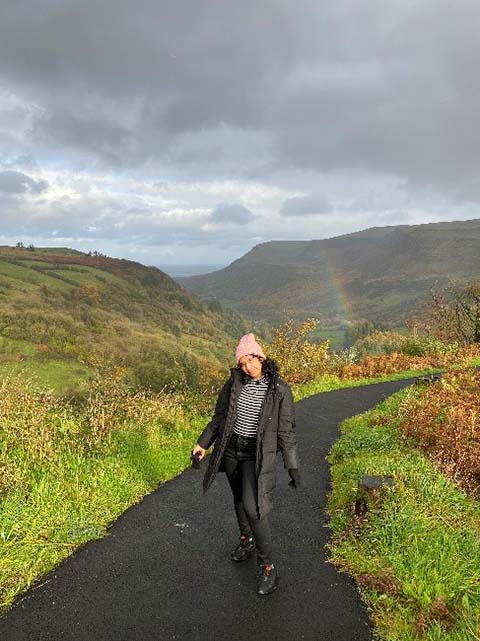 Trip to Glenariff Forest Park
Hit the gym with your PEC membership
A huge balance to be struck during your student life is a healthy lifestyle! This is something we often forget as we get busy. However, by being a resident in Queen's Accommodation, you also get a membership with Queen's PEC (Physical Education Centre) and the BT1 Gym.
As well as being able to use the gym space, you can also book yourself a gym class. Classes include Circuits, Zumba, Latin Dance Fit and many more! I personally have attended Indoor Cycling and Zumba and these classes have helped me feel refreshed and fit. You can also schedule them in such a way to fall in between your usual lectures or tutorials as the PEC is just beside Queen's.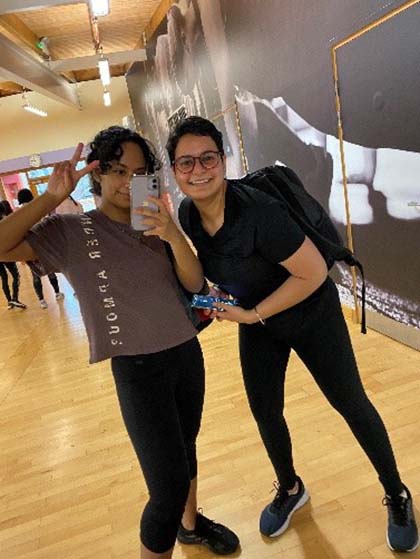 My friend and I after a Zumba class at PEC
Feel safe in your surroundings
As a female student, I can truly say that I have always felt safe in Queen's Student Accommodation. To enter the building, you need a key fob and the same goes for using the staircase and elevators leading to the rooms. There are also security guards on site who keep an eye out.
At night, they also ensure that only residents are entering, this creates a safe and reassuring environment. Your room is also only accessible via a key fob and can be locked to ensure maximum security.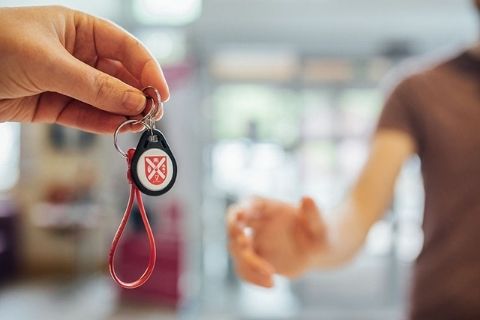 You need your key fob to gain access - keeping it all very secure
Know there's always support available
When I travelled to Belfast in September 2021, I was required to undergo quarantine for 2 weeks. As I was living with Queen's, they provided me with three meals a day and cleaning equipment. This really helped my quarantine as I was able to rest after my flight and sort out my room.
I felt truly supported as I was also provided with mental health support by having a team who I could speak to should I need any help.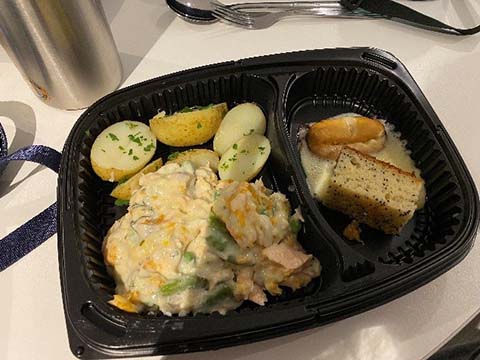 One of the meals provided during quarantine
Even after this period, they still provided residents with covid test kits. When I had Covid-19 previously, they were also quick to inform my flatmates and give me a call to ensure I had everything I would need. They even offered to assist me with buying anything I needed and would often deliver my parcels andcovid tests to my room to ensure I do not need to interact with other residents. I truly appreciated this as it really made me feel comfortable throughout my quarantine.
Overall, Queen's accommodation has ticked all the boxes of what I'd expect and need as a student. I definitely would recommend staying here especially as a first year who is new to the area and is on the lookout for friends!
Find out more
More blogs about Accommodation at Queen's
More blogs about life in Belfast
Sumita Selvakumar

LLB (Hons) Law | Undergraduate Student | Selangor, Malaysia

Hello! I am Sumita and I recently moved to Belfast in September 2021 to complete the third year of my law degree. Throughout my Undergraduate, I have also been active in the United Kingdom and Ireland's Malaysian Law Students' Union (KPUM) that represents its members. As an International Student, I hope my blogs help to shed some light and ease the doubts held by other International Students as I was once in your shoes. Outside of academics, I am an avid foodie and coffee addict and I love all things fashion! I also love travelling and try to take trips every so often to explore Northern Ireland.