Easy Asian dishes you can make in student halls
Eating out too much of a stretch for a student budget? Sneha Parajuli has easy Asian dishes you can make in halls.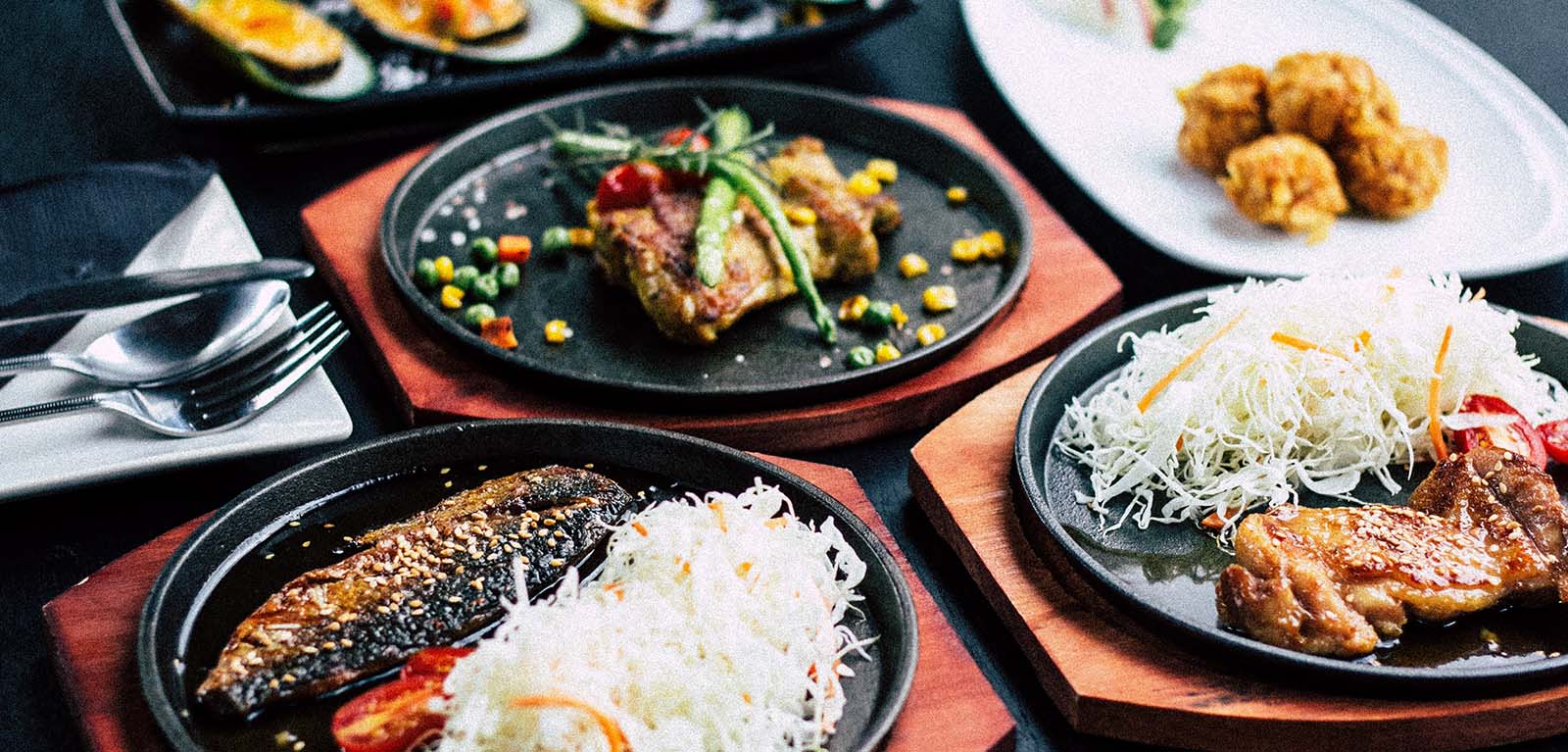 I am a big-time foodie and experimenting with food is something I enjoy a lot. I wanted to share some of my easiest recipes to get the taste of Asia in Belfast.
Hotpot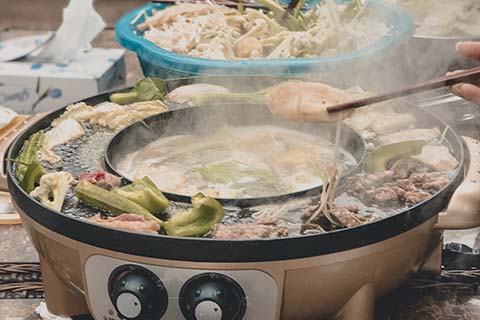 Hotpot, also known as steamboat, is a popular Chinese spicy dish that you can make easily at home. There are plenty of Asian supermarkets around the Queen's area, where you can find the below ingredients:
• Hotpot seasoning • Chicken balls / Pork/ Seafood • Mushrooms • Greens (Iceberg lettuce, Spinach, Cabbage, anything green you like) • Tofu/ Tofu skin • Rice cake • Variety of noodles (I usually add this to make it more filling) • Dumplings (Optional)
The beauty of this recipe, is that apart from the Hotpot seasoning, everything else is optional, meaning you can adjust it depending on your taste. Just get everything together, boil water in a pot and add all the ingredients, let it boil again so that everything in the pot is cooked and your hotpot is ready. Enjoy your hotpot as the flavoured broth keeps simmering! Also, hotpot is meant to be a communal meal, so don't forget to invite your friends over.
Bak Kut Teh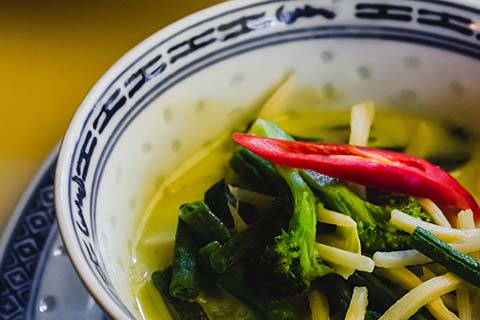 Bak Kut Teh is another Chinese dish also known as Pork Ribs Tea. It is a herbal soup made in a similar way as hotpot but less spicy. Bak Kut Teh is usually good for colder days to keep yourself warm. You can make the herbal mix from scratch but the easiest option is to go to the Asian market and get the herbal mix that will cost you around £2. All you need to make this dish is the herbal mix for the soup base and pork ribs or any other meat of your preference.
Preparing Bak Kut Teh is simple. Just boil the water and add the herbal mix and soy sauce with meat, veggies, tofu puffs and anything else you want to add. If you like, you can always stir fry the meat before adding it to the soup. Let it boil until everything in it gets cooked and enjoy the healthy soup with some plain rice.
Kimchi stew with rice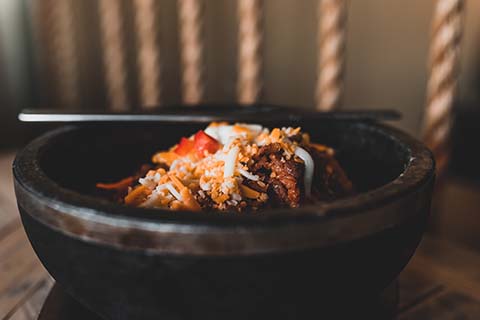 Kimchi stew is also known as Kimchi Jjigae. It is a Korean dish famous throughout the world. I like to have my Kimchi Jjigae plain and simple so I prefer not to add to much meat or other toppings in it. But if you want, you can always add any kind of meat to make it more flavourful. To make Kimchi stew, all you need is kimchi paste, kimchi (of course!), some onions and any kind of meat or veggies (pptional). First heat a pan and stir fry the onions and veggies. If you plan on adding any meat fry the meat properly before adding water. Once you are done, add the kimchi and kimchi paste in the mixture and add water. Boil everything for about 5-10 minutes and enjoy the Kimchi Jjigae with rice.
Kimchi fried rice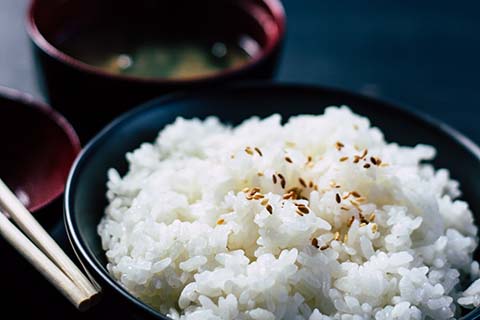 I am a big fan of Kimchi. So I had to try and make this famous recipe. All you need is kimchi, rice and eggs. You can always add other veggies as toppings if you want to make it interesting. One good thing about Asian dishes is that you can experiment and it will always turn out tasty. The only thing you have to do is steam the rice in a rice cooker, stir fry pre-made kimchi in a pan, add the rice in it and add sesame oil or gochujang sauce (red chili paste), and mix them well. You can also stir fry other toppings like meat and veggies and add it to the mix. Plate the kimchi fried rice and add a cooked egg sunny side up or per your preference. And it's done, so easy and yet so tasty.
Chicken chilli with rice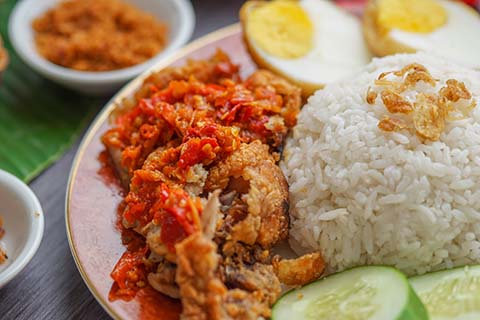 Asians eat rice a lot as it is easy to make and is healthy too. I recently had chicken chilli for lunch and thought I'd share the recipe. For making chicken chilli you will need the following ingredients:
• Diced boneless chicken • Bell-peppers / Capsicum • 2 medium sized onions chopped • 2 tomatoes chopped • Ginger Garlic paste • Green chilies chopped • Spices and oil • Ketchup
Preheat a pan with a little bit of oil in it. Add some ginger, garlic paste, chopped onions and capsicum and fry them until golden brown. Add tomatoes, salt and spices and fry them to make a paste. While you do this, grill the chicken in the oven for about 10 minutes in maximum heat. Then add the chicken and ketchup to the mixture and stir well, making sure to coat every piece with the sauce and serve it with rice.
Stock images
Don't fancy cooking? Check out the best Asian eateries near campus.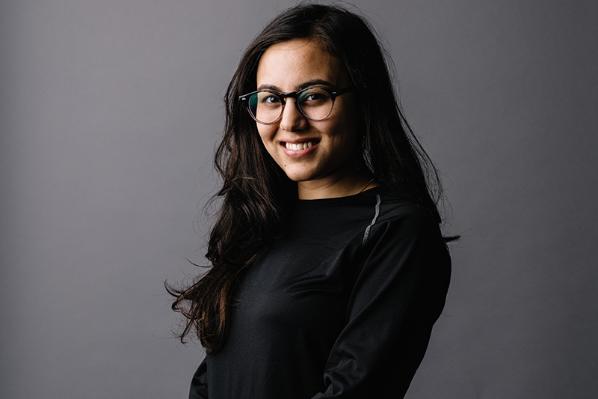 Sneha Parajuli, Nepal
MSc Business Analytics