Life as a Medical Student on Placement
4th year student Kathryn shares her daily routine in the hospitals, and shares tips on how to make the most of your placement, whatever it looks like!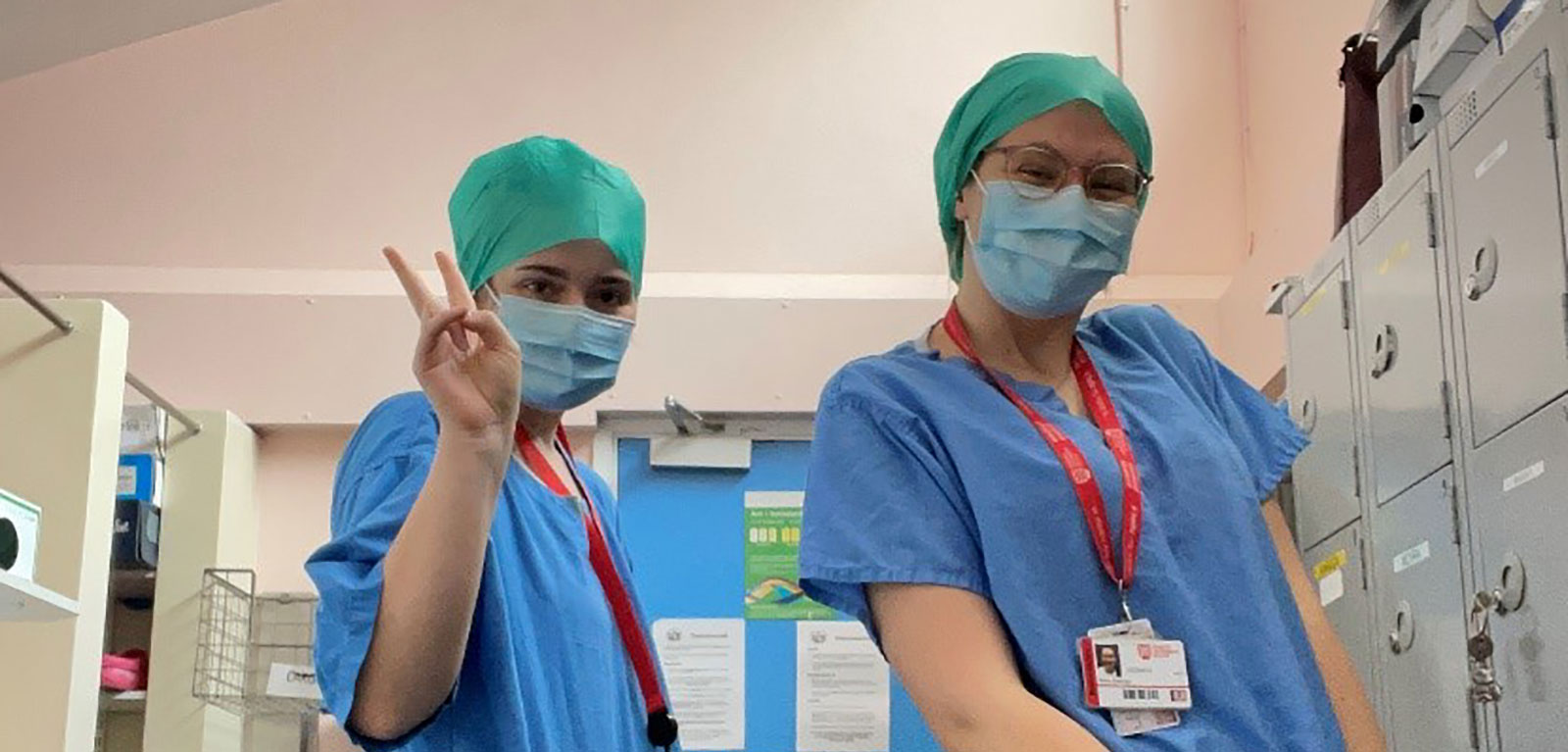 Something I love about medicine is the huge diversity of clinical and academic experience it offers. The first two years are all about the basics; anatomy diagrams and drug mechanisms, practicing clinical skills, how diseases work. Then the last 3 years are totally different : wards, scrubs, surgeries and a lot more chances to see real life patients!
I've enjoyed both phases of my medical education, but it must be said there's something really special about being out in the hospital environment, and I've learnt a lot from my placements.
Tell us about your placements
As I start fourth year, I'm been lucky to have been on 4 amazing placements in the last year or so! The diversity of experiences in medicine certainly hasn't stopped, with these all looking very different- 7 weeks on a urology ward and 4 weeks in a GP surgery are worlds apart, but it's cool to have seen that medicine can take so many forms.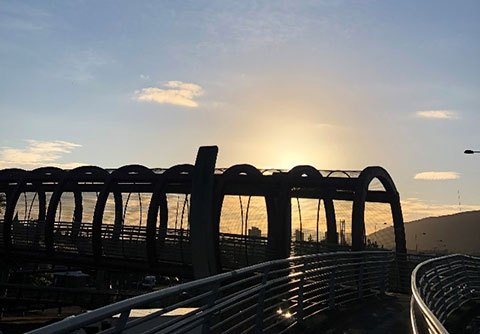 Walks to placement make for pretty views!
What do you do on placement?
For a typical hospital placement, my daily schedule might've looked like a ward round in the morning (9am for specialties, but 8am for surgery- I don't know how they do it every day) where I joined a team of doctors and nurses to review each patient on the ward. This was a good chance to learn about how a person's care was progressing, what their priorities were and practice my own skills, such as listening to hearts and lungs. These rounds sometimes took us down to the A&E to see new admissions too- a good chance to see how doctors assessed a patient and made plans with them about their care.
After a ward round, my placement partner and I typically spent time on the wards, speaking to patients about their medical problems, or helping out with taking bloods. Depending on our timetable, this could've also involved small group teaching with a doctor, or visiting the operating theatres.
Afternoons could be teaching on Zoom or more time on wards or outpatient clinics which was something I particularly enjoyed because you get a closer insight into a particular area of medicine. I saw lots of patients and had the chance to ask the doctor leading the clinic questions about the topic.
In comparison, the GP was very different! I would typically spend my mornings and afternoons observing consultations- this could've been led by doctors, specialist nurses or pharmacists, depending on the issue so had lost of variety. I also had some time to work on a presentation for the surgery, as well as afternoons where I had my own set of patients to see (!!) while a doctor supervised me. This was very exciting, and gave me a good chance to spend more time talking to patients and put my skills into practice.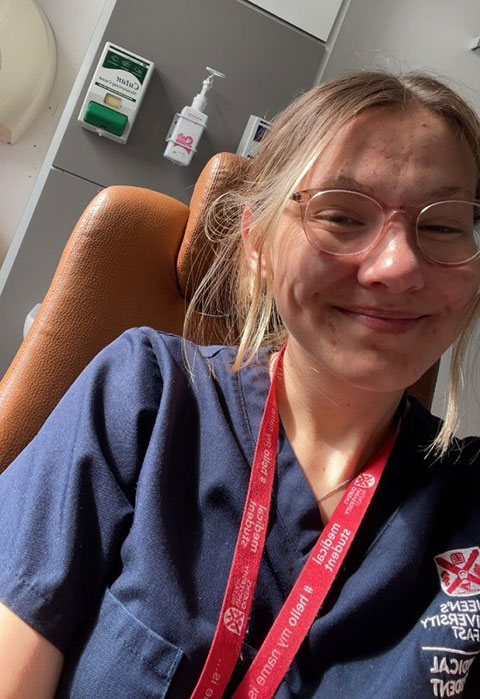 Between seeing GP patients, feeling official in their nice spinning chairs.
What are your favourite things about your placements?
My fave thing is the real privilege it is to get to be involved in hospital life! We get to talk to such a diverse group of patients and see the whole spectrum of what goes on in medicine. Patients are so kind in letting us ask them about their experiences with their medical conditions and examine them when appropriate. I also love getting an insight into what my job might look like in the future from doctors are various stages of their training, and working with other students as partners.
Are there any downsides?
Yes, like anything there are good days and bad days. Hospitals can be very busy places and it's not always helpful to have students there- you can feel like you're in the way a lot! Completing your logbook (the way our placements are assessed) is very self-directed and it can be hard to find opportunities to complete a certain skill or see a specific condition, you just have to be patient for some things to happen.
There are also patients with very difficult situations that they're going through, and it can be hard emotionally at times to see people who are so unwell, especially for the first time.
How does being on placement benefit you?
In so so many ways! It's the best way to learn, seeing real situations and conditions- when I sit down to my books to revise for exams, I can often think back to specific things I've seen that helps me to remember information. You also benefit from teaching from doctors who are experts in all sorts of medical fields.
Looking back on when I started, I'd also say its really built my confidence in my practical skills like taking histories and examinations, as well as my confidence in interacting with staff on wards. And all of that will be essential when I get to working in a hospital.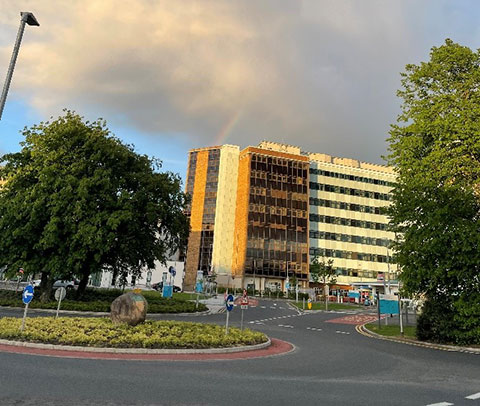 A rainbow above Altnagelvin hospital- fitting on my last day of my favourite placement!
What advice would you give to those starting out on placement?
I appreciate medical placements are a little different that most other degrees, but I think most of the things I've learnt are pretty broadly applicable!
I would say 3 main things-
1. Be prepared
It can be hard when life is busy but I've always tried to read up about conditions relevant to clinics I'm visiting, as well as planning out what I'll need when out for the day. Regardless of what placement you're starting into, research always helps you to know what you're likely to come up against! Being prepared the night before in terms of knowing what time you need to leave, packing your bag etc also helps you to feel settled and ready for the day when you get up in the morning.
2. Keep your expectations open
… but also be prepared to be unprepared! Many times, what I think might happen in a day on placement won't be at all close to what actually ends up happening. This can be great as I get new and different opportunities, but I'ts also been a challenge to keep my expectations open and just 'go with the flow'. Any placement is a huge opportunity to explore what you study in a new context, and while it's important to set goals for what you want out of the experience, expect to get a whole lot of stuff you never pictured too.
3. Look after yourself
Placement is likely to be a longer day than a standard uni day, whatever that looks like for your degree (nursing students, I am endlessly impressed by the hours you do). You can't get the best learning experience if you don't take care of yourself the rest of the time! This can be done in really simple ways: making sure you have time for exercise, seeing friends and family, talking to someone else when you're had a hard day, or even having enough to eat and drink- which is my downfall. Trust me when I say, drink enough water and it will make a huge difference!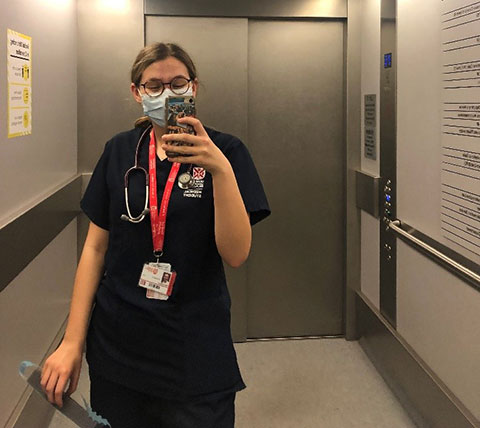 Are you even a medical student if you've not taken an elevator placement selfie?
At that first transition from classroom to the ward, I remember being excited, but so nervous. Me then couldn't have imagined how much I'd learn in a year, and the exciting new experiences id have- from learning to do stitches in theatre to vaccinating a baby. And I'm sure this time next year, I'll have learnt so much more. So whether you're looking ahead to starting placement, not sure if it's for you, or in the middle of a placement year as we speak- good luck, and get ready for all the excitement to come!
Find out more
More blogs about Studying and Courses
More blogs about Careers and Global Opportunities
Kathryn Allen

Medicine| Undergraduate Student | Lisburn, NI

I'm a 21 year old student originally from Lisburn and starting my fourth year of Medicine at Queen's in September- I love my degree because its combines caring for people, learning fascinating things and working as a team. When I'm not busy surviving placement and exams, you can find me in one of Belfast's great coffee shops with a friend, going to concerts to get my fix of live music, or curling up to read a book with a carefully curated Spotify playlist on in the background!