Mid-term Study Tips: Stay Motivated for Assignment Season!
Medical student Kathryn gives her best advice on keeping motivated to study as the term goes on.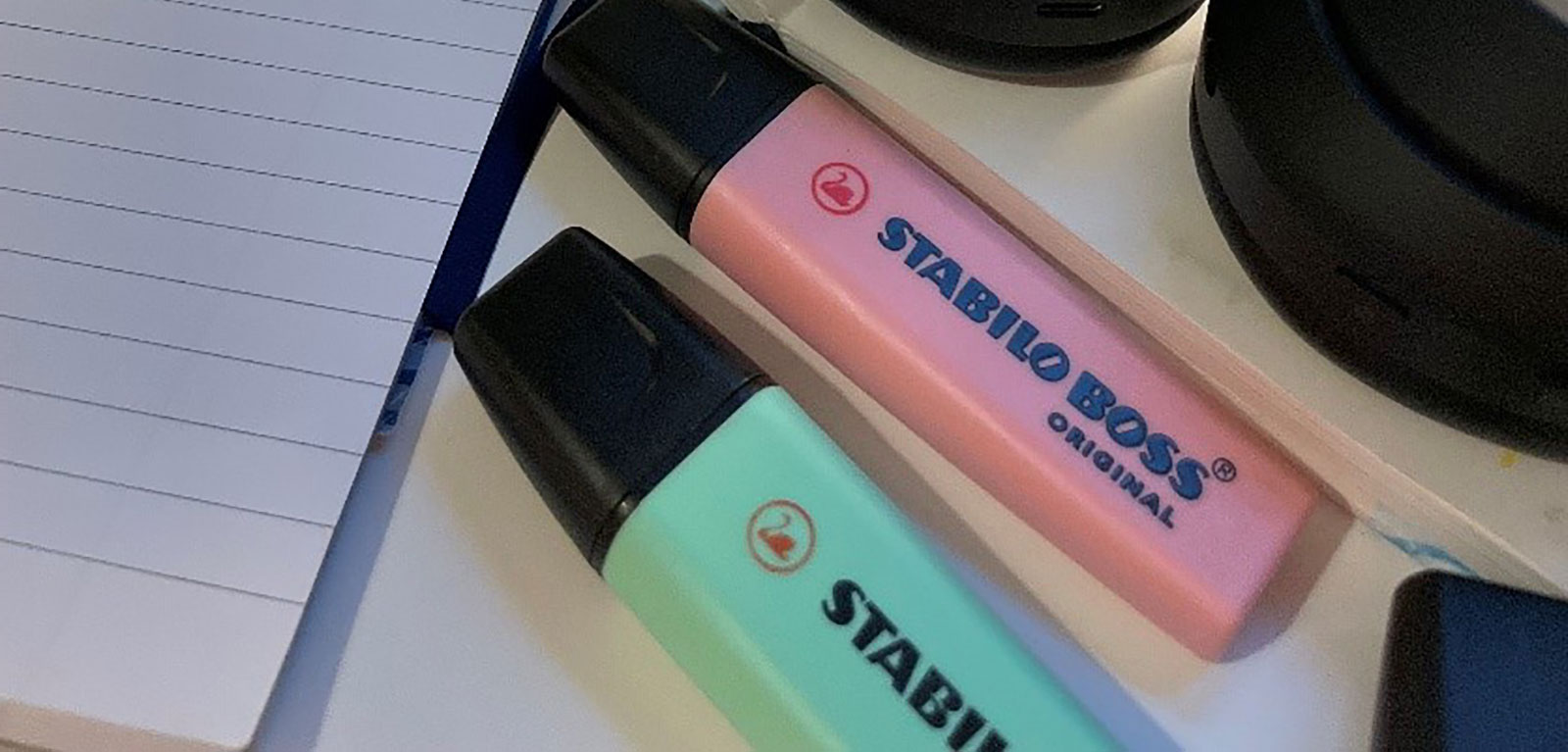 It's October- freshers feels like a long time ago, and summer but a distant memory. Oh, and there's a pile of assignments starting to loom in the future. Whether it's your first year at uni or you're well used to the work your degree requires, it's the time of year to pack up and head to the McClay Library to get some work done … But if you're anything like me, the work you want to get done and what actually gets accomplished in a study session isn't always the same thing!
Whatever you study, you're much more likely to know the secret study tips relating to your course than I am, but most students do face the same overall issues. Even the simplest things can make a difference when it comes to studying- here's what I do to try and keep motivation high!
Struggling to stay focused? Try…
Turning off your phone- I know it sounds simple! But genuinely it can make such a difference to remove the temptation to scroll through social media. Even if you think you don't need to, research shows even the presence of a phone in the same room as us has the ability to reduce our attention and productivity - it's a small switch worth making.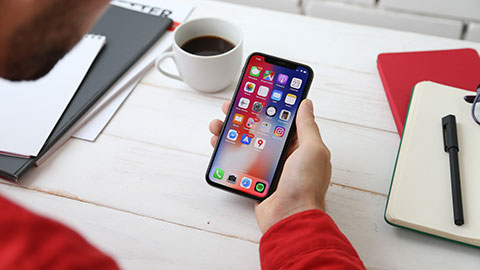 Do yourself a huge favour and switch off your phone!
A change in locations- At Queen's, we're spoiled for choice of nice places on campus to study, and one of the easiest ways to jump start your work? Move from one to another. When I have a day to study, I might start in the biomedical library (in the MBC- and a spot I think is underrated, personally), move to the McClay after lunch, or even pop by the new students union or a nearby coffee shop for a little bit of atmosphere in the background of my studying.
A change of environment, especially when linked to a change in task, is great for a min-refresh of your brain, and gets you up and moving for a little break.
Or if a change of building is out of the question (typically as a result of a sudden burst of Belfast rain!)? at least get up and take a quick walk around the library, just to clear your head between tasks.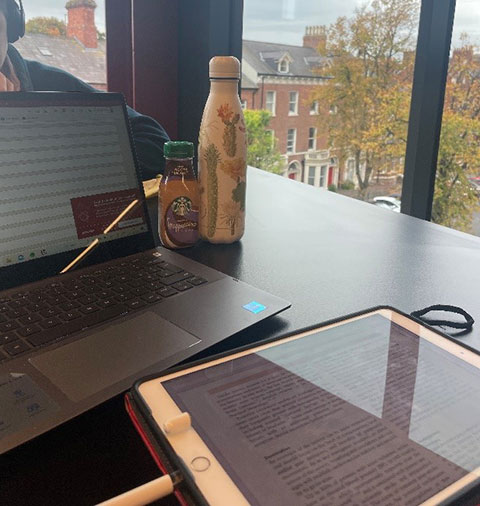 I love studying in the new SU with friends this term!
Lacking motivation? Have a go at…
Romanticising your study session : attitude is half the battle, and while the tiktok trend of romanticising your life might seem a little silly, in the right context it does help! If it's a slow day, take some time to walk around campus and see the changing leaves, grab a autumnal drink as a treat (PSL season is upon us, if that's your sort of thing) and perhaps most importantly- stick on a great playlist for studying.
Spotify is as essential to my studying as my textbooks! Whether it's an instrumental soundtrack, an album from your fave artist or a concept playlist, music can get you in the mood to work- I almost exclusively study to a 13 hour long, Grey's Anatomy inspired playlist made by my housemate and I, and I'm convinced it's the secret to my productivity some days.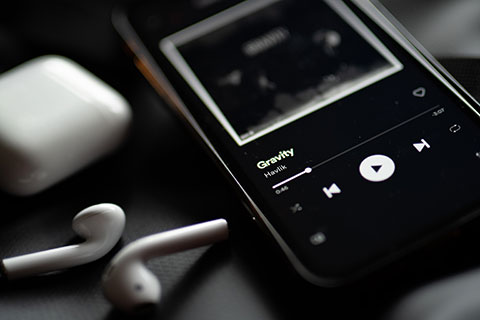 Get in the zone with the right tunes
Planning out your day- I sometimes find having all day to study makes me less productive! I find it helps to deliberately plan something nice in the day for a little break, as this gives my study session an end time or splits it up, helping me to make more realistic goals for the time I do have to study.
For you, this might be something particularly nice for dinner, a movie night with your housemates or a trip to the pub at the end of the day- whatever it is, a treat to work towards can work wonders on your attitude to study.
Struggling to get up in the morning?
Make your bed: I don't know about you, but now that it's getting colder, my warm bed in the morning gets harder and harder to leave, especially if I don't have a scheduled placement or class to go to. The only thing I've found that gets me up for good is making my bed when I get out of it, typically when I'm up to go to the bathroom. That way, bed is then off limits, and you've already done something productive to start the day!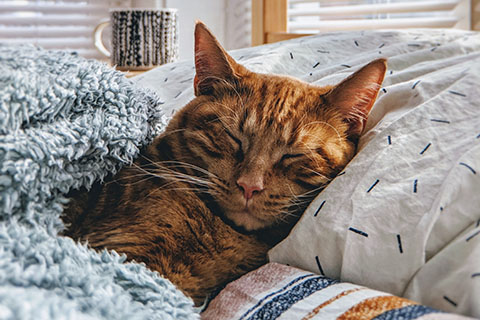 If you make your bed you'll be less tempted to get back into it!
Work with a friend: a friend you know you can be productive with is a special one. Someone who likes to work in the same places as you do, and will be willing to work hard when you're there is a gift- not only do you have company, but you gain someone keeping you accountable to stay on task. Especially if you find you're slow to get started in the morning, setting a time to study with a friend is a great motivator to get going.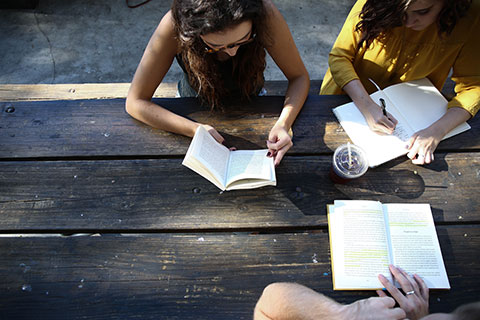 Keep each other going with a study group
Feeling burnt out? Take care of yourself by…
Asking for help: study routines can be a difficult balance to strike, leaving you with more worry than is needed. It's a good idea to get advice from an older student on your course, especially if you're struggling to get a hang of an assignment, or not sure which resources are best to use.
We've all been there and typically are happy to help anyone out with tried and tested methods. The Queen's Student Centre at One Elmwood also offers study support though the Learning Development Service, which can help you to look at how you're studying and offer advice and tips!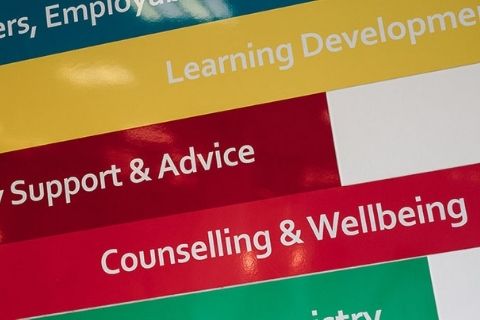 Don't be afraid to ask for support
Caring for yourself: a hungry you is not a productive you. An exhausted you is not a productive you. A burnt-out you is not a productive you. To be able to study well, it's important to know yourself well and care for yourself, even in the simplest ways of knowing when it's time to take a break and watch an episode of TV, or packing snacks to the library- you'd be surprised how much it can make a difference when you take simple steps for well-being.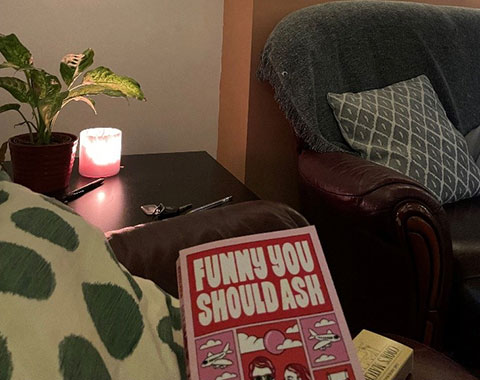 A treat at the end of a study day for me!
Whether it's music or a group study that's the answer to your study dilemmas, I hope you find your own perfect tricks for a productive day- see you in the library!
Find out more
Learning Development Service Book a 1-2-1 session or check out their helpful resources
More blogs about Studying and Courses
Kathryn Allen

Medicine| Undergraduate Student | Lisburn, NI

I'm a 21 year old student originally from Lisburn and starting my fourth year of Medicine at Queen's in September- I love my degree because its combines caring for people, learning fascinating things and working as a team. When I'm not busy surviving placement and exams, you can find me in one of Belfast's great coffee shops with a friend, going to concerts to get my fix of live music, or curling up to read a book with a carefully curated Spotify playlist on in the background!