5 Reasons Your Next Day Trip Should be to Murlough Nature Reserve
Combining sea and mountains and more fresh air than your lungs can handle, the stunning Mourne Mountains should be top of your Northern Ireland travel bucket list, says Master's student Marissa Piccolo, from Connecticut, USA.
Whenever people from home (Connecticut in the United States) ask where the favourite place I've been so far is, I always give the same answer: the Irish countryside and coastline, which is so accessible from Belfast. This past week, the sister of a friend from America was visiting, which was the perfect opportunity to take her on a day trip and show her Northern Ireland. The destination: Murlough Nature Reserve in Dundrum, a nature reserve and beach at the foot of the Mourne Mountains and town of Newcastle, about an hour and fifteen minute bus ride outside Belfast. We spent the afternoon exploring the paths and walking along the Irish Sea, and ended the day in the town of Newcastle, warming up with tea and coffee before taking the bus back. Unconvinced? Here's 5 reasons why you also need to take the trip:
1. Mountains… Beach… Why Not Both?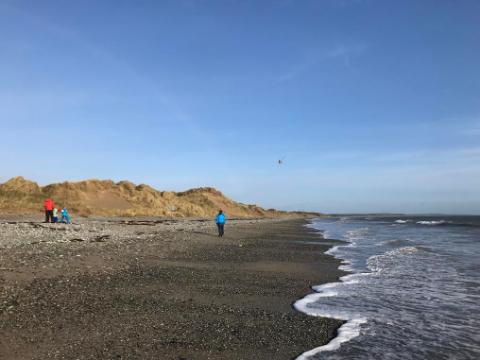 The grassy trails of the reserve itself are entirely serene – the sort of nature you can feel surround and seclude you from the outside world and that inspires you to explore – not to mention the trails lead you to the beach shore with a stunning backdrop of mountains. Shortly after arriving we already began planning another spring-time trip when it would be warmer and we could spend the whole day there picnicking and reading, yet there's something especially calming and peaceful about visiting beaches in the wintertime, having it all to yourself, seeing how the sun reflected off the snow-capped peaks of the Mournes, and watching the water turn different shades of a pale, wintery blues.
2. It Inspired C.S. Lewis' Narnia.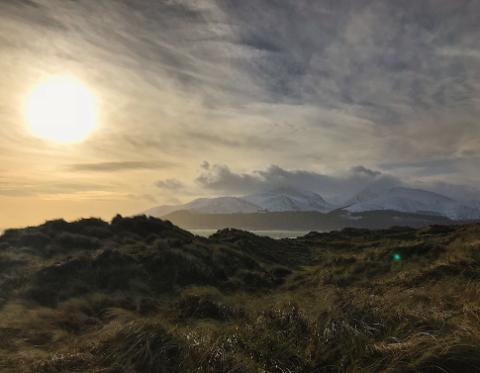 Belfast-born author C.S. Lewis would go on holiday in a nearby village, and often wrote about the Mourne Mountains and surrounding landscape. Nothing short of magical (having personally seen two rainbows there), the scenery inspired his work "The Chronicles of Narnia" writing how it "made me feel that at any moment a giant might raise its head over the next ridge." Going there, it's easy to understand how one can become so moved and inspired.
3. Get Headspace from Studying‌
Especially before classes get completely underway, it's the perfect place to go to get some headspace outside the city, feel reenergised heading into the new semester, and reflect on some of your goals. You can go with friends, or even easily find your way around yourself.
4. Check Out the Town of Newcastle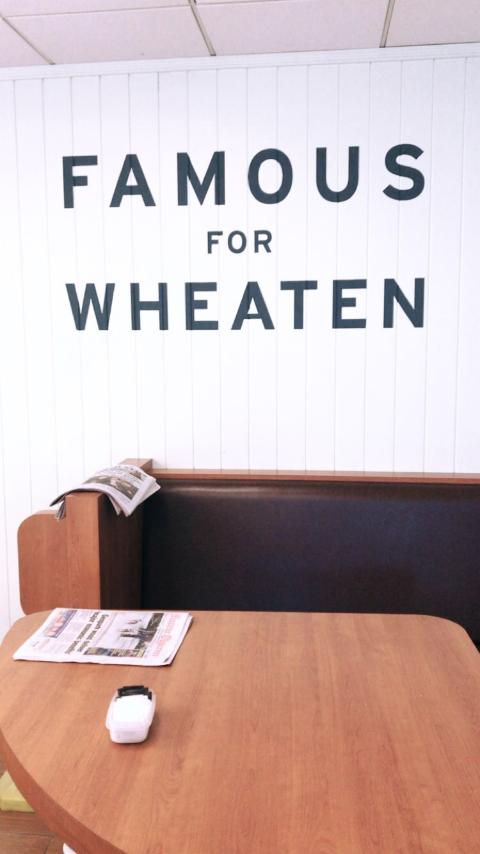 Warm up with wheaten and a cuppa!
From the nature reserve, the quaint town of Newcastle is about a 20-25 minute walk and at the foot of the mountains. It was the perfect place to end the day. We found a bakery that is famous for wheaten bread (Cookie Jar on the main street that runs through the downtown), and spent time walking around some of the shops.
5. It's Easy To Get To‌
Stunning nature is just a short bus ride away!
We took the Route 20 Ulster Bus from City Centre, Adelaide Street and got off at Dundrum, Twelve Arches. It was about an hour, fifteen minute bus ride and cost 6.70 pounds round trip. As we had walked into the town, we took a different Route and Belfast Express bus back from the main bus station in Newcastle. Tickets can be bought on the bus using cash. I recommend using the Journey Planner on Translink's website to check the specific times, but there are buses arriving and departing around every hour.
Marissa Piccolo

Masters in Global Security and Borders | 1st year | Connecticut, United States of America

Hello! I am from Connecticut, USA, where I grew up and attended university. I spent a semester studying abroad in London, which in large part inspired me to pursue my Masters degree abroad. I studied political science and economics in undergrad, and am a self-confessed political junkie, having worked as a campaign manager and for my Congresswoman back home. I am passionate about learning, travel, meeting new people, and trying new things. In my free time I enjoy reading, running, and exploring around Belfast and the North Coast.

‌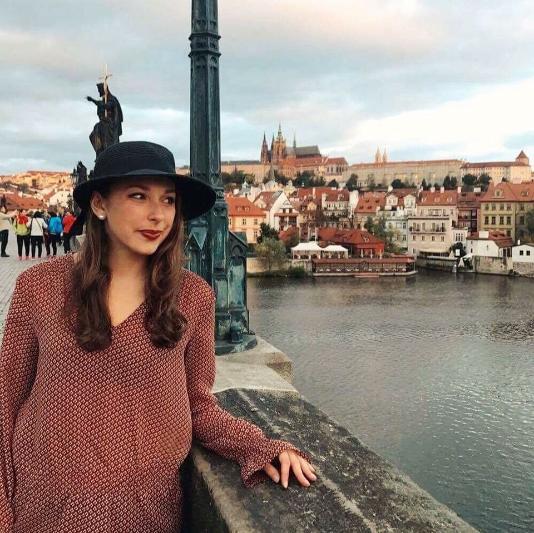 Marissa Piccolo
Student blogger, MA Global Security and Borders