5 things to do on a Sunday Staycation in Portrush
Just over an hour and forty minutes by train at the reduced Sunday fare of £7.50, Portrush inspired a #StaycationSunday tradition for Master's student Marissa Piccolo, from Connecticut, USA.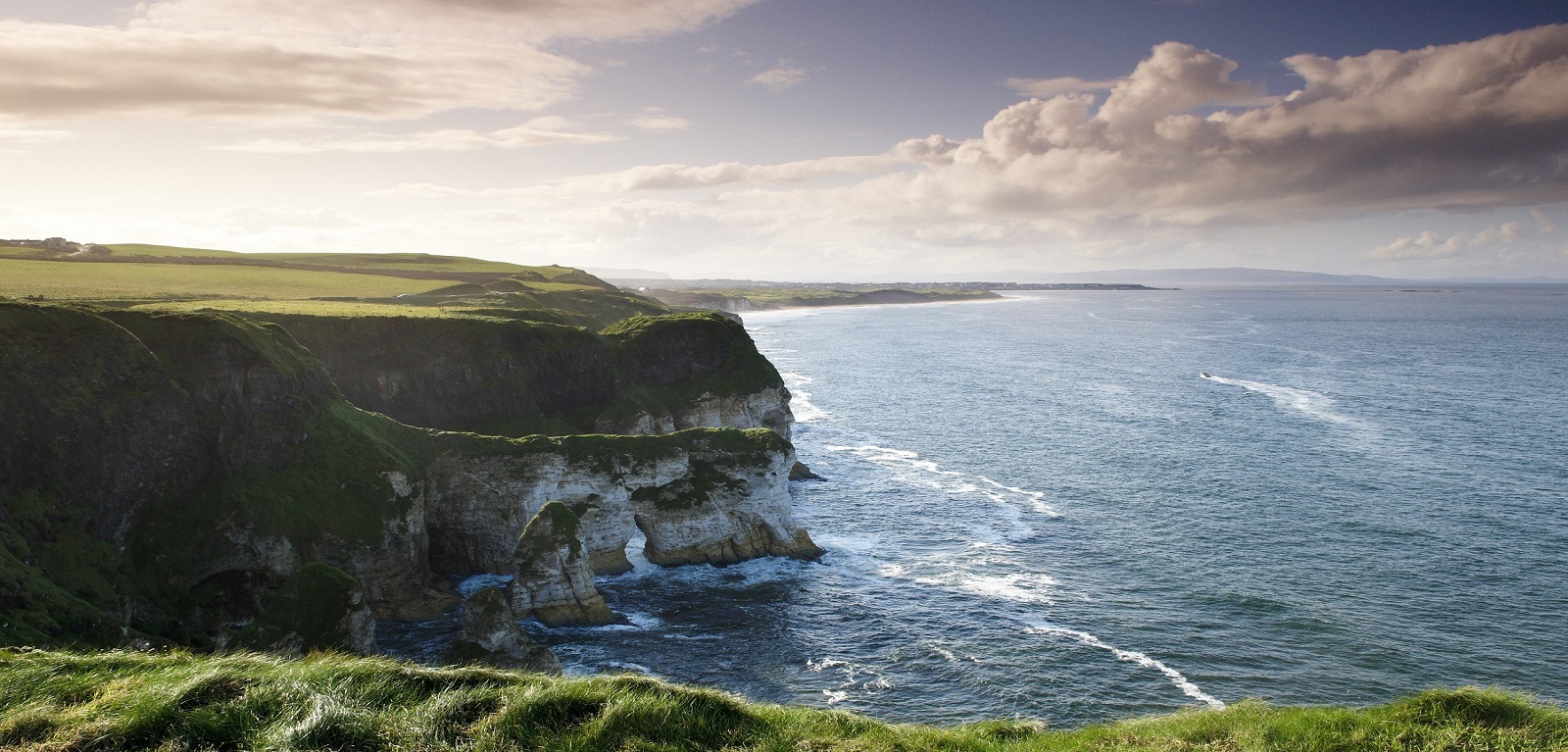 Just beyond the Giant's Causeway and Dunluce Castle is another breathtaking stretch of the Causeway Coastal Route, which spans from White Rocks Beach to Ranmore Head, passing through the town of Portrush. Portrush is a small and charming seaside town, and the perfect jumping off point for exploring the rest of the coast.
1. Eat in Portrush Harbour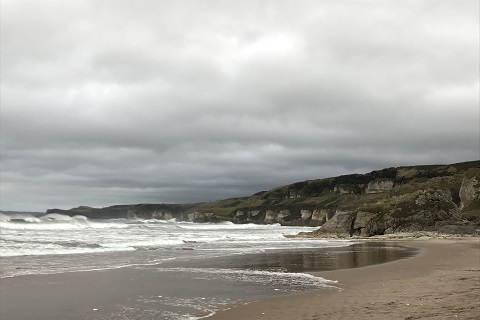 Following a brief team discussion, we made the decision to eat lunch shortly after we arrived and before we went for a walk along the trail, so we would not become 'hangry' along the way. We chose the Ramore Wine Bar in the Harbour, just a five-minute walk from the train station, but there are also the more aptly-named ones such as The Mermaid, Neptune & Prawn, Coast, Harbour Bistro, and Harbour Bar. All were priced within what I would consider 'I want to treat myself but am on a student budget' range. At Ramore Wine Bar, you could get a personal pizza for £5 or grilled salmon for £10. A glass of wine was £2.50.
2. Enjoy the views from Ramore Head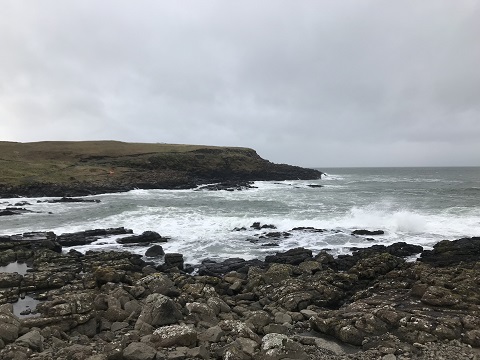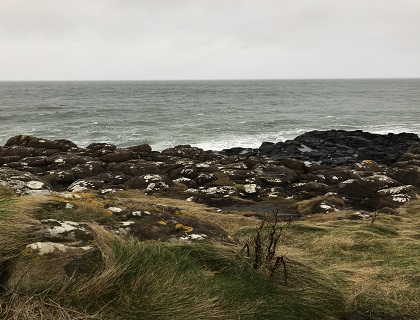 After leaving the restaurant, we followed the signs to begin the walk along the Causeway Coastal Route. The first scenic overlook along the way was Ramore Head, which sits at the head of the peninsula upon which Portrush is located. Looking to your left, you can see Portstewart Strand in the distance across the water. As we continued walking along, we noticed rock formations similar to what you would see at Giant's Causeway, similarly formed by volcanic activity.
3. Get Ice Cream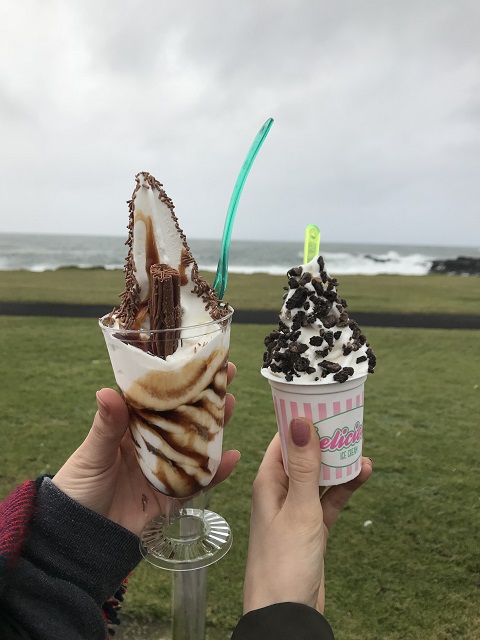 It is never too cold for ice cream! As we continued following the Causeway Coastal Route walking trail, we came across two different ice cream trucks: Mr. Whippy and Mister Softee. In my head, I couldn't help but imagine a history and rivalry between the two ice cream Misters. For the sake of neutrality, I will not disclose which one I bought ice cream from, as the reality is you can't go wrong with either.
4. Continue towards Portrush Beach
‌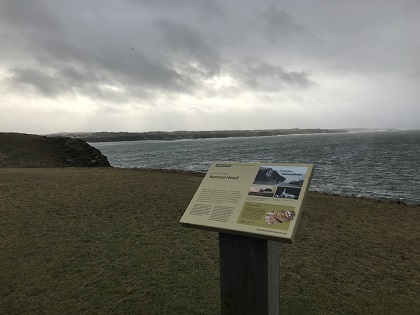 If you keep following the signs for the Ulster Way and Causeway Coastal Route Trail, you'll see some informational signs about the unique rock formations you're walking by. The next major scenic point you'll come across is Portrush beach, which is a popular surfing spot, no matter the time of year. We walked along the water and sand dunes, all the way down to the end of the strand and to the White Rocks Beach scenic overlook.
5. Finish at White Rocks Beach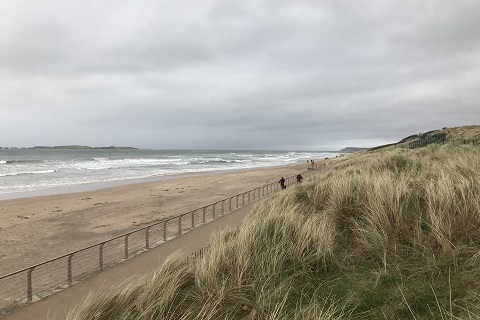 The walk along the strand to White Rocks Beach is quite long (probably about a half hour) but worth it if you're not too tired and have the time. We decided to walk back on the footpath along the road to the train station instead of walking back the way we came – which only took about 30 minutes going back, compared to about an hour and thirty minutes of leisurely walking along the trail and beach. Good food, scenic coastal walks, and quality time with friends made our first ever #StaycationSunday a success.
Banner image: Northern Ireland Tourist Board
Marissa Piccolo

Masters in Global Security and Borders | 1st year | Connecticut, United States of America

Hello! I am from Connecticut, USA, where I grew up and attended university. I spent a semester studying abroad in London, which in large part inspired me to pursue my Masters degree abroad. I studied political science and economics in undergrad, and am a self-confessed political junkie, having worked as a campaign manager and for my Congresswoman back home. I am passionate about learning, travel, meeting new people, and trying new things. In my free time I enjoy reading, running, and exploring around Belfast and the North Coast.

‌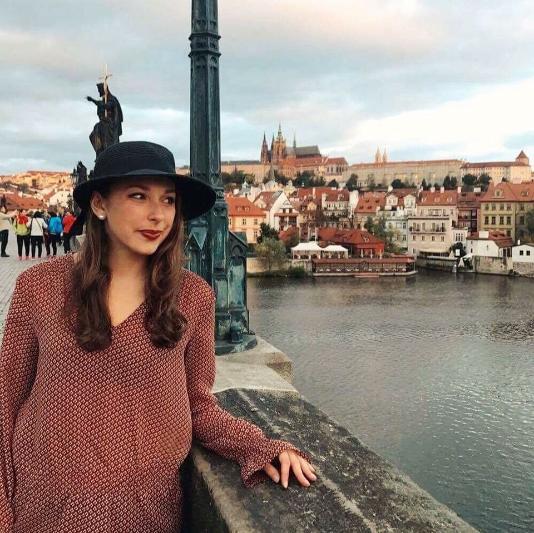 Marissa Piccolo
Student blogger, MA Global Security and Borders