I got the Vice Chancellor's International Attainment Scholarship, could you be next?
Are you an International Student who would love a 50% reduction in fees for a Russell Group university? Hear from Indian student Nikita Sharma on how she received a Vice-Chancellor's Attainment Scholarship and what it means to her.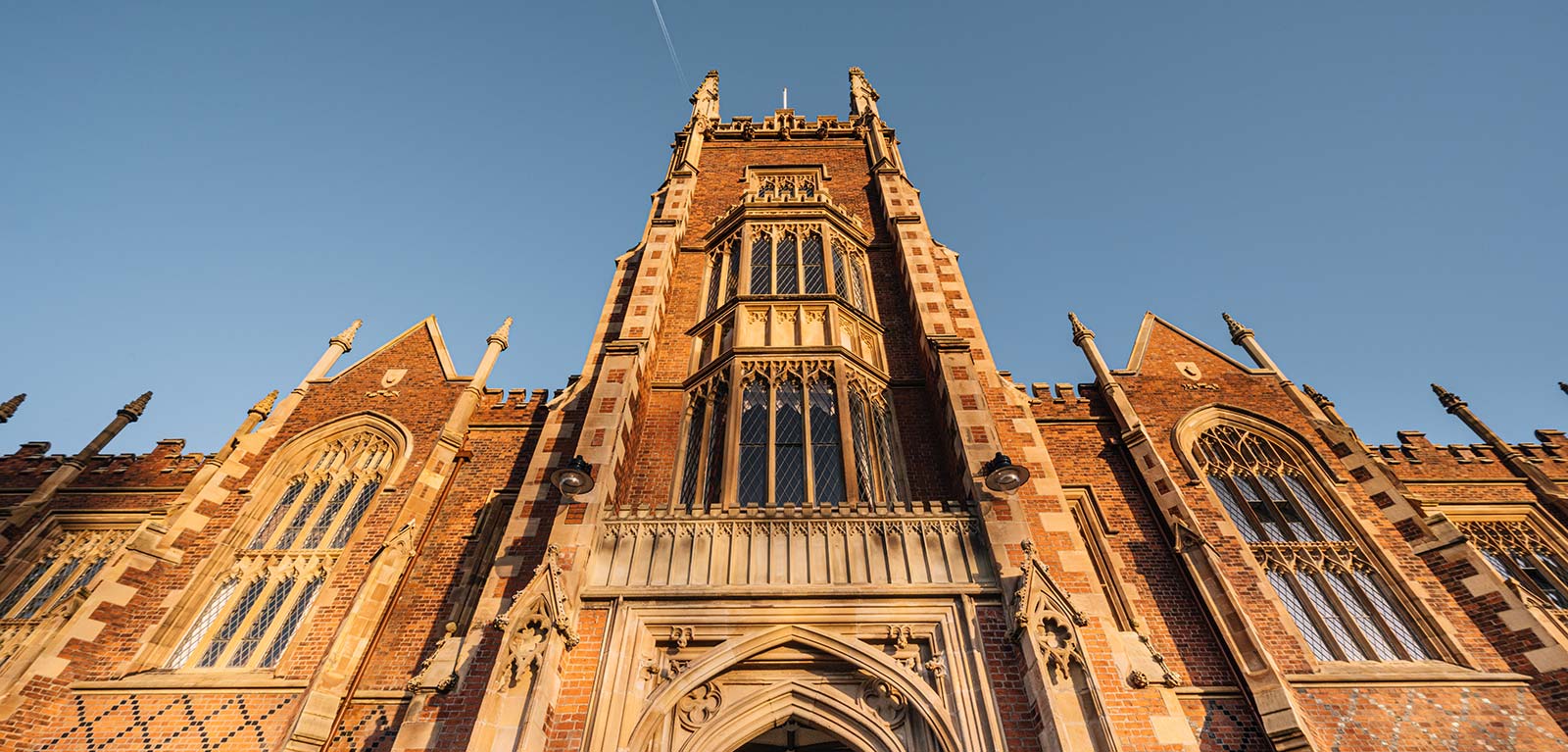 A lot of students aspire to attain their education internationally and gain a diverse experience in their field. I was one of them too. When I completed my undergraduate degree and had to go for my masters, the world became a standstill amidst the unfortunate pandemic. However, I used that time to browse through various universities and the courses they offered all around the globe.
Ease the Financial Burden
I had prepared a list of more than 20 universities and applied to most of them. As soon as my application started getting accepted and I was receiving offers which I had to accept as soon as possible, it all came down to the ranking of the university and scholarships they offered. Being an international student is undoubtedly very financially draining and any sorts of scholarship would have been helpful to ease that burden.
Queen's has lots of Scholarships
While browsing through Queen's website, I came across a large list of all the scholarships they have, especially for international students.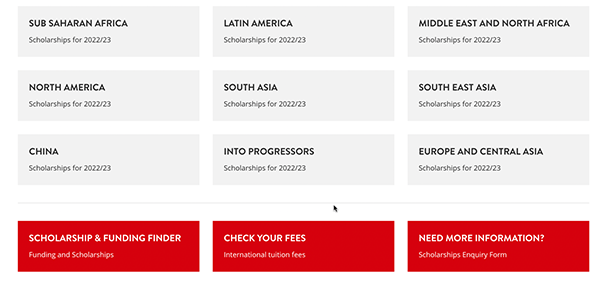 I looked through each one of them carefully and decided to apply for the Vice Chancellor's International Attainment Scholarship. This scholarship is particularly awarded to 4 exceptional new students who were enrolling on a full-time postgraduate taught programme.
"It was really simple"
Winning this scholarship could have reduced my fee to half straightaway, which of course would be a dream come true. It was really simple to apply for this, all I had to do was fill out a very simple form providing my personal details like my name, country, course, Queen's application number, and a very short 2 minute video outlining why I wanted to come and study at Queen's and how I believed my programme of choice would benefit me in my future career aspirations.
The video I had submitted was very simple, I just recorded myself talking about my real aspirations and the reasons for choosing Queens. I made sure the content in my video is unique and straight from my heart.

"I couldn't believe it"
Many people apply for this scholarship and I was one of the few lucky ones to actually achieve it. I had submitted my form and the short video in the month of May, 2021 and got my scholarship reward (£9735 towards my tuition fee) clubbed with an early bird discount (10%) for paying all of the tuition fee before the deadline.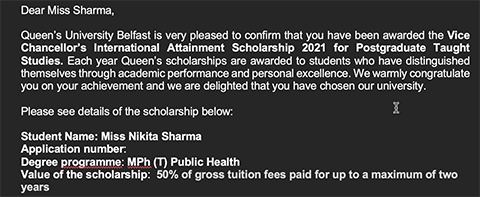 My heart skipped a beat after reading the email confirming my scholarship and I just couldn't believe my eyes. My parents were super proud of me and honestly I was too. I did not expect to receive this reward at all but when I did my happiness just couldn't be explained. In just a minute, all my worries related to managing my finances dropped, I could feel my parents relax just by the sound of their voices.
What the Scholarship means to me
This scholarship literally meant the world to me as I could now afford all the things I was cutting back on, I did not require a student loan and I did not have to do a part time job. Instead, I could put in all my efforts and time towards studying and research.
Queen's has indeed been the best decision without a doubt as it has given me everything I had hoped for and much more. I chose Queen's in the first place because of the ranking, infrastructure, curriculum of my course and their associations with the industry.
Now that I am here, I am amazed about the resources I have access to, the experience and knowledge I gain on a daily basis, things I am doing and learning, opportunities I am provided with and how I am being shaped into the best version of myself.
The skills I have attained here in the past months will for sure take me to places I have always dreamed about.
Find out more
As well as the Vice-Chancellor's International Attainment Scholarship that Seohyun received, Queen's also offers many more scholarships which include fee reductions for family members, 'early bird' fee reductions and Excellence Awards for high-achieving candidates among others. Find out more and search by your region on our scholarships page:
Vice-Chancellor's International Attainment Scholarship
Nikita Sharma

Public Health | Postgraduate Student | New Delhi, India

Greetings! I am Nikita, a postgraduate taught student here at Queen's since September 2021. I am pursuing a one-year master's course in public health here. I have done my undergraduate degree in Dentistry from Rajasthan, India.

I have always been interested in medicine and aim to do some ground-breaking work in the field. I have travelled abroad several times but always as a tourist and still got to learn several things and therefore, I had always wondered about the knowledge I can gain as an international student, so I became one. I love travelling and exploring places, experiencing different cultures, dancing, singing, tons of reading and am obsessed with shopping. I hope my experiences can help answer various questions a student might have before beginning their university life at Queen's.