Queen's Knowledge Transfer Partnership with Felix O'Hare & Co is awarded an 'Outstanding' grade
The collaborative project between Queen's School of Natural and Built Environment and Felix O'Hare & Co is awarded top grade of 'Outstanding' from Innovate UK for the engagement of new software technologies in the open field construction environment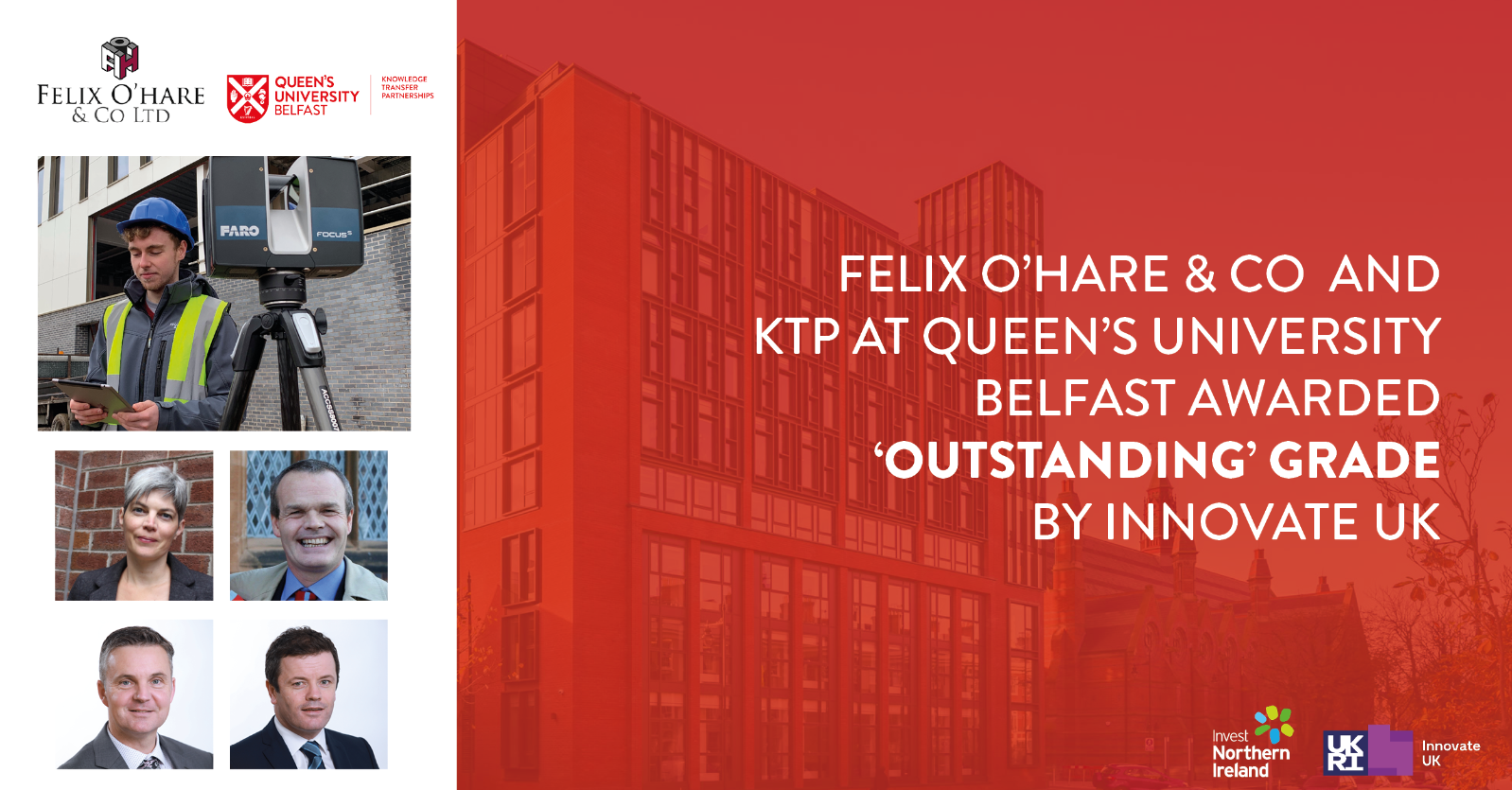 Felix O' Hare & Co Ltd is one of Ireland's most progressive construction companies and has been trading for over 100 years. They undertake projects throughout Northern Ireland and the Republic of Ireland; their primary activity is undertaking large, complex projects in commercial, retail, education, healthcare, high-tech and institutional buildings, refurbishment and maintenance works. The overall objective of the Knowledge Transfer Partnership (KTP) was to engage new software technologies and processes on site to facilitate the implementation of Building Information Models (BIM) in the open field environment.
KTP Associate, William Adams joined Felix O'Hare & Co in 2018 to lead the KTP project. Working with guidance from expert academics, Tara Brooks and John Meneely from the School of Natural and Built Environment at Queen's, company supervisors, Mark Campbell and Conor Quinn and KTN Advisor, Ken Frame, William delivered new software technologies on site providing a competitive sector lead, improved service and reduced risk through enhanced quality assurance against the model. William reduced or eliminated rework and delivered a more efficient on site construction based on the BIM model.
This KTP project allowed the company to fully exploit the opportunity that construction information in a digital format could offer after investing time and effort into being able to use BIM models within their head office environment prior to the KTP project. This allowed Felix O'Hare & Co to take advantage of the efficiency that can come from a new way of working digitally.
KTP Associate, William said,
"This KTP has provided me with lot of opportunities that I wouldn't have had otherwise; from travelling to go to conferences and meeting with industry experts throughout the country and learning from their perspective. It is definitely a great opportunity for businesses to engrain innovation in their strategy"
The results of this KTP partnership have directly informed the teaching of the academic supervisor and lead academic, who together deliver a module at Masters Level (BIM Project Management Programme) in Queen's University titled 'Emerging Digital Technology.'
Tara Brooks from the School of Natural and Built Environment at Queen's commented on the outstanding grade,
"I really like KTPs as they give me a chance to keep in touch with what's going on in industry. Working on this KTP with Felix O'Hare was a pleasure as the company was very supportive of the project, and the associate, William Adams, was so capable and enthusiastic."
Collaboration is the key to a successful KTP project. Digital Construction is now a very valuable tool for Felix O'Hare & Co and is the cornerstone of their business. The company now integrate lessons learned during the KTP into every project in their portfolio from weekly drone flyovers to digital site attendance reports. KTP allowed them to explore the benefits of emerging digital technologies and what they can do within the construction sector at a relatively low risk.
Company supervisor, Rori Millar commented,
"We couldn't recommend the Knowledge Transfer Partnership more highly. The combination of apprentice, recent graduate and academic was exactly what we needed in order to improve and explore emerging digital technologies that would enhance our company. The KTP team, Queens University Belfast and our associate Will Adams have all been first class"
This KTP project exceeded all expectations, the roll out of piloted technologies was much faster than anticipated and subsequently, demonstrable gains were made. KTP Associate, William worked collaboratively and diligently with academic and company supervisors throughout and is now a licensed drone pilot, drones are used routinely across the businesses portfolio as a result of this.
The future is looking bright for Felix O'Hare, now a pioneering business in digital technologies within the construction sector and we look forward to watching their continued growth.
KTPs are funded by UKRI through Innovate UK with the support of co-funders, including the Scottish Funding Council, Welsh Government, Invest Northern Ireland, Defra and BEIS. Innovate UK manages the KTP programme and facilitates its delivery through a range of partners including the Knowledge Transfer Network (KTN), Knowledge Bases and Businesses. Each partner plays a specific role in the support and delivery of the programme.
If you have an innovative business idea and would like to discuss if a KTP could help take it forward, contact us at ktp@qub.ac.uk or visit KTP FOR BUSINESS