Professor Amilra De Silva
Professor of Chemistry
School of Chemistry and Chemical Engineering
Professor De Silva built the fluorescent PET sensor design tool generally useful for molecular scientists, collaborated to construct the market-leading OPTI blood electrolyte/gas analyser and invented the experimental field of molecular logic-based computation.
Professor De Silva's background is in photophysics and photochemistry, especially of supramolecular systems. He was the first to generalize the fluorescent PET (photoinduced electron transfer) sensor principle which is employed by over 530 laboratories worldwide to design and construct sensors for various targets of chemical, biological, medical, and environmental importance. This led to a collaboration with Roche Diagnostics and resulted in the OPTI blood electrolyte and gas analyser.
This point-of-care analyser is now working in hospitals, ambulances, GP surgeries and veterinary practices in many countries and situations. The chemistry module has had sales so far of $150 M and $400 M in the human and veterinary sectors respectively. This application was presented by the Royal Society of Chemistry to Parliamentarians and Policymakers, in the Houses of Parliament, London, as one of a few examples where chemistry contributes to a modern economy.
Professor De Silva also launched the experimental field of molecular logic-based computation. Here, chemical and biological systems perform functions usually seen in the world of computer science. An advantage is that such devices operate in small biocompatible spaces where semiconductor versions cannot operate. So far, over 800 laboratories worldwide have performed work which contribute to this field.
Fields
Chemistry
Engineering
Areas of Expertise
sensor technology, chemistry, photophysics, photochemistry, sensors
Media Experience
Professor De Silva is experienced with media.
Notable coverage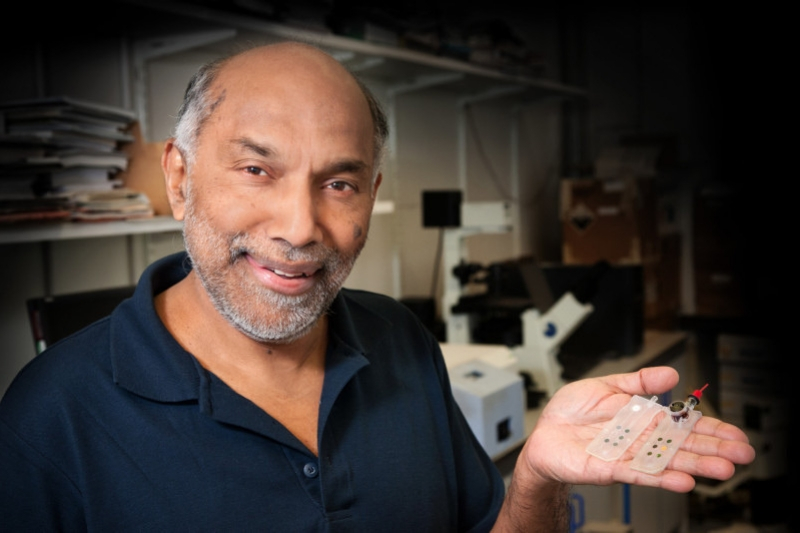 Contact Information
For more information or to book an interview, email comms.office@qub.ac.uk
Academic Profile
Related Experts