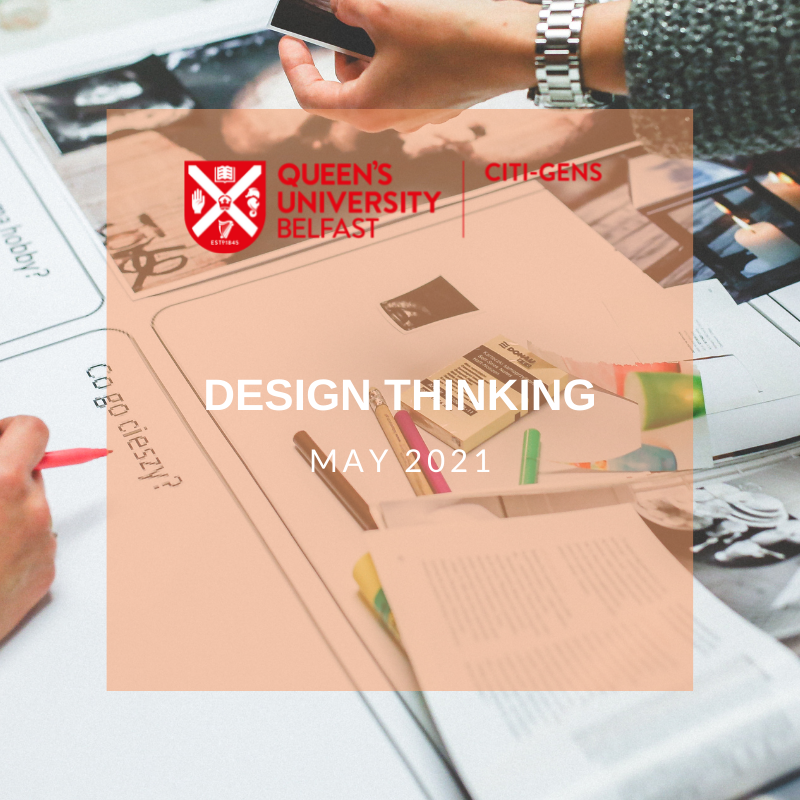 Design Thinking
CITI-GENS Design Thinking
The CITI-GENS cohort participated in their first training session in May 2021. With innovation at the core of the CITI-GENS ethos it was fitting that our first training session focussed on just that!
In the "Co-Design for Inclusive Innovation programme" CITI-GENS fellows engaged in a highly interactive collaborative deep dive into inclusive innovation across 3 days. The sessions were delivered by Claire Harris, Innovation Consultant at the Graduate School and Peter Worth, a Learning Experience Design Consultant who has previously worked in Stanford's d.school, via Zoom, with some small face to face group coaching sessions at the Graduate School.
Working in cross-disciplinary teams both in and outside of the sessions, the cohort learnt to apply a Design Thinking process, take action, and try on design and equity mind-sets toward a real-life challenge set by Belfast City Council on reimagining the waterfront area of Belfast.
CITI-GENS fellows also had the opportunity to reflect on their learning and explore how this practice might integrate with their own research and practice.
At the end of the session the cohort presented their proposals back to Belfast City Council's Andrea Thornbury and Deirdre Ferguson (both representatives on the CITI-GENS Independent Advisory Board) who noted the significant effort and innovative outcomes of the short session.
Read more
Read less
---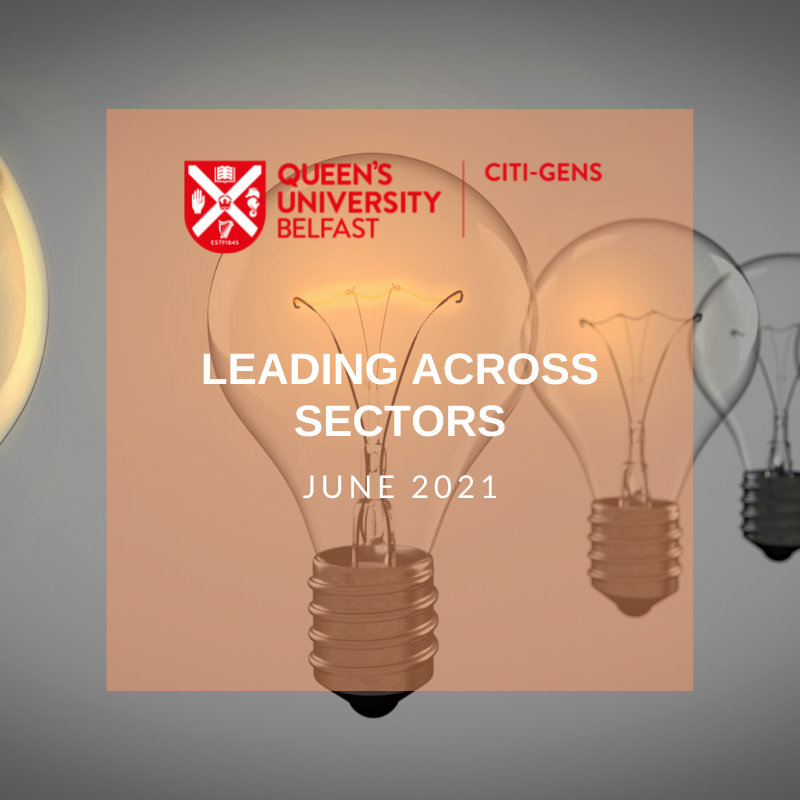 Leading Across Sectors
Leading Across Sectors
The CITI-GENS cohort participated in "Leading across Sectors" training across 3 half day sessions in June.
The sessions were delivered by Heather McGregor and began on Day One with framing the term Leadership with discussions around the definitions of leadership and images of leadership and looking at intersectoral leadership through the use of some impact case studies. The cohort then reviewed the Kouzes and Posner model of leadership, a research-based leadership development framework which consists of 5 leadership practices developed through qualitative and quantitative research methods.
On day two, Professor Margaret Topping, Associate Pro-Vice-Chancellor for Graduate Studies & Dean of Graduate School and CITI-GENS Co-Director joined the group to set a challenge which acted as a vehicle to support leadership development over the next two days. The challenge asked the group to look at the future use of the Graduate School post pandemic. This enabled Practical application of the leadership model through team-based learning with an opportunity for feedback from colleagues with the cohort split into 5 groups and a leader assigned for each session.
On Friday 2nd July the cohort came together in the Great Hall at Queen's University for a socially distances breakfast and an opportunity to deliver the outpus of their group work on the Leadership Challenge to the CITI-GENS Co- Directors Professor Margaret Topping and Professor Muiris MacCarthaigh and Conor Mullan from the Graduate School Engagement Team.
The researchers will also complete a Leadership Practice Inventory next year, once they have had an opportunity to practice some leadership skills, by asking contributors to rate their own leadership skills and will be given a report on the feedback they receive
Read more
Read less
---
Contact Us
For more information about the CITI-GENS Programme, please contact the CITI-GENS Coordination Team citigens@qub.ac.uk