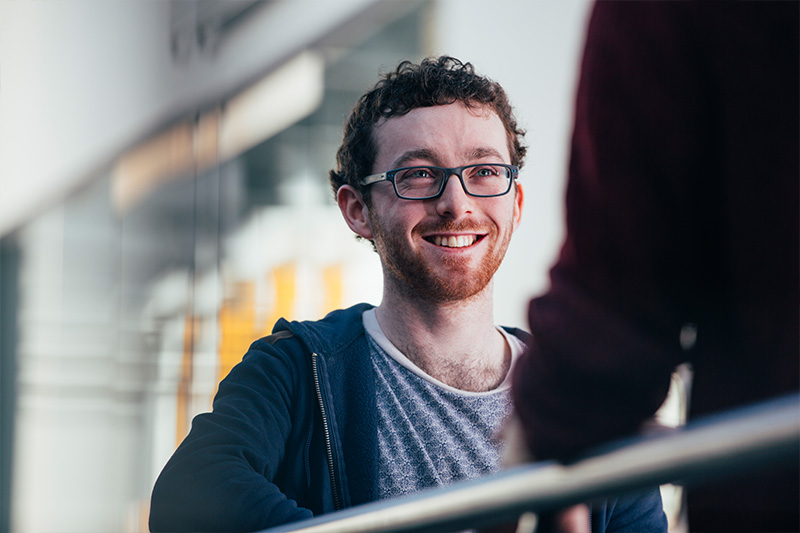 Studying at Queen's
JOINT HONOURS DEGREES
Many of the degree subjects offered at Queen's can be taken as part of a Joint Honours degree.
A range of combinations are available, eg Anthropology and Spanish, Archaeology and History, Criminology and Sociology, Drama and English, French and Irish, History and Politics, International Studies and Spanish, Mathematics and Computer Science.
Joint Honours degrees allow you to study two different subjects alongside students on the Single Honours degrees. In each year of the degree you will normally study an equal amount of both subjects through a mix of core, optional and, in many cases, interdisciplinary modules.
Students will normally have the opportunity, and in some instances be required, to complete a dissertation in one of their chosen subjects. Placement opportunities also exist.
Among the many attractions of a Joint Honours degrees are:
The option to study two subjects, one or more of which may be an entirely new area of study
Developing a range of skills across more than one subject thus widening career options and increasing job opportunities
Bringing perspectives from one subject to another
Being able to demonstrate to employers flexibility as well as expertise in more than one subject
Many of the Joint Honours degree combinations have dedicated prospectus entries. Others are listed under the degree subjects. A number of combinations are offered as Major-Minor degrees (eg Economics with French; English with Creative Writing, Law and Politics). In these degrees, two-thirds of the study is dedicated to the first named subject; the other third to the second subject).
"As a Joint Honours student, I am lucky I get to experience the variety of two different subjects. I find that even within each subject there are a wide variety of topics. In French for example, I never expected to be learning about grammar, translation and the history of French cinema all at once. For me, studying is made more creative this way and really enjoyable as a result."
Dominique Groves, BA Joint Hons French and Politics
Popular Joint degrees include:
Law and Politics
Economics and Accounting
Economics with Finance
French and Spanish
English and History
Drama and English
History and Politics
History and International Studies
History and Anthropology
Philosophy and Politics
Criminology and Social Policy
Criminology and Sociology