Moving in

Important / Key Dates 2023-24
Accommodation portfolio and prices published on website
Jan 2024
Online Application opens
Feb 2024
International/GB/ROI students to be guaranteed accommodation

| | |
| --- | --- |
| Application to be submitted by | 30 Jun 2024 |

A-Level Results Day
15 Aug 2024
Allocations commence
15 Aug 2024
Erasmus and Study Abroad students to be guaranteed accommodation

| | |
| --- | --- |
| Sept 2024 Arrival, applications submitted by | 1 Aug 2024 |
| Jan 2024 Arrival, applications submitted by | 30 Nov 2023 |

40, 44 and 48-week contract start date

TBC
51-week contract start date
TBC
BEFORE YOU MOVE IN
Your e-induction is a compulsory exercise which you must complete prior to arrival.
It explains how things work in accommodation, introduces you to the department and the different teams and makes you aware how things work and what we expect from you whilst living in university accommodation.
It takes approximately 10-15 minutes to read and complete a few short questions at the end of each section. Once it is completed, your accommodation profile is updated and allows you to book an arrival slot and / or check in to your accommodation.
If the e-induction is NOT complete prior to arrival, you will not be permitted to check-in to your accommodation. There will also be a mandatory induction with the Residential Life Team after you arrive. Your Residential Assistant will organise a floor meeting which will cover the important aspects of living in accommodation as well as meeting your fellow housemates.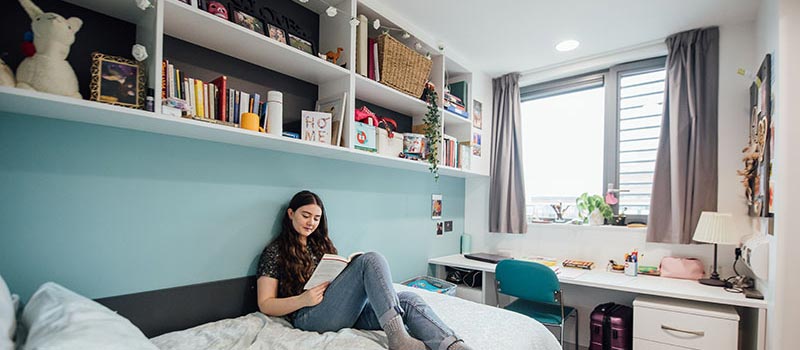 YOUR ROOM
All Queen's Accommodation is furnished with a bed, a wardrobe with hanging rail and shelving, a desk and chair, waste bin, window covering and desk lighting.
However you will need to bring some small items to truly make it your home. Supplies are cheaply and readily available locally. If you need anything else, regular bus trips to local supermarkets and Ikea will be arranged shortly after check-in by our Residential Life Team.
Cooking is not permitted in bedrooms. We provide kettles, toasters, freezers, fridges, cookers and microwaves in all kitchens. Medical fridges are available upon request (please indicate on your online accommodation application if you require a medical fridge).
RESIDENTIAL FEES
You are legally obliged to pay fees throughout the period of your contract. If you select to pay your fees by direct debit, you will need to set up a UK bank account and ensure that it allows direct debits i.e. a student account. If required for opening a UK Bank Account a proof of residency letter can be provided via your reception.
Failure to engage with the residential fees team to settle outstanding debt may result in access to your bedroom being denied. Continued failure to engage with the team will result in you being asked to leave Queen's Accommodation and you will still be liable for the full cost of your contract.
For more information on Residential Fees please email: residentialfees@qub.ac.uk
Rent Payment Dates 2023/2024
3 DD's – 1 November, 1 February, 1 May
7 DD's – 1 November – 1 May (inclusive)
2 instalments – 50% on or before arrival and balance by 1 February
1 instalment & 3 DD's – 25 % on or before arrival and 3 DD's on 1 January, February and March