Beyond Decision 2020: Live Stream
BEYOND DECISION 2020:
IN CONVERSATION WITH SECRETARY HILLARY RODHAM CLINTON
BEYOND DECISION 2020
IN CONVERSATION WITH SECRETARY HILLARY RODHAM CLINTON
An online event hosted by Queen's University Belfast in partnership with the UCL Centre on US Politics, and with support from the US Department of State.
Watch the online event here which was broadcast on Thursday 15 April as US Consul General Elizabeth Kennedy Trudeau is 'in conversation' with Queen's University Chancellor, Secretary Hillary Rodham Clinton.
With reflections on the challenges facing the new administration, the future relationship with Northern Ireland and the broader UK and the role of women in politics today, this will be a unique opportunity to hear from Secretary Clinton on these issues.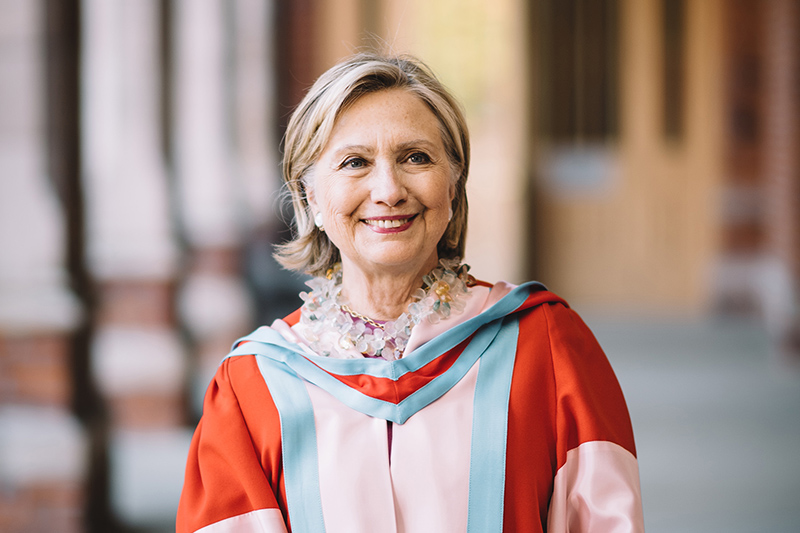 Hillary Rodham Clinton
Secretary Hillary Rodham Clinton is an internationally recognised public servant, former Secretary of State, Senator, and First Lady.
Secretary Clinton has strong links with Queen's and Northern Ireland, especially because of her outstanding contribution to peace and reconciliation in Northern Ireland. In October 2018, she received an Honorary Degree from the University for her exceptional public service.
Secretary Hillary Rodham Clinton is Queen's University's 11th and first female Chancellor.
Elizabeth Kennedy Trudeau
Elizabeth Kennedy Trudeau assumed her duties as U.S. Consul General in Belfast in September 2018.
Ms. Trudeau's most recent assignment was Lahore, Pakistan, where she served as the U.S. Consul General. Prior to her role in Pakistan, she served as the Department of State's Director for Press Operations and as a Department spokesperson in Washington, D.C.
Ms. Trudeau's other assignments include serving as the Counselor for Public Affairs at the U.S. Mission to the North Atlantic Treaty Organization (NATO) in Brussels, Belgium; a seconded senior advisor and chief of staff to the Assistant Secretary General for Public Diplomacy on NATO's International Staff, also in Brussels; and spokesperson and press attaché at the U.S. Mission to South Africa in Pretoria, South Africa. She also served in Tunis, Tunisia, and Nairobi, Kenya.