Melanie celebrates graduation success from Queen's University
Melanie Douglas will today (Tuesday 10 December) celebrate graduating with a Master's (MSc) in Human Resources Management from Queen's Management School at Queen's University Belfast.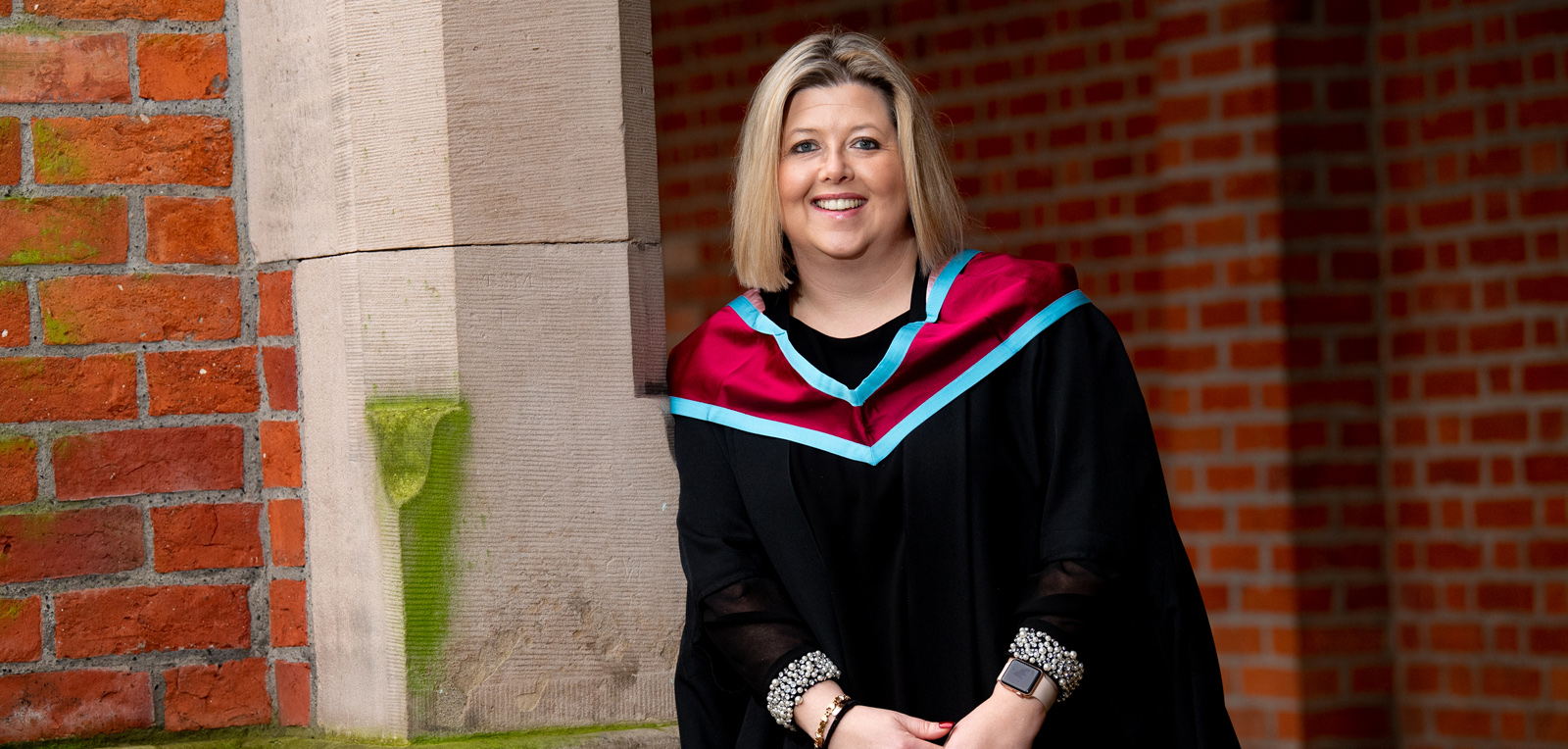 Melanie, aged 39 from Crossgar in Co. Down, is a former deputy head teacher and decided to change career and undertake her Master's at Queen's Management School. She said: "I was a deputy head teacher in Nottingham for two years, and decided to change careers. I really enjoyed the management side of my role and it's what I wanted to do so I completed a Master's in Management in Nottingham and then decided to come to Queen's to complete my Master's in Human Resource Management."
Melanie lives with a rare disorder, Cryopyrin-Associated Periodic Syndromes (CAPS), which affects just one in a million of the population. The disease causes widespread inflammation and can be very debilitating.
Speaking about the support she received from the University, Melanie commented: "The support I received from Queen's was outstanding. From student support services to my programme director, Dr Denise Currie, and lecturers at Queen's Management School, they could not have done enough to help me."
Alongside her studies, Melanie is a volunteer and incoming Northern Ireland President for 2020 of Soroptimist International Great Britain & Ireland, which is part of a global organization dedicated to improving the lives or women and girls across the world. As part of her role, Melanie volunteers on local projects such as providing the Ulster Hospital with parent packs for parents whose children are ill, as well as working with domestic violence charities.
She also helps runs the Soroptimist International Annual Youth Award Public Speaking Competition, for young girls in lower sixth in secondary schools throughout Northern Ireland. The competition is designed to build confidence and public speaking skills.
Speaking about her volunteering, Melanie said: "We get one chance in this world and I cannot stand back and see suffering and injustice. I am grateful for everything I have and want to make it better for others"
This will be Melanie's fourth graduation ceremony, and second graduation from Queen's having obtained her PGCE from the University in 2003.
After completing her degree, Melanie took up post in the Human Resources department at the Belfast Health and Social Care Trust and is enjoying this new and exciting chapter in her life.
Media
For media inquiries, please contact the Communications Office, 028 9097 3091 comms.office@qub.ac.uk