Queen's graduate creates innovative device to improve farm safety
Brendan Digney, 23, from Newry, is graduating from Queen's University Belfast today with a Master's degree in Electrical and Electronic Engineering from the School of Electronics, Electrical Engineering and Computer Science.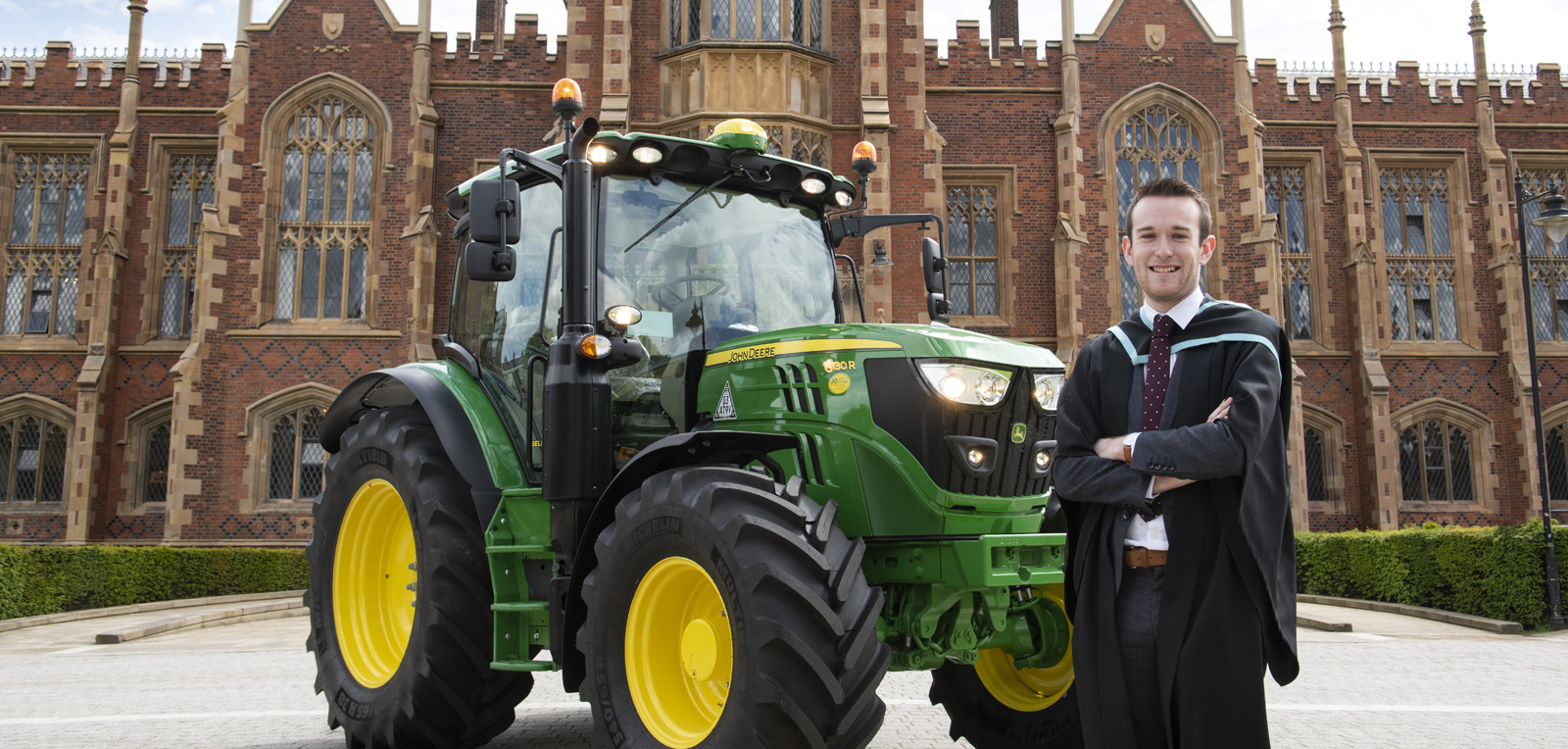 As well as studying for his Electrical Engineering degree, Brendan has also launched a business called Machine Eye.
Machine Eye uses advanced electronics and artificial intelligence to predict and prevent incidents where bystanders and operators of farm, plant and heavy machinery are at risk of injury, intervening automatically to keep them safe.
The business has already gained national acclaim, winning INVENT 2019, The Ireland Funds Business Plan Innovation Award, Enterprise Ireland's "Safety Innovation" and "One to Watch" awards, Farm Safety Partnership's Innovation Award and has been listed in the top six UK Technology start-ups by Santander Universities Entrepreneurship Awards.
In June, Brendan travelled to New Zealand with Enterprise Ireland, participating in the Fieldays International Innovation Showcase, where Machine Eye received special commendation.
Brendan has also been announced as NUS-USI Irish Student Entrepreneur of the Year 2019 and Queen's University Student Entrepreneur of the Year 2019 because of his work developing Machine Eye. In November, he was one of six UK students announced as finalists in the prestigious IoD Director of the Year awards, held at The Brewery, London.
Brendan explains: "I have a farming background and have worked across various industries so the need for a safe workplace is very evident to me. Machine Eye came about from a combination of things – the clear need for a more appropriate safety system on farms and sites, my own experiences in these environments and a mixture of work carried out as part of the Electrical and Electronic Engineering course, particularly embedded systems design exercises.
"We studied a module called 'Engineering Entrepreneurship,' that encourages engineering students to explore commercial application for their work and provides a crash course in business. Machine Eye came from this module.
"Machine Eye was supported through its initial establishment by Professor Rogers Woods and Professor Karen Rafferty from the School of Electronics, Electrical Engineering and Computer Science. Queen's provided valuable support in growing an initial idea to where we are now. The University, through Enterprise SU, also provided financial support; mentoring with various professionals, travel support and workshops."
When not studying or working on Machine Eye, Brendan spends his spare time running his own photography business; formerly captaining the Queen's Triathlon Club; volunteering with the Institute of Engineering and Technology and making full use of his private pilot's license, gained during his time at Queen's.
Brendan plans to take up a full-time role in the company after graduation. He hopes that the device will be manufactured in Ireland and will become commercially available by late 2020.
Media
For media enquiries, please contact Queen's University Communications Office, 028 9097 3091 comms.office@qub.ac.uk